13 Facts to Know About Emilia Wickstead
New Zealander Emilia Wickstead held a talk at this year's iD Dunedin Fashion Week - here's what we took away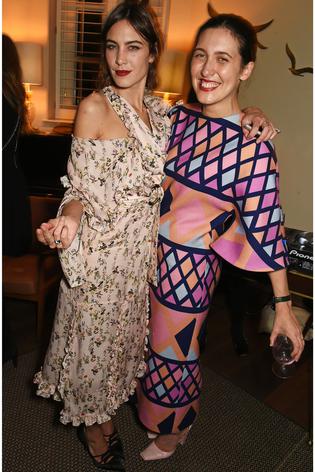 1. Emilia Wickstead only has a New Zealand passport. She lives and works in the UK with a partnership visa through her husband.
2. She grew up in Milan from the age of 14 and remembers Vogue magazines arriving from overseas, which she says were her books.
3. Emilia started interning at the age of 16 during her summer holidays. Some of the more significant internships were at American Vogue, Proenza Schouler, Narciso Rodriguez and Giorgio Armani.
4. She studied fashion design with marketing at the prestigious Central Saint Martins. Previous graduates include Alexander McQueen, John Galliano, Stella McCartney and Phoebe Philo.
5. Emilia started her business from her living room.
READ: Pippa Middleton Wears NZ Designer to Royal Christening
6. When she first started out at 23, she cold-called British Vogue. "I literally picked up the phone, called British Vogue and pretended I was my own assistant called Leila and said 'Have you heard of the designer Emilia Wickstead? I would really like to show you her collection online'." She was speaking to fashion features editor Sarah Harris, who is now her very good friend, and as a result, got a half-page feature in the magazine.
7. Emilia thinks clothes should be as beautiful on the inside as they are on the outside.
8. All Emilia Wickstead prints are designed in-house, and she often goes to vintage fairs to find inspiration. One of her more sucessful prints was a rust floral "found on a very old, revoltingly-dirty duvet cover".
READ: Why Emilia Wickstead Calls London Home
9. The collection she's showing at iD Dunedin Fashion week is from spring/summer 16, and is her favourite to date. She designed it after the birth of her two children (she has an 11-month-old boy and a 3-year-old daughter) and says all her passion and energy went into it.
10. Red carpet and dressing celebrities is a big part of her business. She has dressed Diane Kruger, Brie Larson, Gwyneth Paltrow and Kate Bosworth, to name a few.
11. The Duchess of Cambridge first wore one of her dresses over six years ago, before Emilia even began showing at London Fashion Week. "She is such a great brand ambassador for British designers, and so it's such an honour and privilege to think she would like to wear your brand," Emilia says.
12. Alexa Chung is also a big supporter of the brand and is Emilia's close friend. "She is cool, sophisticated and I love her style – one of my favourite people to dress. She embodies the brand in a perfect way."
13. Emilia runs her own Instagram (her favourite social media platform), although has no digital strategy at this time.
Share this: