5 Key Findings From Meghan's Royal Tour Outfits
Victoria Moss notes the style triumphs of The Duchess of Sussex's first fashion tour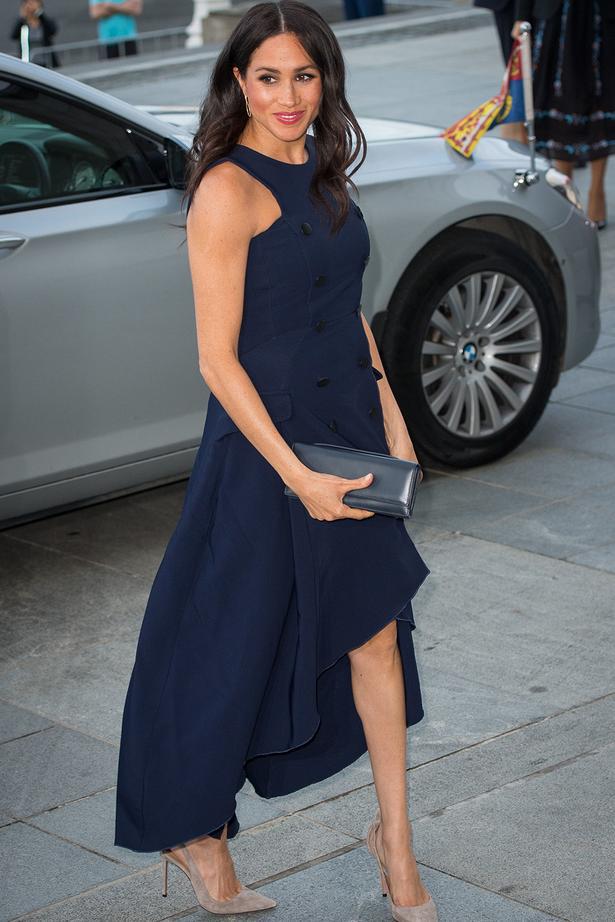 Thursday Nov. 1, 2018
Perhaps you've so far not ruminated over every outfit the Duchess of Sussex has chosen to wear on her first royal junket jaunt across Australasia, but to my mind, that's 16 days of sport you've missed out on. The past two weeks have not only been a riveting buffet of fashion à la Markle, but a truly staggering insight into the levels of royal fandom which the Duchess has whipped up in her short tenure.
SEE: Meghan Markle's Most Stylish Moments During The Royal Tour
And I don't really mean the adoring children proffering up dried pasta shell necklaces and cuddly toys on her official engagements. The rampant updating of her social media fan accounts has been nothing short of heroic.
There was riveting discussion over a diamond tennis bracelet which snuck on to her arm on day eight. Fervent debate over a trench coat — was it old or new stock? (it was old! She wore it before to the polo!).
There is astounding recall for each and every thing the woman has ever put on her person in front of a camera. Which, given her clear penchant for treading a style signature best summed up as "same, same, but different" is impressive.
Of course, this wasn't just any old wardrobe. This was the dressing of a newly-announced pregnancy! How many spanners might that have thrown into the seamstresses workbasket? Potentially not that many given the clip fit of a few pieces. But, as any woman who's staggered through the first few months of pregnancy can attest, could there be a more hideous challenge than international press attention, jet-lag and humidity?
SEE: Meghan's Best Beauty Looks From The Royal Tour
There was a point when, on the third variation of a navy blue fitted dress, it struck me that perhaps the Duchess was pulling a fast one on us beleaguered fashion fans. Could it be that she wanted us to ignore her wardrobe by making it as uneventful as possible? Or, as one colleague determined, with a metaphor about symphonies and crescendos of taste that, I'll be honest, lost me somewhat, the exact opposite: that in choosing similar pieces with samey silhouettes and colours she is impressing a clearly digestible template upon us, with the odd fantasy Princess moment snuck in for good measure (thank God — frankly I'm living for the frothy Oscar de la Renta). Herewith my top five takeaway thoughts: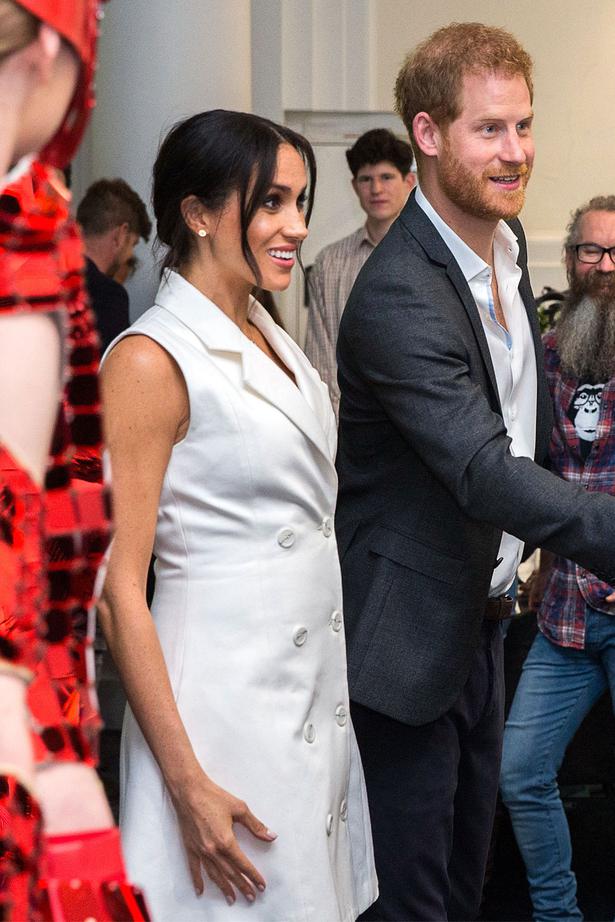 Make It Sustainable
Her conviction to showcase little known brands working in an ethically or sustainably sourced way will surely endear her to Prince "I told you all about climate change" Charles. I wasn't a great fan of the slightly strange Rothy's pointed flats, but full fashion kudos for the Stella McCartney vegan Stan Smith trainers.
In New Zealand she showcased local designer Maggie Marilyn, who even ships her clothes in plastic-free biodegradable wrapping, made from cassava plants which can be melted down in hot water. She's been spotted wearing her black skinny Outland jeans so many times, I've started to worry about knee sag. But the admirable brand, which supports vulnerable women, has quite incredibly been able to employ at least 15 more seamstresses in its Cambodian production house to meet the demand from her patronage.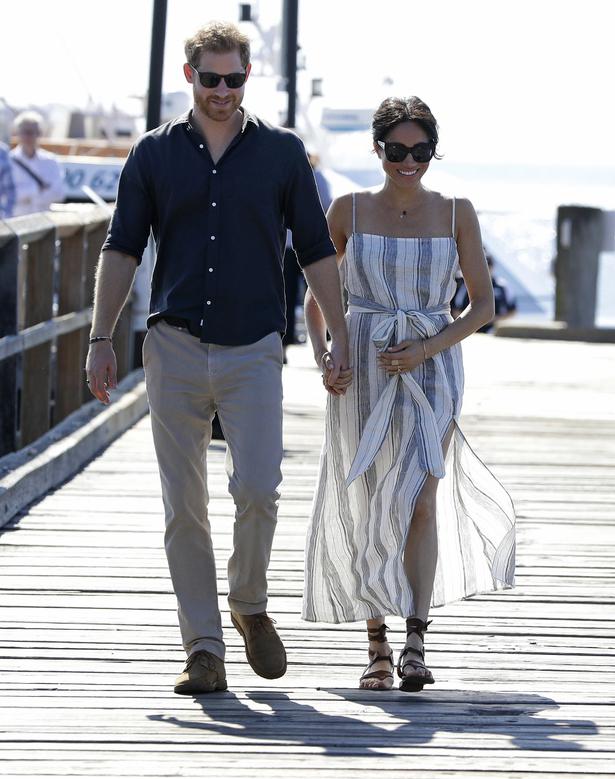 A Bit Of Brit
It took her nearly a week to wear anything by a British brand, but she got there in the end racking up pieces from Antonio Berardi, Roksanda, Stella McCartney, Winser London, Self Portrait... Actually quite a few. She even skirted the high street, with an ASOS maternity black dress, which instantly sold out.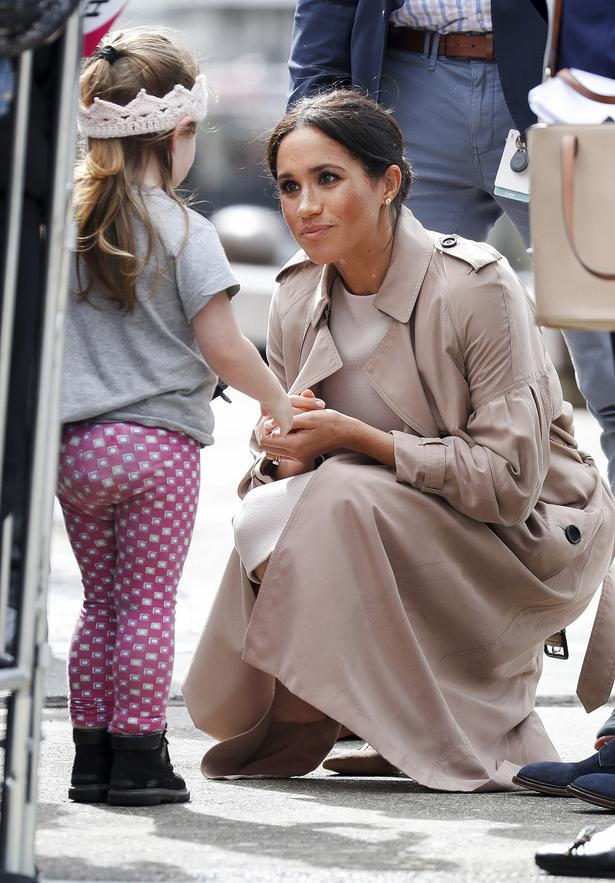 California Girl
For me, she looked the best when she went beachy. I mean she's an LA girl! LA girls don't historically do a tight shift dress, they do loose and low key. Wasn't she relaxed chanting away with that bunch of neon-clad hippies on Bondi beach! She even went barefoot! I loved it. And I get that she likes to keep it simple, but the stripes are a good concession to something extra. Thanks Meg. Also note: she loves a nifty pair of sunglasses. No boring old black basics for her. And that, I have nothing but respect for.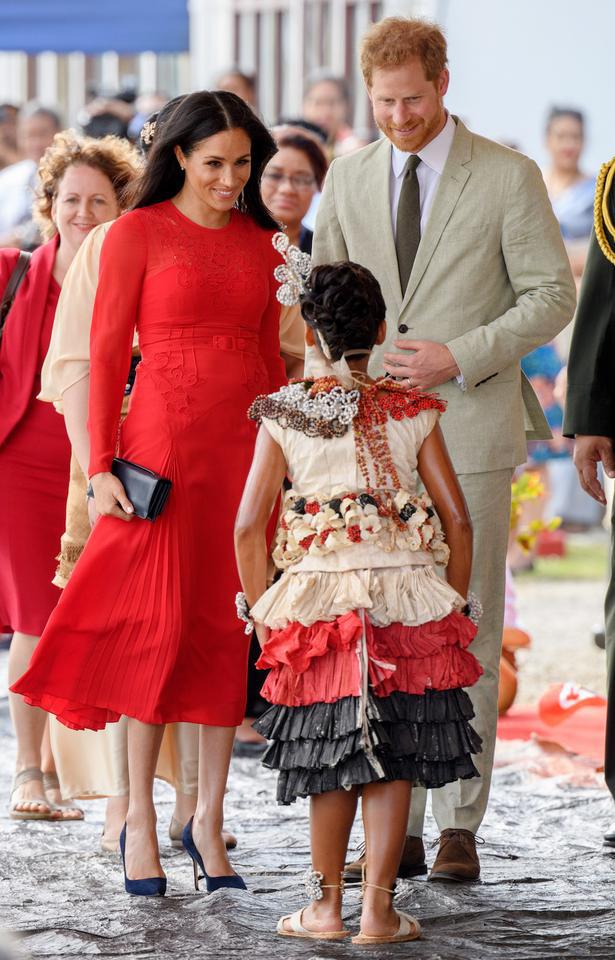 Blazer-Gate
I think we've all been there, after a long lunch or while homing a small foetus where we'd rather just swaddle our belly. You feel vulnerable and a bit exposed, sure. The first oversized blazer, from her pal Serena Williams's collection, wasn't her best idea, if I'm honest. The second take, a white Altuzarra number with a sweet flared back-vent was better. But hey, we're all learning here together.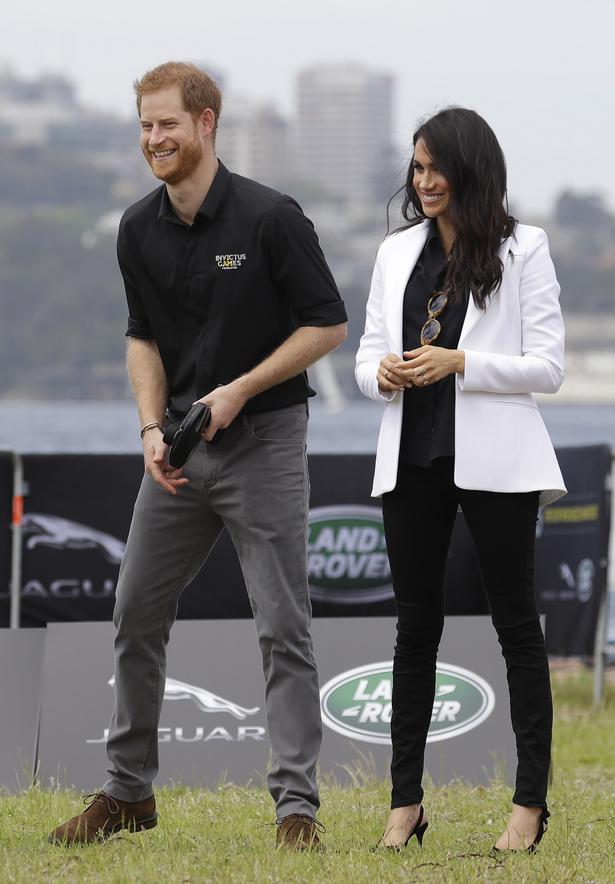 A Neat Finish
But is she winding us up? Because her (almost) finale outfit — white shift, beige trench, is remarkably similar to the ensemble she started off with. Coincidence? We'll never know! Frankly getting in and out of more than 35 outfits in two weeks is a triumph. Of course, we mustn't overlook the man on her arm. While the Duke's wardrobe can still do with some gentle editing, there hasn't been a single sighting of his previous affection for what can only be described as a woven gap yah belt.
And for that, Meghan, I congratulate you
Share this: