7 Style Lessons from Paris Couture
Couture is not only about pricey ballgowns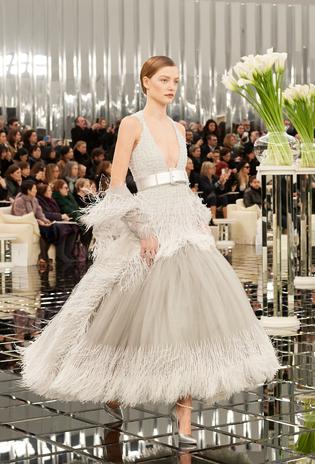 1. More is more-ish
Deep down, fashion knows that flagrant displays of unbridled extravagance tend not to end well for the wearer, unless revolutions, civil wars and a meeting with Madame la Guillotine are your idea of fun. But it can't resist. There were moments last week when the catwalks resembled a tray of genetically modified Viennese hot chocolates, with an extra scoop of Chantilly cream dumped on top just for the coronary-hell of it.
Ruffled dresses at Chanel, Ralph & Russo, Alexis Mabille and Giambattista Valli were so vast that even now, Ivanka may be installing a new set of elevators in Trump Towers. The problem with maximalism is that, like cosmetic tweaking, when everyone in your circle is indulging in it, it becomes addictively normalised.
Surely we've reached Scarlett O'Hara apotheosis here. Then again, in this anniversary year of Princess Diana's death, we'll be seeing a lot of that wedding dress, which means resistance may be futile for at least another 12 months. Minimalists should seek out the bold, dramatic, semi-ironic ruffle because it can look amazing. Alternatively, they should apply themselves to lesson two...
READ: Fantasy Fashion Vs. Reality Dressing in Paris
2. Hillary won one argument: trouser suits are catching on
At Armani Prive, slim, fluid trousers dominated the show. Worn with lavish beaded jackets, liquid silk camisoles or organza tunics, they were glamorous enough for the ritziest party. Given that Armani has more form than any other designer in dressing actors for their Biggest Night, it will be interesting to see if they make it to the Oscars.
Meanwhile, if Paul Smith has his say, they'll be on the streets and in the offices and on airplanes: A Suit To Travel In is his crease-resistant, lightweight wool masterstroke.
Combining his men's and women's ready-to-wear for the first time, Sir Paul, who trained as a ceremonial tailor, draped his men and women in almost identical trouser suits - tweed and Prince of Wales check exteriors, colourful, printed silk interiors. Very cool they looked, too. His secret? "The jacket should give strength on the shoulder and respect the ribcage," he says. "One of our shapes has a streamlined fit and a higher fastening point to give women a confident, elongated stride".
As for how it differs from the men's: "The slim-fitting trouser is a sister to the men's but slightly shorter, to elongate the leg. Combined with this jacket, it gives a sharp yet feminine silhouette. The other jacket [pictured below] is what most would describe as more androgynous and is a mainstay of our women's collections. You can throw it on and wear it with an embroidered or printed shirt to give it a feminine twist".
Will women finally embrace the trouser suit and wear both pieces together? "Yes," says Natalie Kingham, buying director at matchesfashion.com. "But wearing them broken up is great, too. First, figure out which trousers suit you; slim and ankle-grazing with trainers is the relaxed way. Loose-fitting mannish trousers work well with a heavy shoe. High heels are great for a more classic, sexy look. For something a bit glam rock, team with platforms and a tie or ruffle-neck blouse."
GALLERY: Highlights from Chanel couture spring 2017
3. Here's something simple you CAN try at home
Wish every blouse came with neck-ties or a pussy bow? The long skinny scarf that matches your blouse or jumper is a feminine, chic answer, seen at Hermes's pre-fall collection.
4. Have you left it too late for a statement sleeve?
Fashion's equivalent of the "what is dark matter?" question. Buying into a trend is a complex matrix of logic-defiance and timing. Right at the start? You'll get your money's worth in longevity terms, but it might be so early that those with a less educated eye point and laugh. Too late and it's ubiquitous.
We're almost at that point with the sleeve, especially after Melania's Roksanda moment. But there they were at Dice Kayek and Dior. Dior! Perhaps they're about to reach classic status. That's a really complicated proposition.
5. No fashion party is complete without a unicorn
Dior threw an intimate masked ball for 800 guests in the moonlit formal gardens of the Musee Rodin. Specifically, in a heated tent (it was -1C outside). There were fortune tellers, hedgerows, bartenders throwing shapes, models striking poses and young couture clients trailing furs, velvet trains and elderly husbands. It was jaw-dropping even though - spoiler alert - the unicorns turned out to be horses wearing falsies.
GALLERY: Highlights from Dior couture spring 2017
6. Valentino makes you want to pawn your kidneys
It's a funny thing, but most couture shows, however exquisite, have never made me want to be dollygarch-rich. Where the hell would you wear it? How would it fit through your front door? But Maison Valentino? Such beauty, such lightness. Timeless, too. I can totally see us all wearing one of those white column dresses when we're 90.
Talking of which, the cape column dress, which has become a Valentino perennial, has been reimagined with dropped shoulders and even as evening trousers-plus-cloak. Other tweaks included floor length dresses with capped sleeves and high necks - a surprisingly elegant but youthful looking solution to the body parts so many women dislike - and pleats with peekaboo flashes of contrasting colours. I think all the aforementioned demonstrate just how skilled creative director, Pierpaolo Piccioli is. In other hands they could look dowdy and sad.
Did I say sad? Sometimes Valentino can turn mournful, in a Medieval, plainsong way. But this was upbeat, an impression amplified by the gentle A- line silhouettes which flowed gradually from the high-neck down - the perfect summation of elegant comfort. Valentino's embroidery and twinkly beading was there too, of course - this is proper couture - but sparingly deployed, often veiled under tulle.
And to think there were concerns that something would be lost when Piccioli's co-designer, Maria Grazia Chiuri, departed for Dior last year. Instead we now have two major houses at the top of their game...
7. She who wears the clothes, understands the clothes.
It was Victoria Beckham who turned a vast personal wardrobe into a second, lauded career. Wearing so many designers gives a woman an intimate view on what does and doesn't work.
That at any rate is the rationale at Azzaro, one of those slinky Parisian labels you used to see a lot in pictures of Maxim's, but which lost its way. To mark its 50th anniversary this year, the management approached Bianca Brandolini and Eugenie Niarchos, two of Euro society's most stylish, to select some of their favourite Azzaros (both collected vintage Azzaro) and "reinterpret" them for 2017. There's the mini gold-beaded dress Tina Turner wore (they've done a long version), the Parfum dress that Jane Birkin loved (they had the horizontal cleavage straps moved to the back), a heart-shaped neckline dress... 26 looks in total that appear remarkably different depending on whether they're in animal print, lame or pale lilac satin. "The idea is to make glamour easy and comfortable," says Niarchos,a jewellery designer.
READ: Schiaparelli Recreates Wallis Simpson's Famous Lobster Dress
Brandolini concurs: "Couture dresses have become so elaborate this season. They look amazing, but it's not necessarily what you want to wear... you could take a lot of these dresses and wear them to a wedding during the day with flats, an evening party or a lunch on the beach with sandals".
Amazingly, there is still a small atelier above the Azzaro boutique on the rue Faubourg St Honore where each of these 26 dresses is made. It's not exactly couture, as they're not made to measure, but for many women it will be close enough.
- The Daily Telegraph
Share this: