7 Ways to Keep Your Wardrobe Fresh
It's the new season and you want to feel like you've finally moved on from cargo shorts and polo shirts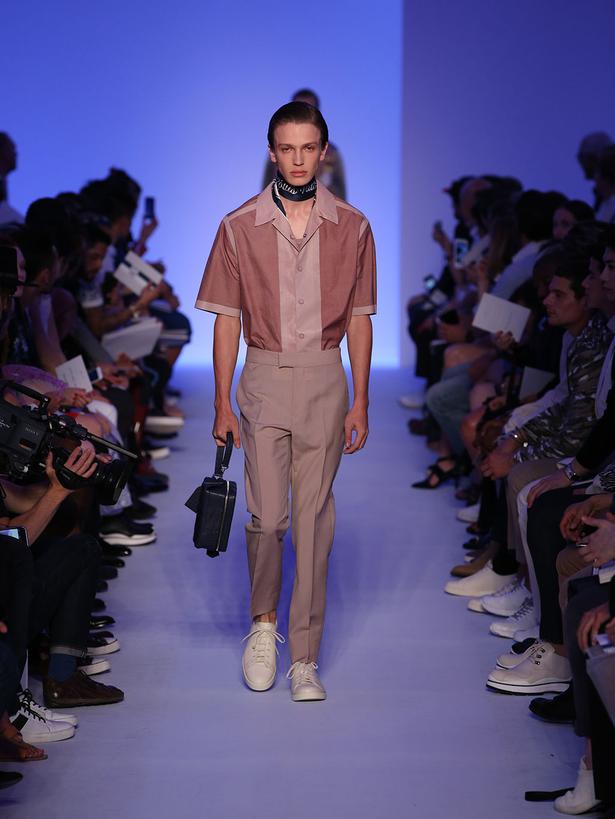 Wednesday Sept. 2, 2015
1. A boxy short-sleeved 50s-style shirt
Bowling shirts and boxy 50s shapes make a convincing return, from the smart two-tone option at Louis Vuitton Spring 2016 (pictured) to the Rebel Without a Cause-style bomber jackets at Hermes. Close to home, the reliable selection of shirts at Strangely Normal is the best in town. These guys specialise in updating those shapes popularised in the 50s and 60s in a wide selection of kitsch prints and quality fabrics.
2. Smart leather sandals
Along with espadrilles, it's the domain of every European male in summer. Espadrilles are perhaps a step too far for most guys in NZ, so why not try a discreet leather sandal instead? It's a smart alternative for guys who dislike wearing shoes over summer but need something that looks a little more "together" than a Jandal. Several retailers have slick options, from low-profile slides at Adidas or, for something more luxe, take a look at the leather sandals at Gucci.
3. The right amount of quirk with a polka dot tie
Polka dots, that classic print, have found their way on to several new ties this season. It's not a fussy print and not a conservative stripe, but it's enough of a quirk without looking ridiculous, elevating an otherwise humdrum suit to the next level. Our pick this season is the orange and navy rolled silk woven shantung tie by Drakes, at Crane Brothers.
4. Light blue jeans to wear everywhere
Not skinny, not black, not white, not flared, not raw — but a straight leg, light blue denim jean that you can happily roll at the cuff to wear with clean-cut trainers for the weekend or a pair of desert boots and a blazer on a Friday afternoon. Sure, it's a classic, but it's one that's rising in popularity because, frankly, they go with everything, even a smart leather sandal.
5. Grown-up shorts
Whether you're a pleat man or prefer flat fronts, a tailored short just above the knee is an ideal wardrobe item for the new season — and there's plenty to choose from. We're particularly taken by the tan Sunspel chino shorts at Fabric.
6. Keep it tonal
Wear one colour but in different textures because it's easy on the eye. A relaxed navy blazer with a navy linen shirt and navy chinos looks immediately put together (broken up by perhaps a tan belt and shoes). Think of earth tones from shades of taupe to khaki green and repeat. It's the perfect way to add some colour and move away from black and white, a cheater's way of looking polished and put together without making too much effort.
7. A soft briefcase
It's not a man bag, it's just a bag. For corporate types who don't want to feel like an 80s banker, try a soft briefcase or a document bag. There are plenty of slimline offerings from the best of them such as Louis Vuitton and Prada. It's an investment piece that will make you look like you mean business and will last you well beyond the season.
Share this: