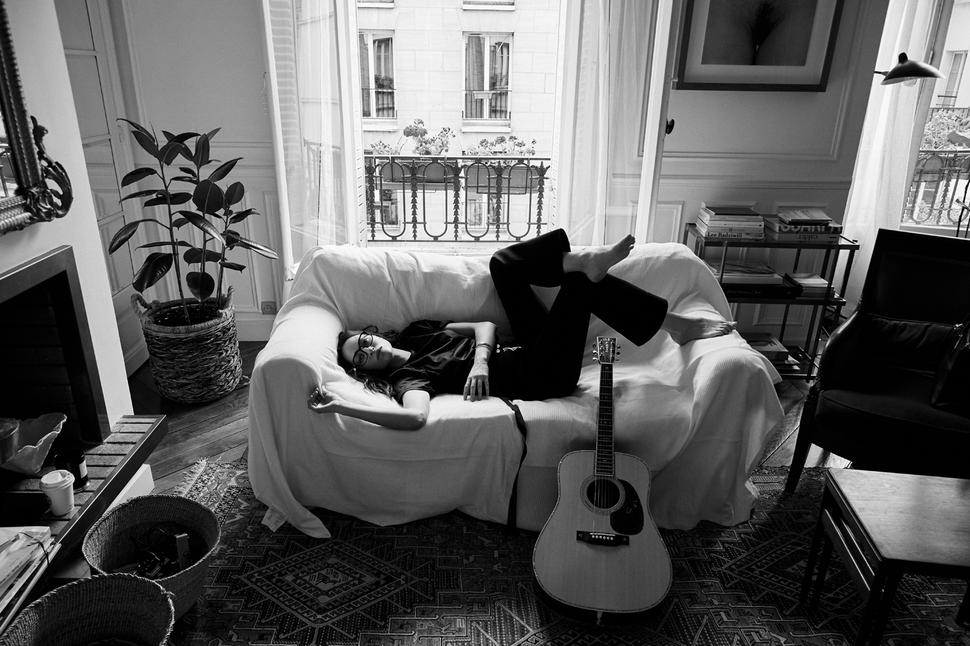 At Home with Designer Kym Ellery in Paris
Kym Ellery talks about her new eyewear collection for Specsavers and life in the French capital
Wednesday Aug. 2, 2017
I'm sitting on a linen sofa in an apartment situated in the third arrondissement of Paris. Children laughing at the neighbouring school compete with the familiar sound of sirens in the distance. The lingering smell of a Christian Dior Ambre Nuit candle wafts past as Michael Kiwanuka's soulful Love & Hate gently plays in the background. Across from me, Kym Ellery, dressed in black with bare feet and carefully bedraggled hair, is strumming the first few chords of Neil Young's Heart of Gold on her acoustic guitar, sprawled across another linen sofa. Past the linen drapes and out the open window, pretty apartments with shutters and flowerbeds peek in. Paris has welcomed Kym with open arms. Her eyes light up.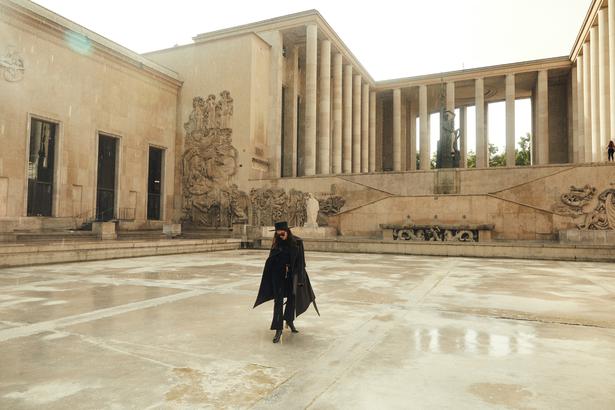 "The very first time I came to Paris, I fell in love. I was travelling to Europe with one of my best friends Kinga Burza [the director, who recently filmed a L'Oreal Paris campaign with an Ellery-clad Elle Fanning] and looking back it was one of the most exciting things to happen to me. "Even as a kid I loved France. When I was about 8 our principal's wife was French, so the language was part of the syllabus and my life from an early age," says the 34-year-old Australian who moved to Paris in January 2016, and splits her time between her European base and her Sydney headquarters.
"What I work on in Paris as opposed to Australia is very different; the team is much smaller, less chaotic. In Australia I need to focus on multiple departments. There's a constant flow of people needing my attention," Kym says. "Here I have space in my mind around the collections." Her new base gives her the opportunity to be more creative, and her apartment indicates a designer with an insatiable passion for culture, music, travel and art. Shelves are laden with books about Matisse, Leonard Cohen poetry, Patti Smith memoirs and Parisian history. ("I love going back and reading about Lutetia, before it was called Paris.")
A woven art piece by LA-based Australian artist Benjamin Barretto hangs opposite an ornate gilded mirror above the fireplace, the opposing pieces indicative of Kym's taste for mixing both contemporary and classical design.
The worldly designer, whose middle name is Kahurangi, is also respectful of her roots: a trinket box with Maori carvings made by her uncle and a small woven kete gifted by her grandmother are treasures that have also found a home in Paris, connected to her family in Waiuku, where both her parents came from before moving to Perth.
Kym's trajectory from the remote mining town of Karratha in Western Australia is impressive, graduating with a certificate of fashion design in Perth followed by a fashion illustration course at Central Saint Martins, before returning to Sydney and working for Australian stalwart Scanlan & Theodore. But it was her role as part of the fashion team for indie fashion magazine Russh that announced her arrival as Australian fashion's "It" girl, before starting her own label in 2007, aged 23.
A decade later, she's still got it. Today the brand is seen as a serious contender in the contemporary luxury womenswear market, stocking in big name retailers including Dover Street Market, Lane Crawford, Galleries Lafayette and Net-a-Porter; and worn by celebrities including Cate Blanchett, Rihanna and, more recently, Celine Dion. This has instigated the need to open a New York office to better service the red-carpet industry.
WATCH: Ellery Fall 2017/2018
Making its debut on the official Paris Fashion Week calendar in 2015, Ellery is the third Australian brand after Martin Grant and Collette Dinnigan to be accepted by the governing body of the French fashion industry, the Federation Francaise de la Haute Couture du Pret-a-Porter des Couturiers et des Createurs de Mode. It's a major coup for any brand outside France, with Kym receiving business advice and mentorship.
The Ellery look is distinctive and her penchant for fluted flared pants, rigorous tailoring, ruffles and bell sleeves is in demand; architectural styles she describes as "modern classics", always with a slight 70s bent and proudly made in Australia using innovative textiles from Italian and Swiss mills. The hardened French fashion press have given it their seal of approval.
"I don't feel pressure here because they've really welcomed us and appreciate the newness the brand brings to Paris Fashion Week. They love that I've chosen Paris as the city I live in. It's become home quite quickly," she says. "I'm still very much an outsider but every day I improve my communication and understating of the culture." During the day, she requests every Uber driver change the station to 89.9FM TSF Jazz, a tactic she whispers "so they know I am familiar with Paris, and they don't take me for a ride."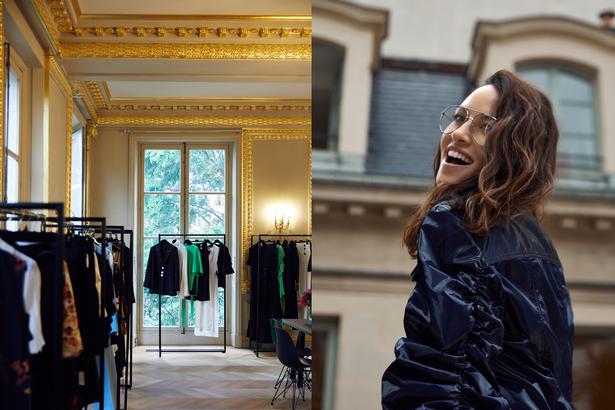 In February, she was awarded Emerging Brand of the Year at the Elle UK Awards, further validation towards her growing business in the Northern Hemisphere. "It was important because it's a British publication and the other recipients of awards were such iconic people. I never thought I'd hold the same microphone as Debbie Harry!"
Back at her apartment, close friend Darren McDonald is photographing Kym exclusively for Viva to mark the release of her second line of eyewear in collaboration with Specsavers. Darren, who attributes his start in the industry to Kym when they first met in 2011, is also responsible for the new eyewear campaign starring Gemma Ward. The collection is inspired by a coterie of icons including Peggy Guggenheim, Truman Capote, Iris Apfel, Carrie Donovan, Jerry Garcia and Buddy Holly.
"It involved a lot of research and discussion with our team about who we are as a brand and what type of woman is going to wear these glasses. To go from garments to eyewear and still incorporate elements significant to our DNA was important, so we looked at textures in terms of acetates and beautiful polished metal finishes that we use in our garments, like zips and buttons. Each pair has an eye insignia stamped on the back of the ear pad with a small diamante feature, and it was a real joy to come up with those ideas."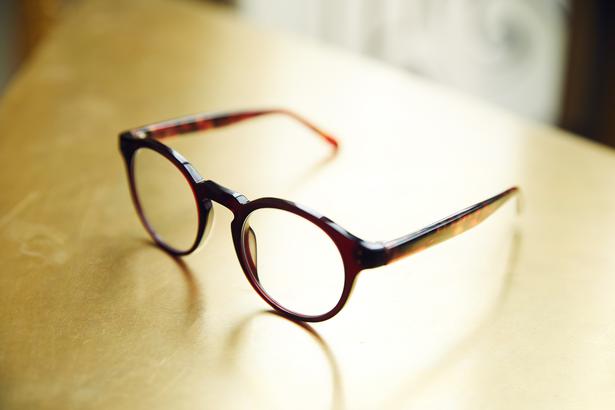 Six prescription glasses and four prescription sunglasses will be released tomorrow; a pair of silver-framed aviator spectacles are one of Kym's personal favourites. "Eyewear is so technical, so you absolutely need the expertise of an eyewear-specific team. It was really exciting for me to work with Specsavers and see them create such in-depth technical drawings."For New Zealand women, Kym believes the range will complement their style perfectly. "I love Zambesi and Nom*D — that deconstructed, artful feeling. The eyewear will definitely add a beautiful accent to that style."
We visit her showroom in St Germain on Rue de l'Universite, an elaborately gilded salon where press and buyers are viewing Ellery's Resort 2018 collection by appointment. Kym's French musician boyfriend Maxime Sokolinski (brother of French actress and singer Stephanie "Soko" Sokolinski) is playing his electric guitar next door. Kym changes outfits before we head to lunch at the iconic Cafe de Flore. We take a seat on the terrace as people pause to admire this chic woman clad in black with a wide-brimmed felt hat. All eyes are on Kym. She is simultaneously witty, charming, intelligent and graceful, what the French would describe as "tres-cool". But Kym is oblivious. "Try some of this tarte tatin, it's delicious," she says, smiling. She hands me a fork before taking an elegant bite, then sits back in her chair and gazes out at the City of Lights.
Kym Ellery's favourite spots in Paris:
1. Place des Vosges: Located in the historic Le Marais district.
2. Rue Montogrueil: Classic French shopping and dining strip.
3. Librairie Galignani: The oldest English language bookstore on the European continent, founded in 1801.
4. Palais de Tokyo: A contemporary art space.
5. Les Puces de Saint Ouen: An antique fleamarket.
6. Atelier Brancusi 
• The Ellery eyewear range arrives in Specsavers stores tomorrow, priced from $299 for two pairs of single vision. Visit Specsavers.co.nz
Share this: