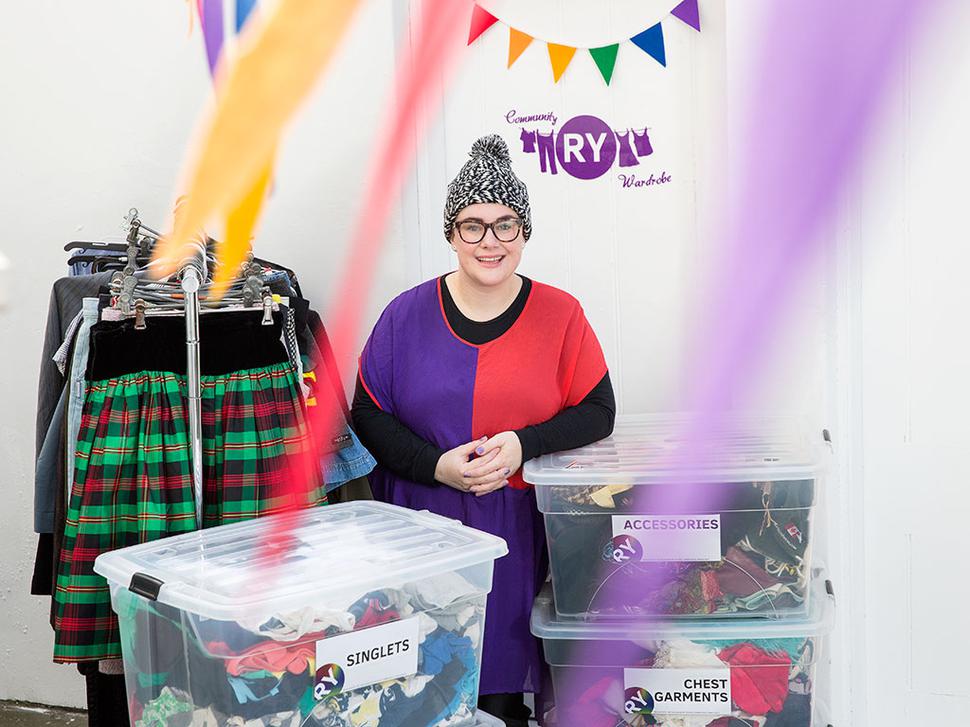 Dressing Gender Diversity
Aych McArdle, education director for Rainbow Youth, talks about gender identity through fashion
Wednesday May 20, 2015
Aych McArdle is speechless. For the first time in our hour-long interview, Aych turns uncharacteristically pensive. We are sitting in the headquarters of Rainbow Youth on K'Rd in Auckland drinking tea and discussing gender pro-nouns and the power balances between men and women.
The conversation naturally turns to fashion, a subject that the 27-year-old relishes with equal passion. Known to the local fashion industry for the past seven years through the blog Aych Blog, a website dedicated to discussing fashion with an ethical stance, gender identity and storytelling, Aych is unusually lost for words. The question 'What does fashion mean to you?' procures a brief moment of reflection before answering.
"Fashion to me is complex and life-giving. I use it in lots of different ways in my life. I use it to talk about myself, as armor, in a performative and fun way. Most importantly it's a tool I use to interact with different power relationships in my life. It's a significant language to me."
After volunteering part-time while studying at AUT and eventually being elected to the board for Rainbow Youth, Aych was given an opportunity last year after graduating from a Masters in Art and Design to take the reigns as education director for the organisation.
It's a role that involves overseeing and supporting its team of educators and schools that include sexuality and gender diversity education as part of their curriculum and allows for further exploration of Aych's Masters thesis.
"In my thesis I talked about how we use clothing to talk about our identity and to discuss people who sit in between that gender binary and how we can share our stories with each other as a way of breaking down barriers. That's basically what our education programme does in schools, and it's that idea that when people sit down and engage in that process, those barriers get broken down so we can live a little more harmoniously. We have this really strict concept of normal in our society so if we have this really strict concept of normal have a really strict idea of abnormal. We want to challenge those assumptions." 
As education director, Aych is also actively engaged in how language can be used to describe people in that community, with an extensive list of words found on the Rainbow Youth website explaining terms such as Agender and sub terms around the word trans (transgender, transexual, transfeminine, transmasculine).
For someone who's well versed in the myriad of pro-nouns used to identify the varied gender diverse population, it's an overwhelming look into a language that Aych believes is essential to understanding people that sit in that 'in between' gender binary.
"Through my masters I became really engaged with story telling and non binary identities. Through my role here, I also realised the way clothes played a major part in peoples lives. We talk about different acronyms here like LGBTQI, and I really love that 'Q' for questioning. Names and identities shift a lot in this space, and this is often a safe space where people try on identity. I was seeing that through the name and pro-noun language, but then also through clothing and the relationship between language and dress."
To make that relationship between gender identity and clothing after for young people, Aych instigated a community wardrobe that launched in February, with funding from youth sector support organisation Ara Taiohi. Based behind the Rainbow Youth offices, the wardrobe is a way of connecting people with resources they need to eliminate some of the assumptions and stigma when trying to access identity affirming clothing. "It originally came about when a bunch of our young began their social gender transition. I pitched the idea to our board about a community wardrobe that would facilitate an exchange of clothes. Orginally done to meet the needs of our trans and gender diverse young people, it's now grown to meet the needs of all of our young people who are low on resources. It can be about accessing a smart outfit for a job interview or a hard hat and boots for an apprenticeship. It also creates a way for the wider community to support our young people in a non-monetary too."
Indeed that gender binary conversation has opened up major interest over the years in popular culture, particularly through representation of gender through fashion from musicians such as David Bowie, Prince, Mick Jagger and Lenny Kravitz. More recently in mainstream media, LGBT activist and actress Laverne Cox became the first transgendered person to ever be nominated for an Emmy Award in an acting category for her role in Orange is the New Black, and the first openly transgendered person to appear on the cover of TIME magazine last year.
Bruce Jenner's recent interview with Dianne Sawyer also brought to the fore questions on the difference between gender identification and sexual orientation. Even Viva cover star, Austrian singer Conchita Wurst, who identifies as a drag artist, is creating another conversation segue into the world of exaggerated gender performance and how that sits within the spectrum of gender identification, particularly with representations of femininity and femaleness.
"Drag is talking about the performance of gender. It can be a great platform to raise conversations  about gender, so what Conchita is doing is really interesting. It's the oldest form of political satire we have, so there's a tension there between those that are being dolled up in the club and those who simply identify as female" says Aych.
"Drag artists and people who like to talk about the concept of gender fuck within their art practice have an often tense relationship with transgender people and transwomen in particular. With drag performers there's an exaggerated performance of gender that challenges and reinforces our assumptions and stereotypes around how gender 'should' be done. It's interesting when that intersects with other powers in our society, such as power and balance between men and women and everything else that becomes problematic when it comes to exaggerated performance of any identity."
That link to clothing gender is a topic of interest in the fashion industry at the moment, and while it marks the current zeitgeist of fashion, it's also crucial to steer clear of reducing the concept of gender neutral fashion as another seasonal trend, but rather as something that can assist in the progression of acceptance and understanding.
Several designers continue to explore the idea of clothing not bound by traditional gender policing i.e. boys wear blue, girls wear pink. Designers such as Jean Paul Gaultier and Riccardo Tisci for Givenchy have long been advocates of the LGBT community through their diverse casting, creating a platform for transgendered models such as Lea T and Andreja Pejic to be seen and heard.
* Read our interview with Lea T here.
Traditional menswear is also being challenged right now with designer J.W Anderson, who is actively re-examining menswear through collections that shift away from prescribed ideas of masculine dress, and thus prescribed ideas of masculinity itself. A lace shirt from his menswear show for spring 2013 turned heads, as did the bandeau tops and culottes of the following season.
"I feel like menswear has gotten to a point for me where it had to be thrown out the window and dragged back in," Anderson explained in an interview to Style.com after his Spring 2013 show. It's formula that Anderson is filtering through his line as artistic director for luxury brand Loewe, albeit in a more refined and marketable way, to sell clothes that go beyond being standard unisex or androgynous offerings.
Local fashion labels such as Jimmy D, Jason Lingard and Maaike are creating clothes that have an ambiguous quality about them. In a time where womenswear has so often looked at traditional aspects of menswear (boyfriend jeans, man stye brogues, boy-meets-girl suiting), it opens up conversation about the removal of such gendered language in fashion.
It's that classic tale of gender policing that has given Aych the cue to question patriarchal notions of dress, even for people who prefer to dress more masculine or hyper feminine, no matter what gender they identify with.
"If you prefer to dress really feminine or really masculine, and that really works for you - that's great. The problem happens when gender policing starts to trickle away from yourself and then on to someone else. There are a lot of assumptions in our society about what a girl looks like and what a boy looks like and then also about what they should wear. When in any way you digress from that, people freak out, and it's manifested in different ways."
However, much like power dressing in the 1980s was indicative of societal shifts and third wave feminism, Aych believes the opening up of gender discussion is a positive step forward, and is aware of the challenges faced by those who first put down the groundwork for mainstream acceptance around such discussions.
"I've always believed that fashion is a really good barometer of social progress. It allows us to deconstruct society and question things. It's a sign that we are becoming comfortable in having these conversations about stuff that maybe was kept private but now is ok to talk more openly about."

• The Community Wardrobe will be taking donations of good quality clothing later in the year. For further information click here
Share this: