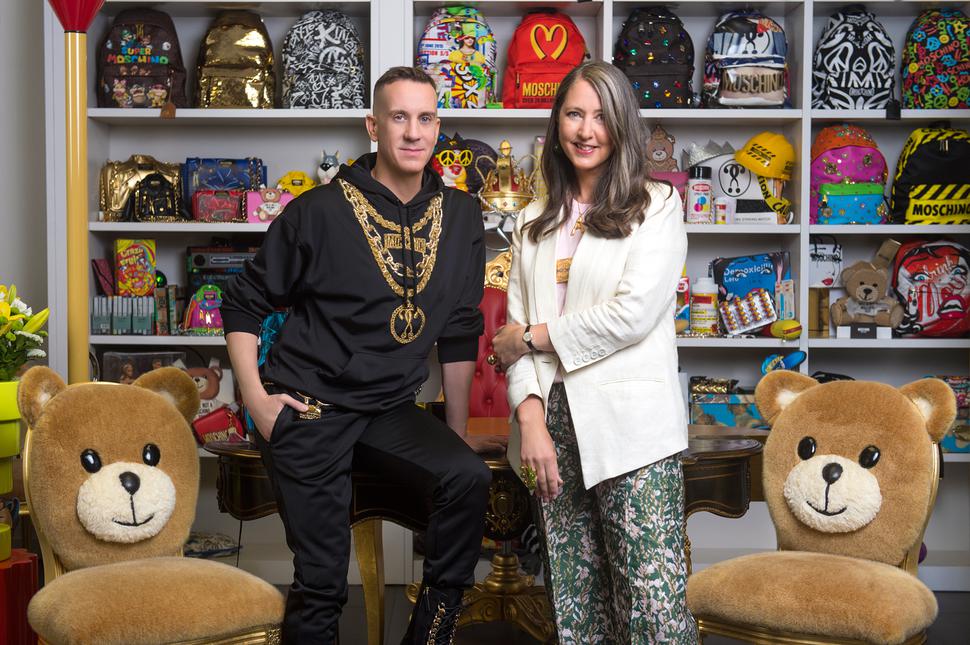 Jeremy Scott Talks Empowerment Through Fashion & That Moschino x H&M Collection
The designer and H&M's creative advisor Anne-Sofie Johannsson reveal what it was like working on their outré collaboration
Tuesday Nov. 13, 2018
You've done several collaborations over the years, partnering with brands from Adidas and Swatch, to more recently Ciroc during Milan Fashion Week and Candy Crush last year. What do you love about the collaborative process?
JS: "I love to collaborate! It's funny because I'm super strong-willed. I'm very opinionated and I know exactly how I think things should be. But I'm also super collaborative, and love to come together with others to make something happen. Moschino [tv] H&M is like the ultimate collaboration. It's on such a global stage and reaches so many people around the world. Like everything I do, I've given it my all."
GALLERY: Highlights From The Moschino x H&M Collection
You're coming up to eight years with Moschino and you've managed to maintain its playful irreverence. What's it like working with such an incredible archive?
J.S: "I am like a kid in the candy store with the Moschino archive. Franco came up with so many ideas, so many of them not recognised in his time. Often what I'll do is take a piece of Franco and expand on it, twist it, show how it gets into the vocabulary of what I'm doing that season. It's like a conversation, and I'm so happy with all the archive references in the Moschino [tv] H&M collection."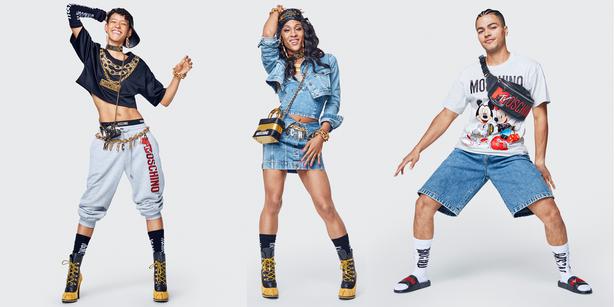 The lookbook features such diverse cast including drag artist Aquaria and transgender actress and singer MJ Rodriguez. Why were they chosen to represent this collaboration?
J.S: "I believe that fashion should be democratic. That means fashion should be for everybody, no matter who you are, where you are from or what you look like. Diversity has been part of everything I do since I first started my own label in the 90s. It's so wonderful to have MJ Rodriguez in the lookbook, she is such an incredible talent, and I'm the world's biggest fan of RuPaul's Drag Race so I've got to have Aquaria in there!"
READ: Carol Lim and Humberto Leon From Kenzo On Their H&M Collaboration
In a time where women are needing more power and freedom in their wardrobe choices, how do your designs help empower women?
J.S: "Empowerment for me has always been about expressing who you really are. I'm an outsider, I always have been, but being an outsider doesn't mean you have to be a loner. I have always found a community in fashion, and I want every day to have fashion show moments. Empowerment is using what you wear to say everything about who you are, and letting everybody know about it."
GALLERY: Viva Fashion Team Road Test The Moschino x H&M Collection
There are several elements of the H&M collection, including pet wear and a Disney capsule. Can you break it down for us and talk us through the various elements, what your starting reference was and how all these aspects combined capture what both brands represent?
J.S: "There are so many different elements that come together to make Moschino [tv] H&M! I love to create a mix that brings together all these different parts, some that you might not think before would have come together. When I was designing Moschino [tv] H&M, I was thinking street, street, street. I wanted an urban attitude, high mixed with low, mixing in some bling and pop culture, some real Italian glamour, and always everything with a sense of humour. I wanted it all to have punch. I wanted it to be 100 per cent me, 100 per cent Moschino."
What's great about this designer collaboration is how extreme it was compared to the previous collaboration with Erdem. What do you think this says about how streetwear has really become ubiquitous now more than ever before?
ASJ: "We always love to do something completely different with each of our collections. After the romance of Erdem, it's amazing to be bold and loud with Jeremy and his amazing work for Moschino. He has an energy and an attitude that is perfect for fashion right now. Streetwear has become such a strong voice in the language of fashion today, and we can't wait to see how our customers make this collection part of their wardrobe."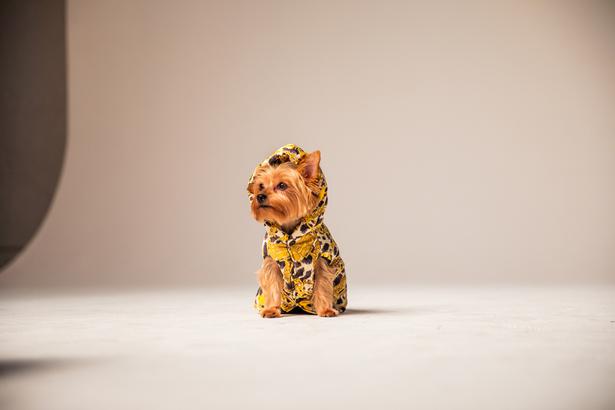 What values of the Moschino brand do you partiularly love?
ASJ: "We share so much in common with both Moschino and also Jeremy too. We believe that fashion should be for everyone and that it can break down the barriers of language to create a global conversation. We also both believe that fashion should be fun, and should bring pleasure to people's lives."
Do you have personal favourite pieces from the range? If so what are they and why?
ASJ: "One of my absolute favourite pieces is the pink fake fur coat with the gold chain punctured through it, that I can't wait to wear this winter. It's the sort of piece that you can throw over something really simple and totally transform your look. The bomber jacket with the charms and leopard print is such a versatile piece, and I also love the MTV Moschino hoodie – it'll be so fun to wear."
THROWBACK: The Man Shocking The Fashion Establishment
What were some of the most memorable moments you encountered with your dealing with Jeremy and his team during the creative process?
ASJ: "It's been so much fun getting to know Jeremy and his team. Jeremy is so easy going, and also is a true professional. He has a natural instinct for what is right for Moschino, and also what will connect with his fans all over the world. He's very direct and very clear about his work. If it's right, he goes for it. There's no indecision, and when he knows it's a good idea, he pushes to make it the best it can be."
What do you think this collection says about the need for joy in fashion? How does it create a mood of optimism during volatile times?
ASJ: "Moschino [tv] H&M really shows the power that clothing can have, and the way that the pieces you choose to wear can really bring positivity to your own and other people's lives. It shows that you believe in the power of optimism, joy and happiness, and also of diversity and acceptance."
Share this: