Fashion Consultant Jo Knight On Taking New Zealand Designers Global
What potential does New Zealand fashion have right now to make it big? Fashion consultant Jo Knight shares her thoughts on what it takes to stand out in a highly competitive market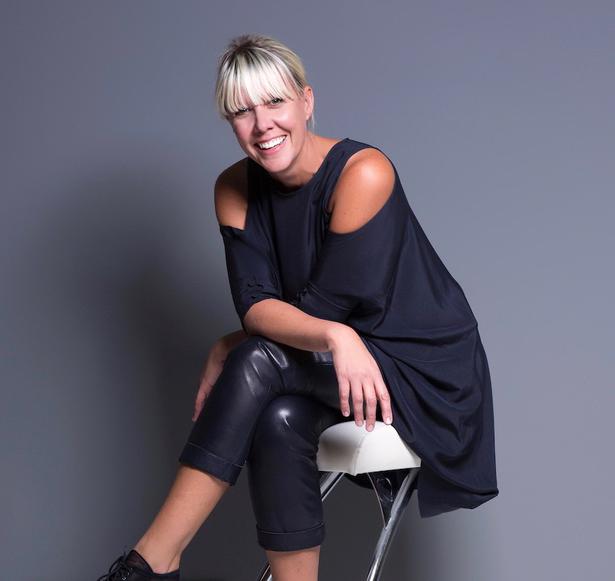 Tuesday Jan. 22, 2019
Jo Knight is a champion of New Zealand fashion, and through her new fashion brand and retail consultancy business Knight Collective, she's adapting to the ever changing fashion environment today.
Speaking from Paris where she's set up a showroom to showcase a portfolio of eight designer's she's taken under wing, six of whom are from New Zealand, Jo's passion, advice and connections are invaluable for any young designer. Some of Jo's career highlights include working closely with the late designer Richard Nicholl as co-owner and director, and she's played a pivotal part in the early success of sustainable label Maggie Marilyn.
Since returning home from her time overseas, she's worked with other local brands including Taylor and Stolen Girlfriends, and this season in Paris she's showcasing the designs of Nom*D, Mahsa, Wynn Hamlyn and Harris Tapper.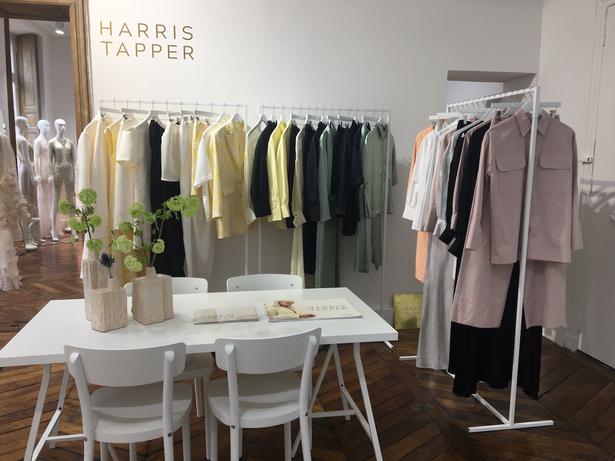 Harris Tapper. Photo / Supplied

What is Knight Collective?
Knight Collective is a boutique fashion brand and retail consultancy that works alongside emerging brands to launch them globally through a range of services that amplify the designer's vision, enable creativity through realising revenue and building longevity through a personal and empathetic brand experience. Our absolute desire is to enable creative minds and visions in an environment and a way that is both respectful to the creator and to the market, and of course created consciously.

READ: Wynn Hamlyn NZFW 2018 Review

The market being not just the end customer but also the buyer, the store, the retail staff, the merchandiser, the customer, the environment, and the future all within consideration. We work with each of our clients through a customised programme of brand initiation and immersion, development of strategy, creation of narrative and into outreach. From there we then connect, compel and convert the market in order to create an international platform for their brand to be nurtured and grow.

Why are you passionate about supporting emerging design talent?
I love the newness and naive creativity of emerging designers not scared by the relentless fashion cycle or cynical about what is possible. There is something about getting someone started on the road with their vision and launching them into the international market that excites me.

The moment of discovery of new talent and nurturing this into success is very rewarding. Seeing creativity succeed commercially is deeply satisfying. I have a good understanding and am empathetic to what it takes day to day to start a brand because of my experiences and have a lot of learnings to share.

Tell us about the team in Paris this season. What do you admire about each of these labels you're working with?
This season Knight Collective has more than doubled in size. With eight brands from around the world and six designers from New Zealand — it's exciting times. Each of them are presenting collections with a unique take. I am proud to be taking these brands to the world.

There's Jaime Major who I love for her beautiful demi-couture pieces that translate so beautifully into event and special occasion day wear. @jaimemajorofficial. I love Wynn for his unique quirk across classic pieces @wynnhamlyn. We've also got Norwegian designer Edda Gimnes. I love for her art meets fashion creative naivieity. @edzgimnes.

Then there is Mahsa which I love for her ease and romantic confidence @mahsa.label. Catherine Quin I love for her liquid silk pieces inspired by architecture and loved by art buyers and philanthropists across London and New York @catherinequin. Harris Tapper  I love for their simplicity, ease and accessibility @harris_tapper; and finally Nom*d I love for their dark cultish t-shirts @nom_d.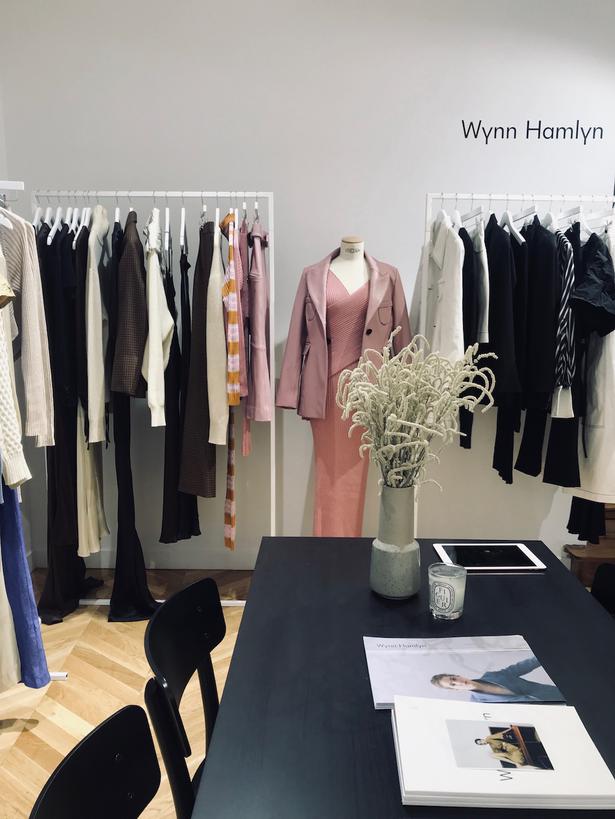 Knight Collective Showroom. Photo / Supplied

What are some of the key challenges you have noticed for New Zealand brands getting exposure overseas?
The fashion market is a huge market. Deeply fickle and highly competitive. For any new brand it is a challenge to get cut through and gain exposure overseas but especially for New Zealand because we are not everyday in the circles of the press and stylists that can influence leaps and bounds in profile building; for emerging designers the struggle is greater.

There are really so many layers to building a successful business. So much is possible from afar but so much relies on personal connection and relationships and being in the cities where the decision makers are.

I am so often travelling and connecting with people in the industry on a personal level. They are my people, my fashion family and really for each brand they need to create their fashion family of stylists and writers and influencers and buyers and lovers of them and their brand. I don't think this means living overseas but it does mean being present in the key markets and being purposeful and engaging internationally.

THROWBACK: Maggie Marilyn's Epic Year

You played a pivotal role in championing the Maggie Marilyn label from the beginning. How do you know someone has got potential to go far?
I am always looking for new talents. Of course, there needs to be more than just one good collection idea. There needs to be a strong DNA that is through all of their work. They need to have a unique POV and be offering something that will survive swinging on a rail far away from home. Their story needs to have depth and breadth and be able to be relevant outside of New Zealand. They need funding and mostly they need to have personal capacity. It is a huge journey that needs passion and tenacity and courage and strength of character. I am so proud everyday of those that I know that are on the journey.


How has the industry changed from when you first began? What are some of the advantages now?
I have to admit I know some people hate it but I still love Instagram (especially for business) and for what it offers visually but really social chat channels like Whatsapp/Insta messaging/We Chat have changed so much how we communicate. It's so possible to stay in touch in a more instant and personal way than with an email.

All countries are on chat and more and more stores are selling via chat. It's the way of the future. Of course, also the open-mindedness towards more isolated countries has changed buyers perspective of what is possible from a country like New Zealand. Fashion weeks outside of the main four are growing in popularity and there is a greater acceptance that creativity can come from anywhere.


What is the general feeling towards New Zealand designers in Paris from your experience? What resonates with that particular market now?
As long as we can offer newness and strength in our collections we will stand out. This goes for designers from anywhere. Stand for something. Don't reflect an aesthetic that you love. Be better than the designers that you love. Be inspired by them and be greater. Anything is possible.


How has fashion retail changed in New Zealand and what are the challenges being faced at that level for these younger brands?
New Zealand has some great boutiques that are also benefiting from the ability to source brands from further afield. I think this is a risk to New Zealand designers who need to push harder to stand out alongside the compeition. 

What else does the Knight Collective have in store for the rest of 2019?
It's an exciting year ahead with some new brand projects on board. We will be back in Paris in June for our showroom with our Resort 19 Collections Knight Collective, doing some projects for Australian Fashion Week in May and New Zealand Fashion Week in August.

Knight Collective is also moving to Sydney which is exciting and sad to be leaving our shores. To be honest we can do what we do from anywhere in the world but of course, our roots will always be in New Zealand and we will continue to grow and nurture our designers.
Share this: