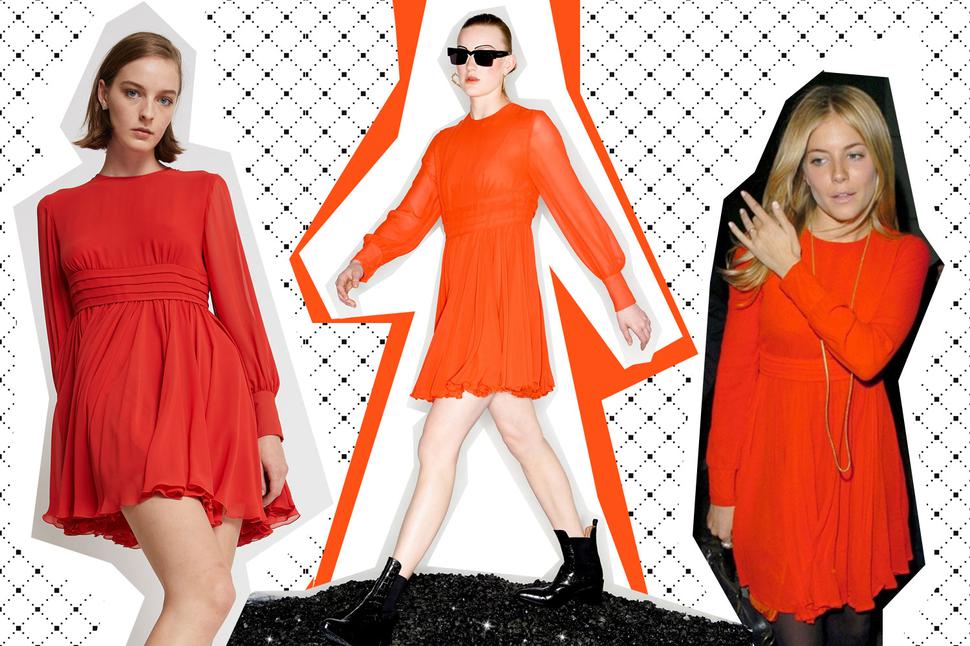 Karen Walker's Nostalgic Re-Release Of An Iconic Dress
The Skating dress from the designer's widely acclaimed 2004 Liberal & Miserable collection returns for another spin
Wednesday March 25, 2020
16 years ago Karen Walker unveiled a scarlet hued dress down the runway at London Fashion Week in 2004 as part of her seminal collection entitled Liberal & Miserable. Today it makes a comeback. 
For most designers with an extensive archive of greatest hits, this particular dress, the Skating dress, turns out to have stood the test of time; I should know — my wife has one of the few originals ever made, faithfully scouring websites and vintage stores for pieces from the designer's earliest collection's becoming a part-time hobby.
READ: Karen Walker's Bridal Wedding Dress Collection
As one of her favourite pieces, the dress has become a reliable wardrobe staple over the years. 
A deceptively simple dress in the perfect red, Karen's Skating dress has become a cult favourite. Combining a sense of nostalgia with popular demand, today mark's the re-launch of the popular dress into stores as part of her pre-fall 2020 collection.
"In my career, I've been lucky enough to have had a handful of, what I consider, great pieces emerge under my watch," says Karen.
"The scarlet Skating dress is one of them. We first made her for the Liberal and Miserable collection and her difference was there from the very first sketch."
"Upon developing that sketch into a garment it was clear she was truly superior. Once unleashed to the world at London Fashion Week in February 2004 she was seized by media, stylists, and celebrities.
It wasn't the first time we'd had celebrities wear our designs but having Sienna Miller doing her paparazzi thing and Björk doing her on-stage thing in this dress was very thrilling indeed."
Originally made from silk chiffon, the updated version is available in tactile recycled polyester chiffon.
"What is it about this dress that makes it work?" Karen asks. "First of all, it's the proportions: it's exactly the golden ratio which is always a knockout and, in this case, completely unplanned."
"It's the simplicity of the line. It's the austerity of the top mixed with the extravagance of the skirt and its four full circles of silk chiffon."
THROWBACK: Meghan Markle-Wears Karen Walker Trenchcoat
"It's the restraint of the single block of colour mixed with the energy and excitement that only scarlet can give you and the movement that only eight meters of silk chiffon can give you."
We're excited to re-release her this season with one small change - the cloth's no longer silk chiffon - it's now recycled polyester chiffon because technology's caught up with demand and recycled polyester now feels astonishing."
"But, apart from that, she's the same and, in sending her out into the world, 16 years after she was first released, we hope she'll be loved as much as she was the first time around."
• Karen Walker Skating dress $595. Karenwalker.com
Update: Customers who want to order the Skating dress by midday today may make the shipping cut-off for efficient delivery. For others, Karen Walker can can take pre-orders and be in touch regarding shipping when the government deems it safe again.
Share this: