Kristen Stewart Steals the Spotlight at Chanel
And the other news you missed this week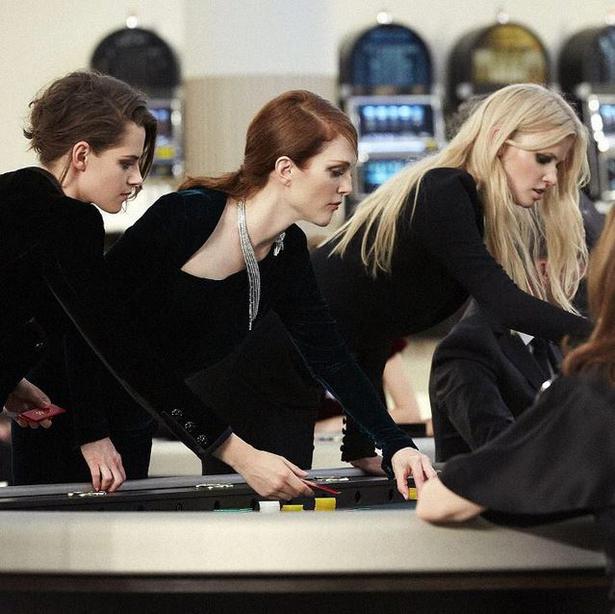 Wednesday July 8, 2015
1. Kristen Stewart was centre stage at Chanel's Haute Couture casino-inspired runway show in Paris overnight, where she played blackjack with Julianne Moore and Lara Stone in the middle of the Grand Palais. As for the models — they were dressed in iconic Chanel tweed skirt suits and embellished evening dresses.
2. Retail giant American Apparel says it may not last the year due to growing financial pressure. The company is taking a series of cost-cutting measures that could reduce operating expenses by $30 million, including closing certain store locations and cutting staff. But even that may not be enough, as the retailer said: "Even if American Apparel increases revenue and cuts costs, there can be no guarantee that the company will have sufficient financing commitments to meet funding requirements for the next 12 months."
3. Balenciaga's spring 2016 collection is rumoured to be Alexander Wang's last for the French fashion house. A spokesperson for the company said there were discussions between the designer and Balenciaga regarding the renewal of the contract, but was unable to confirm the likelihood of an agreement being reached. The news comes after it was reported Wang was seeking out investors for his privately held namesake brand.
4. Louis Vuitton is set to open its second museum in Paris where the Vuitton family once lived and several workshops are still in operation. The museum will showcase the house's enormous archive and will be a must-see for fashion lovers in Paris.
5. Lady Gaga's stylist Brandon Maxwell is set to launch his own ready-to-wear line at New York Fashion week in September. Maxwell is responsible for some of Gaga's most iconic looks, including the sequin gown she wore to the Grammy Awards last year.
Share this:
More Fashion / The Latest