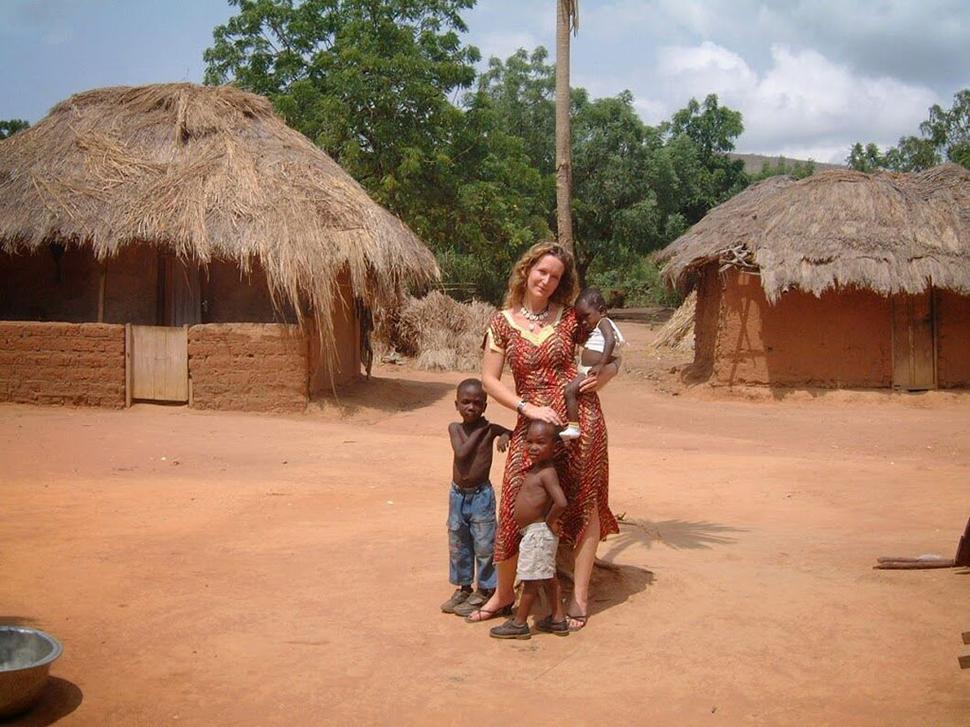 Lisa Lovatt-Smith's Life After Vogue
Former fashion director Lisa Lovatt-Smith swapped a life of glamour for a mud hut in Ghana
Wednesday July 29, 2015
If you enjoy reading about the fabulous world of European fashion — from interning under Anna Wintour to counting Karl Lagerfeld as a bestie — you will devour the first half of Lisa Lovatt-Smith's memoir, Who Knows Tomorrow.
But be prepared for a shocking segue into illegal orphanages, when the former fashion director of Spanish Vogue volunteers in Ghana. The trip, a last-chance attempt to reconnect with her troubled teenage foster daughter, Sabrina, proved so affecting — hollow, self-harming children, the misuse of donations and lack of nourishment or proper education — that Lisa sold her house and possessions, formed the orphan aid charity OAfrica, and moved to Ghana.
Fourteen years on, the self-confessed warrior, known as Mama Lisa to the children, is still there, with four more foster children and a Ghanaian husband. Only now, closing down orphanages is her top priority.
Through Ghana's Care Reform Initiative, Lisa and the OAfrica team work alongside the government and other child protection agencies to eradicate orphanages and reintegrate children into their communities and families. OAfrica also "helps the government to build up social services that will replace [the orphanages]".
So far, they have reunited over 800 children with their families and shut down more than half of Ghana's illegal orphanages (a staggering 90 per cent were operating illegally). Awutiase, where Lisa first volunteered, was raided just days before we speak. "That felt very cathartic, I'm very happy about that."
It took years of undercover work to gather evidence of the abuse, neglect, ill treatment and profiteering she witnessed while living there, she explains. "That's the terrible tragedy ... I had to stand by for 12 years, but there had to be proof."
Now, with the children rescued, a criminal case will be mounted. Sadly, many orphanages are operating under similar circumstances. Too often, they are a front for child trafficking, labour and abuse.
OAfrica, Unicef, Save the Children and J.K. Rowling's charity, Lumos, now advocate that taking children from their families and institutionalising them is severely detrimental to their health and development. Most of these children are not even true orphans — 80 per cent have at least one living parent.
"Many children are placed in institutions by their own families due to a lack of resources in hopes that they will receive adequate nutrition, clothing and education," OAfrica's Facebook page says. But unfortunately, the opposite is usually the case.
Lisa is refreshingly honest about her journey. Until she learned otherwise, she believed, along with many well-meaning "voluntourists", that paying to volunteer at an orphanage would benefit the children. Now she implores people not to make the same mistake. So is there a helpful way to volunteer? "Definitely not in orphanages, because orphanages shouldn't exist,"
Lisa emphasises. "Libraries and schools are always good — everybody knows what a school day and school system looks like."
She also urges more people to foster children — even for a short period. "Sometimes kids need help for just a week."
Part of OAfrica's work involves placing children who have no family, or those in abusive situations, with foster parents.
"So often the beginning is easy and the end is more difficult because the people who are left are the ones who are more difficult to place," she says of finding these children homes.
OAfrica also helps to provide families, communities, and young adults with social support, education, health care and sustainable business opportunities, to ensure they can afford to stay together.
Fostering came naturally to Lisa — she took in Sabrina at age 23, and was fostered herself for periods when her single mother struggled to make ends meet. Three of her four African foster children are now at university, while 13-year-old Ernest lives with Lisa in Ayenyah, the small village that is home to OAfrica, housing two schools and a clinic built by the charity.
After her "bush-fabulous" house was burned to the ground by arsonists (death threats, kidnappings and arson are constant dangers because of her "activism", and the unmasking of criminals), she moved back into a mud hut. It's a far cry from her old Parisian apartment, but she wouldn't change a thing.
"Even though we live simply it's very special there ... you don't have many choices. You have more time. It's very therapeutic."
She still has one foot in the old world, however, using her influence and contacts to raise money and awareness for OAfrica's work. High-profile supporters include designer Margherita Missoni and actress Rosario Dawson, while glamorous fundraising initiatives have included a charity gala — covered by Vogue — and the annual Cash & Rocket road trip through Europe in luxury sports cars.

• Who Knows Tomorrow by Lisa Lovatt-Smith is $39.99, published by Random House. For more on OAfrica or to donate, see oafrica.org.
Share this: