Kim Jones Welcomes New Louis Vuitton Pop-Up Store In Sydney
Louis Vuitton's menswear pop-up is perfectly timed for the lead up to Christmas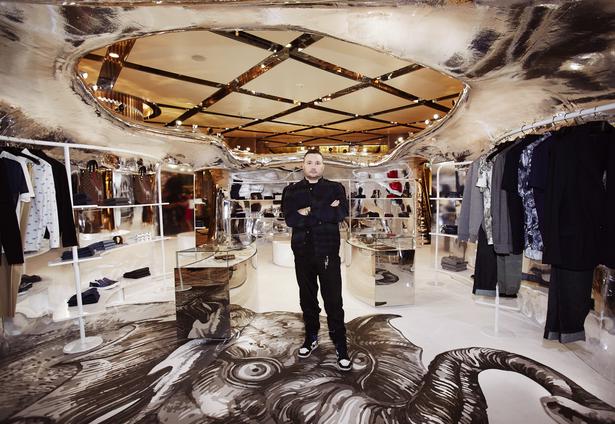 Wednesday Nov. 23, 2016
An illustration of a menacing elephant complete with tusks is enlarged, printed on the floor as you enter. Once inside, you're transported inside a chrome shell, with silver and white interiors reflecting every corner you turn. Welcome to Westfield Sydney's newest tenant: the Louis Vuitton Men's Pop Up Store.
Gleaming white racks and shelves display the new Louis Vuitton men's spring/summer 2017 collection, highlighting the brand's signature mix of sportswear and tailoring, embroidered sweatshirts, trainers and bags featuring punkish animal illustrations by celebrated British artists, the brothers Jake and Dino Chapman.
The temporary retail space opened this past weekend, with the help of the brand's celebrated men's artistic director Kim Jones.
Specifically designed to embrace the spring/summer collection, the pop-up store is a way for the brand to celebrate its diverse array of menswear customers around the world.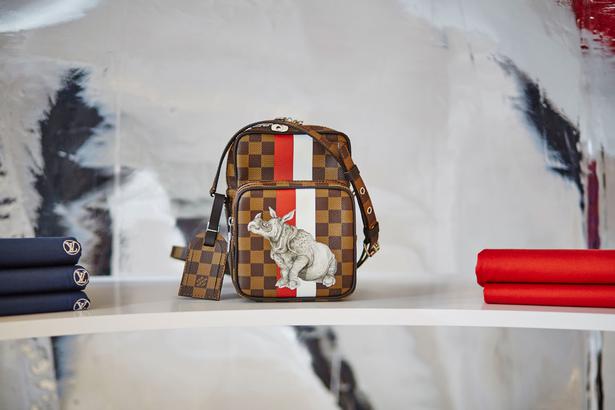 READ: Kim Jones Designs the Ultimate Wardrobe for the Louis Vuitton America's Cup
"Basically with the collection this year, our CEO Michael Burke wanted to put more emphasis on menswear and we wanted to do a number of pop-up stores around the world. We did one in Thailand recently and then we decided to open up in Sydney as the men's business here has been very good" explains the 36-year-old designer.
The pop-up also features a specially designed bag, the Amazone in Damier Ebene featuring a Chapman Brother rhino print, exclusive to Westfield Sydney.
Kim's love of travel is evident in the new range, mixing sportswear, the Chapman brothers' arresting artwork and African inspirations that nod to Kim's nomadic childhood. He often trailed his hydrogeologist father around the world, living between between London, Africa, South America and the Caribbean.
READ: When Kim Jones Travelled to India
It makes sense then for a house built on the art of travel, combined with Kim's own personal love of travelling, to see the pop-up stores gaining popularity.
"Our collections are doing really well and it's a good way to get that message out there to people," says Kim. "We've got a pop up store in Berlin at the moment and there's one in London next week, one in Beijing in January, and in Milan.
"It's nice - it gives me a chance to visit places that I don't necessarily get to visit, and see who our customers are in different parts of the world."
The Louis Vuitton pop-up store is open until December 18 on Level 3 of Westfield Sydney.
Share this: