Inside Pirelli's All-Black Alice In Wonderland
Photographer Tim Walker on why he photographed an all-black cast for the 2018 Pirelli calendar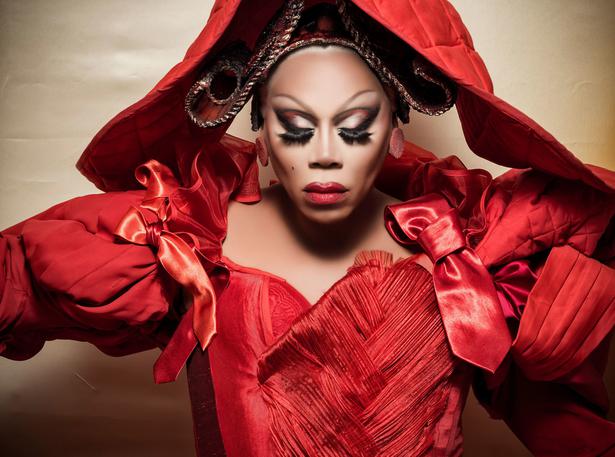 Monday July 24, 2017
The blue pinafore dress, grinning cat, the upside-down flamingo croquet mallets - everyone can summon mental images from Alice in Wonderland. But photographer Tim Walker is betting that you've never pictured the Queen of Hearts, the Cheshire Cat, the Mad Hatter, Alice or most certainly the White Rabbit quite the way he has them for the 2018 Pirelli Calendar.
"For two or three years I've had this ambition to tell Alice with an all-black cast. I got fascinated with that idea because it's never been done," Walker says, taking a break from shooting the iconic calendar, which will come out in its entirety in November.
"Pirelli came to me and said, 'We want you to be you', and they allowed me to tell the story exactly how I wanted to tell it."
Walker signed up Duckie Thot, the statuesque South Sudanese-Australian model, as Alice; Sean "Diddy" Combs and Naomi Campbell as Royal Beheaders ("I chop people's heads off, and I like it," Campbell tells reporters); gap-toothed model Slick Woods is the Mad Hatter; Oscar-winning actress Lupita Nyong'o is the dormouse; and the Queen of Hearts is none other than RuPaul, in drag for the first time outside of Drag Race in five years.
Styling them all is Edward Enninful, the new editor-in-chief of British Vogue, whose Italian Vogue "black issue" became an instant collectors' edition in 2008.
"This is going to be a historic calendar. It's going to go down in the history of Pirelli. It couldn't be more balanced in terms of diversity, which is something we all strive for each day," says Campbell, surprisingly earnest for a woman in glossy black latex.
To say it's a departure from past Pirelli calendars is an understatement.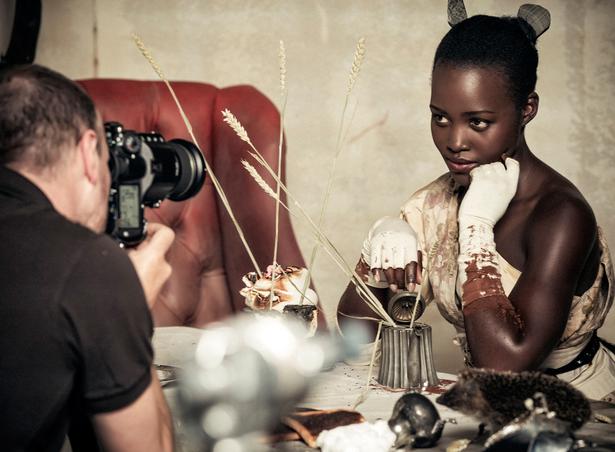 For decades, "the Cal" has been shorthand for pin-ups with oil-slicked limbs and tyre-track-printed bottoms, given a veneer of respectability by big-name photographers like Arthur Elgort, Bruce Weber and Herb Ritts.
Lately Pirelli has sought to distance itself from its babe-on-a-beach past by tapping into social trends.
In 2016, that meant Annie Leibovitz shooting women of distinction with clothes on. This year it was Peter Lindbergh. He created an ode to ageless style with his make-up-free, black-and-white portraits of middle-aged stars, not a topless model in sight.
While Walker's message is similarly radical, his photography has long had a through-the-looking-glass quality. His fantastical shoots for Vogue have featured geishas on flying robots, Lily Cole playing Rapunzel in a dilapidated Indian palace and Spitfires crashed through the eau-de-nil walls of stately homes.
READ: See Amy Schumer, Serena Williams in the Pirelli Calendar 2016
And he's plumbed Alice's iconography before - he shot Saoirse Ronan as a madcap Queen of Hearts for W magazine.
"Alice has always been around for me," he says. "I've drawn on aspects of it for a long time, but I've never told it as a visual essay, specifically and faithfully to the original John Tenniel drawings." He clicks through unfinished images from the shoot: Campbell gripping an axe, Thot crouching in a shrinking room and Nyong'o perched behind a table heaving with singed meringues.
"I was struck by the beauty, the boldness and the imagination.
These images are really going to inspire and provoke and make people look at a story we all know differently. And it's a beautiful thing to see oneself projected in beautiful images," says Nyong'o, who also appeared in Lindbergh's calendar and says Walker is a "very open and friendly and generous photographer".
"There's been a broadening of representation of women in all their infinite variety, and that's a very positive thing," Walker says.
What about the critique that using an all-black cast may be viewed a publicity move? "I can see that, but that's not what I intended. I'm saying times are changing and here's a whole new Alice. We're changing how figures have historically been represented and showing that there are other possibilities, in a very genuine and authentic way."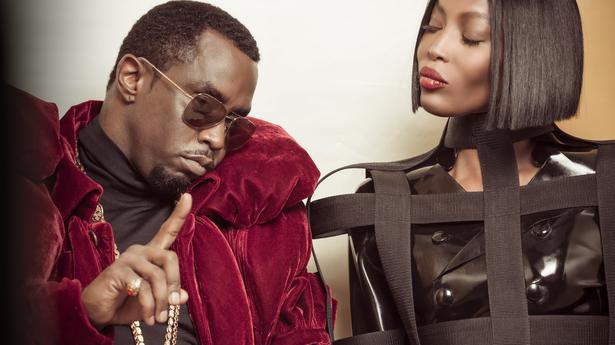 Although this is Walker's first calendar, he's been on a Pirelli set before - early in his career, he assisted Richard Avedon when the legendary photographer shot two calendars. The first, from 1995, was "personally important" to Walker.
"The pictures were exquisite and his portrayal of women is very heroic and strong," he says. "He was never looking at just the surface; he was always giving them a character. She was a crow looking for a worm - she was never just a model. There was depth to the storytelling."
Avedon deployed this technique before his 1957 sitting with Wallis Simpson and the Duke of Windsor.
After learning they loved pugs, "he got them there in the camera, he focused on them, and then said: 'Oh, an awful thing happened earlier. A lady put her pug out of a taxi before she got out, and a fire truck ran it over, there was blood everywhere,"' Walker says.
They balked, and Avedon took the photo. "He broke through the mask of royalty by telling a horror story."
Has Walker ever shot royalty? Maybe the Queen? "What, RuPaul?" No, the Queen, Elizabeth II. "Oh, the Queen of England. No, never." I wonder how he would shoot her if given carte blanche to be as creative - as Tim Walker, if you like - as he pleased. "Laughing," he answers instantly. "She'd have to be laughing."
- The Daily Telegraph
Share this: