10 Stylish Characters To Dress Up As For Halloween
Predictable witches and basic bunnies be gone! Ramp up your Halloween costume game and be inspired by these chic film characters instead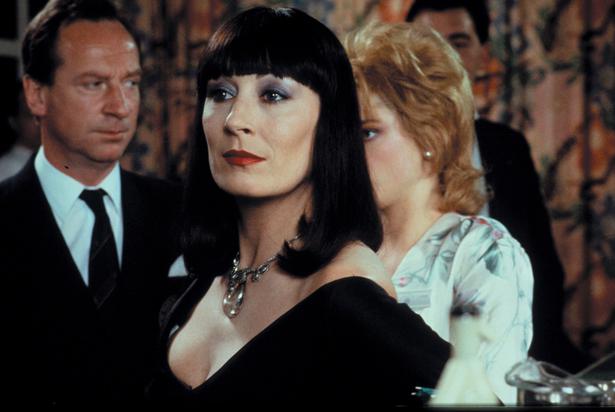 Friday Oct. 27, 2017
While Halloween is a time to dress up in whatever costume you desire, you can't look past the day's macabre connections.
There's plenty of inspiration to be found in some of our favourite horror films and dark comedies – and even better, you won't have to sacrifice style completely if you take your cues from these thoughtfully dressed film characters.
Over the years, several designers have referenced the following films - including Alexander McQueen's spring 1995 collection inspired by Alfred Hitchcock's The Birds, and Stuart Vevers' nod to the costumes in The Shining for his spring 2014 debut at Coach.
Anjelica Houston in The Witches (1990)
Living up to Roald Dahl's dark literary undertones, the film adaptation of the author's 1983 novel featured its grand high witch played by a campy Anjelica Houston. Channel the look with a heavy accent and a wardrobe riffing on 80s glamour complete with satin opera coats, sheer hosiery, pointy pumps, gloves and jewels.
Jodie Foster in Silence of the Lambs (1991) 
An FBI badge clipped to a classic houndstooth blazer, a no fuss bob and a white top tucked into pleated pants – 90s corporate dressing done right reinforced agent Clarice Starling's serious demeanour in the face of one of horror's most gruesome characters, Hannibal Lecter.
Mia Farrow in Rosemary's Baby (1968)
"It's Vidal Sassoon. It's very in," cooed a waifish Mia Farrow, her infamous pixie cut offset by a wardrobe of baby doll dresses and flats. As the film's dreamy protagonist Rosemary Woodhouse, costume designer Anthea Sylbert reinforced her purity in floaty dresses and light colours, a startling contrast as she descended into the dark side towards the end of the iconic film. 
Ruth Gordon in Rosemary's Baby (1968)
Not to be outshined by her chic co-star, Ruth Gordon's brilliant turn as the overbearing neighbour Minnie Castevet was cleverly dressed in a wardrobe of garish bright colours and retro prints - a silk scarf wrapped around a head of curlers, finished with plenty of rouge and blue eyeshadow one of her more memorable looks from the film. 
Catherine Deneuve in The Hunger (1983)
Dressing like a sexy bourgeois vampire leaving plenty to the imagination, Catherine Deneuve kept it chic in a high octane 80s wardrobe of Yves Saint Laurent silk blouses, veiled hats, and a slick of red lipstick. Her companion David Bowie also cut a striking figure in buttoned up shirts and sharp suiting.
Shelley Duvall in The Shining (1980)
The horror classic would not have been possible without one of the genre's leading ladies, Shelley Duvall. Her juvenile opening look of a blue pinafore dress over a bright red long sleeved blouse and red leggings is perhaps the most memorable look from the film, and later, a classic 70s look of a tweed blazer, mid length skirt and boots.
Tippi Hedren in The Birds (1963)
The classic Hitchcock blonde, Tippi's chic mid-century crepe suit was designed by legendary Hollywood costume designer Edith Head, who focused on clean lines and an icy elegance for her iconic performance as socialite Melanie Daniels.
Robin Tunney, Fairuza Balk, Neve Campbell and Rachel True in The Craft (1996)
Now a cult classic, the teenage friends dabbling with witchcraft were suitably fitted in a sort of St. Trinian's wardrobe of school uniforms mixed with a goth aesthetic: PVC coats over tartan skirts, dog collars, bomber jackets and stomping boots with dresses.
This was how to dress the misfits and outcasts of the 90s, with costume designer Deborah Everton explaining to Dazed Magazine last year that the costumes had to be accessible for a teenage girl. "I always try to do that fashion-y thing and try to make it so that the looks can be replicated by kids to some extent, although I had no idea how successful it would be, or how much it would resonate with kids at the time."
Winona Ryder in Beetlejuice (1988)
A Tim Burton classic, and one of Winona Ryder's most memorable performances, her character Lydia turned goth on its head with her spiky fringe and oversized hat - a scarlet wedding gown one of the more striking looks from the film.
Aaliyah in Queen of the Damned (2002)
Despite being panned by critics, the film showcased the late RnB singer's acting chops, with a performance still considered mesmerising for her role as Akasha, the queen of vampires - dressed with eerie contact lenses and an intricate metal breastplate.
Share this: