My House Star Tati 007 On The Future Of New York's Ballroom Scene
The star of Viceland's latest docuseries shares her thoughts on the future of one of New York's most influential communities
Tuesday July 10, 2018
She's the platinum blonde star of Viceland's latest documentary series My House  (SKY channel 13), a show that puts the spotlight on the world of ballroom dancing in New York City.
But for 24-year-old Brielle Rheames, nickname 'Tati', this is not a space for formulaic Salsa and Tango.
The ballroom scene in New York is a community of performers and dancers from competing 'houses', largely made up of disenfranchised members of the LGBTQ communities. The 'houses' are often named after actual fashion houses i.e. House of Mugler, House of Balenciaga, and compete for trophies in different categories.  It's a scene that's spawned several ballroom scenes around the world, even here in New Zealand through our own LGBTQ vogue dance scene FAF Swag.
Documented in the 1991 film Paris is Burning and reaching a mainstream peak with Madonna's hit Vogue, the ballroom scene has influenced fashion and pop culture over the years. This latest look at the next generation of the ballroom scene coincides with Ryan Murphy's TV series Pose, which is inspired by the same scene and features the largest cast of transgender actors in starring roles and the largest recurring cast of LGBTQ actors ever for a scripted series.  
The timing of My House and Pose has encouraged a re-examination of how relevant the scene is compared to 30 years ago. Speaking to us from New York, Tati talks about what it's like to be part of the ballroom scene today.
What was it like seeing the show for the first time?
It was really surreal for me because I feel like I'm a regular person like everyone else. Since then I've just been getting so much good feedback, messages from my viewers and how my story inspires them. It's been an overwhelming but encouraging experience.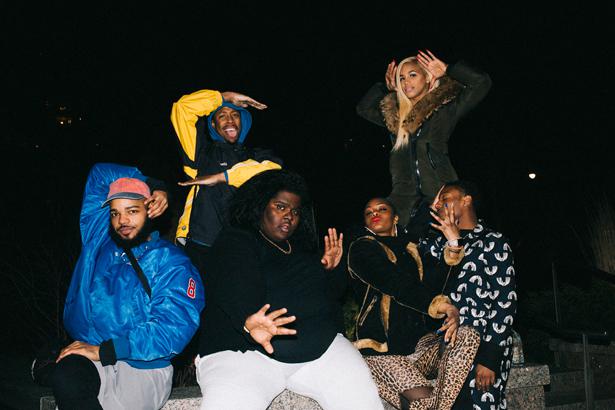 We first met you as a 'free agent', someone who is not part of a house. What are the advantages of being a free agent, and is it more common now to go out alone?
Being a free agent, you have the chance to dibble and dabble in and out of ballrooms. I would say the advantage is you get to pick and choose when and what balls you want to walk. You're able to balance out your everyday social life and ballroom life. Sometimes ballrooms can be all consuming.
The cons I would say just not having a family to spend time with. When I was in a house, we often had family events like cookouts and sleepovers. Right now, I am currently still a 007 (free agent). I'm still weighing up my options and figuring things out. I want to make sure the next choice I make is right and that I don't end up regretting it.
The ballroom scene is a safe place for disenfranchised and minority groups. What's it like knowing that this very scene that originated in New York has resonated with so many people around the world?
It makes me feel liberated and feel proud to be Queer. Because I know for so long this was a safe space for LGBTQ kids, utilising the space to ultimately be themselves. For that message to spread across internationally is a beautiful thing, and it's great that everyone is able to celebrate our culture.
READ: Akashi Fisiinaua's Beauty Routine
You work closely with the next generation through the Kiki ballroom scene (younger generation of up and coming performers). Why is mentoring important to you?
Mentoring is extremely important because I feel like it stimulates characteristics in the next generation and the next era. It's important we pass down these traits to the youth who don't necessarily have these tools for everyday life. It's great to be a supportive influence and pass on these traits to the next generation.
Can you recall the moment you felt like you truly belonged in the ballroom scene?
I would say the moment was when I initially found out there was an LGBTQ scene. As soon as I discovered it, I was complete. Vogueing (the main form of ballroom dance) for me was something I discovered in high school, at a time when I didn't know much about the LGBTQ scene. I met a boy who introduced me to Vogueing, and I quickly became infatuated by this art form. It was just so freeing and the movement was so amazing to see. From there I became further involved in the ballroom culture. That was the moment I knew that this was where I belonged.
The ballroom scene is rooted in the underground scene but has infiltrated pop culture over the years. Do you see this as a positive thing or does it take away from what made ballrooms so important in the first place?
I think some things are naturally going to reach a more widespread audience, and as long as you keep the key component of the idea and concept behind what the scene is about, then it's going to be ok. Our unity and our culture are what keeps us together, and we are passionate and are a compassionate group of people. We don't mind sharing so long as there is still inclusion in everything that's going on.
READ: Dancer Hemana Hodge Working His Way to the Top
There seems to be a major shift from the traditional idea of a house based on being a support system to being more of a brand. Is this true? Are houses becoming too slick?
Yep. I think with society's current mindset and the idea of social media it's inevitable. The ballroom scene is going to pick up on those ideas that will further brand or give the ballroom culture visibility. For a long time pop culture has taken from the ballroom scene and it's always disheartening that we wouldn't always get the proper credit and inclusion. Now we utilise this concept of branding as just being able to further a person more than just ballroom. It sets them up for life for whatever else they want to pursue. It gives them the confidence to have stability and go out into the world a little stronger, a little braver.
WATCH: Inside a ballroom in Philadelphia
What is your approach to fashion and where do you get your inspiration from?
I don't mind trying new things. I'm all about new ideas and how I can be trendsetting with my fashion. I feel like ballroom has always been a very creative space, so when they come out with categories and ideas to bring something to life, it should always make a statement when you hit the runway.
Earlier this year at New York Fashion Week I walked for Gypsy Sport, a label that I have a lot of love for. It was my first ever show walking at Fashion Week so I was completely honoured and humbled to be able to even experience that. It's a very non-conforming brand, open to diversity and that's what I love about the designer Rio. Whatever is different he embraces it and that's what I love about his brand.
What are you listening to right now?
I just started listening to Jay-Z and Beyoncé's new joint album. That's on repeat right now.
What are your go-to beauty products?
Tea tree oil, witch hazel, Ponds face cream.
What are your plans for the rest of the year?
My plan is to keep my foot on their necks! Haha. I have some projects coming up I'm excited to share with everyone. I have some merchandise coming soon. I'm also creating my own cosmetics line, I'm very intrigued and interested in the beauty market right now, and I feel like I can represent that space very well. A couple more balls are in the mix along with a trip to Brazil early September — and maybe one day a trip to New Zealand!
My House screens Mondays at 7.30pm on VICELAND (SKY channel 13), with the final episode screening on Monday 6 August.
Share this: