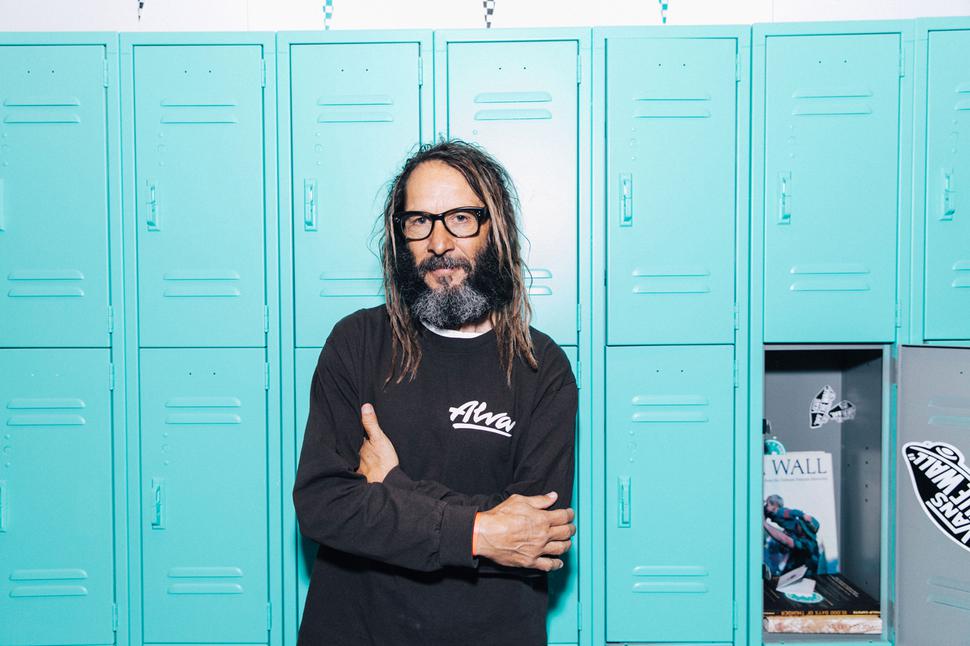 Inside The Vans ComfyCush Launch In Brooklyn With Tony Alva
Vans is revolutionsing its footwear through innovation and its rich Californian storytelling. We explore Brooklyn with the global launch of Vans ComfyCush
Friday March 22, 2019
A current viral challenge gaining traction on the internet shows participants throwing their Vans sneakers in the air, which then gracefully land without fail on their soles. It's the type of thing my 12-year-old nephew, Zac, is fascinated by. One video showing a pair of Vans being thrown 10 times and landing on their soles every time, has racked up 2.5 million views on YouTube.
READ: Where To Shop Streetwear In Auckland's CBD
This reflects a real buoyancy in the business of selling the Californian skate dream to the world. Vans know this and in its 53 years of existence, the sneaker giant has managed to create desire and demand based on the knowledge that skate culture will never die. Purely focused on the Californian market in its first 26 years of business, Vans has built a cult following for its range of distinctive sneakers for men and women, infiltrating skate communities across the world — and beyond. Everyone is sporting sneakers these days, and for a brand that's long catered to its niche community, the time is right to provide a shoe that can be worn by everybody, anytime, anywhere.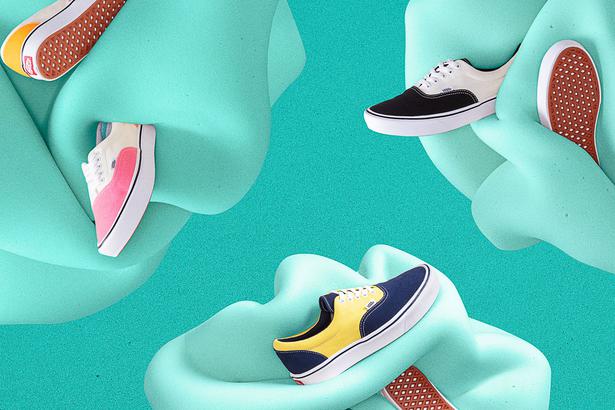 Its owners, the publicly traded clothing giant, VF Corp., which also includes brands such as The North Face, Wrangler and Timberland, reported that its apparel and footwear sales rose 35 per cent in the last quarter of 2018. The company hopes Vans will reach $5 billion in sales by 2023. Having grown 25 per cent in its most recent quarter, and expanded at an average 15 per cent annually over the past 15 years, Vans has organically evolved from being a reliably comfortable cult-cool brand into the multibillion-dollar juggernaut it has become today.
READ: Get To Know Hong Kong Skater Julius Brian Siswojo
Its most recent global launch held in Brooklyn in February debuted its latest technology dubbed "ComfyCush" — essentially a more comfortable cushioned foam-based rubber sole with an elasticated tongue to prevent slippage, introduced across five of its classic sneaker styles — Era, Authentic, Classic Slip-On, Old Skool and Sk8-Hi.
Unveiling this new product, Vans created a back-to-school themed event complete with turquoise lockers (turquoise is the colour of the foam), class photos, a performance from a marching band and a science class with senior director of footwear design Nathan Lott and global product merchandising manager Matt Pino, breaking down the technology behind the foam. But it was a "history class" with iconic skate pioneer Tony Alva that had everyone talking.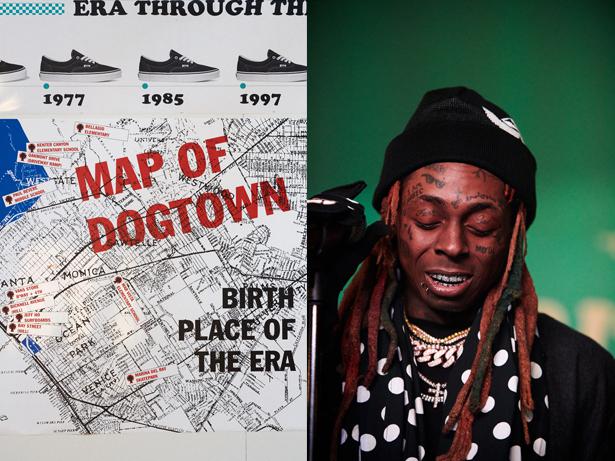 (From left) A map of Dogtown California; Lil Wayne performing at the ComfyCush after party. Photo / Supplied

As one of the original members of the iconic Z-Boys — the Zephyr skateboarding team of the 1970s from Southern California — Tony shared what it has been like working with Vans since 1974, helping design the off-the-wall skate shoe (the original skate shoe), and the history of West Coast skate culture, from its surf roots to the strong influence of Chicano (low-rider) car culture. 

READ: Allbirds Year Of Innovation

"Vans were not only a part of West Coast style, but they were functional and something that we loved to associate the Los Angeles surf and skate culture with. L.A has always been a very car-centric city, particularly the car culture based on the ethnicity of the east L.A neighbourhood. To bring that culture into the product is like a dream job and it's a total honour. It makes me feel important and respected — but not in an egocentric way, rather in a way that makes me feel my experience is valuable and helpful to others."

It's not unusual for members of the surf and skate communities to proclaim a spiritual love of the sport, but to communicate that culture through its product on a global level can be a tall order for Vans senior director of marketing Kelly Murnaghan. "It's got such a strong West Coast identity, so we thought 'let's launch in Brooklyn, in an urban environment'. This product is great for people who are on their feet for long period of time, so it made sense for us to launch in a city where people walk everywhere. It's been a challenge to try and introduce this correctly as the product looks the same on the outside, but is a total game-changer in terms of comfort."

READ: Why Kelly Slater Is More Than A Pro-Surfer

Celebrating the new technology was also a chance for Tony's input as a skating pioneer to further validate the shoes' promise of better comfort no matter where you are in the world. Having spent some time in Raglan a few years ago, Tony's connection to New Zealand is a memorable one. "It was one of the most beautiful surfing experiences I've ever had, super spiritual. I love how the Maori culture has a deep appreciation for nature; and the belief that in everything you perceive and behold there's a bit of God in it. I find that in a lot of indigenous cultures. But it's also what skate culture is about."

Tony adds some advice for skaters young and old: "You have to hold on to the essence of the natural energy that comes from an activity like that. Don't lose it. When I was young I was just going for it on pure adrenalin and egocentric will. But I don't run my life like that anymore. I do it from a much more intuitive perception. My perception of the world, in general, has evolved to a different level."

• Vans ComfyCush is now available at Platypus Shoes, North Beach, Loaded, Superette and other select retailers.


STREET SMARTS
Dan Ahwa pounds the pavement with Vans in Brooklyn and tries must-visit hot spots.


STAY
The Williamsburg Hotel / 96 Wythe Ave
Cosy and modern, I found this hotel perfectly located for a few days in Brooklyn. It's a stone's throw away from cool restaurants and cafes; or you can enjoy the views of Manhattan in the distance and sample the hotel's offering of Brooklyn-made artisanal food products available in your room. The hotel is eight stories and 150 rooms encased in brick, glass, and Corten steel designed by London-based design firm Michaelis Boyd Studio (Babington House, UK; Soho House, Berlin). The menu at Our Restaurant on the lower level highlights fresh, seasonal fare and in-house artisan breads, crafted in collaboration with Brooklyn Bread Lab. And for a nightcap, you can't miss the hotel's chic rooftop Water Tower bar. Sample the cocktail menu with DJ sets from some of New York's finest. Thewilliamsburghotel.com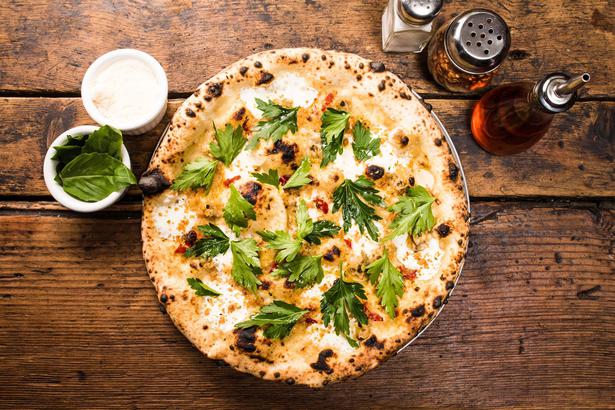 EAT
Sunday In Brooklyn / 348 Wythe Ave
You can't visit Brooklyn without trying one of its best eateries, created by restaurant veterans Todd Enany, Adam Landsman, and chef Jaime Young. It's American cuisine with a modern appeal: try its hearty breakfast sandwich, fresh pastries, hazelnut-maple praline pancakes or fried chicken washed down with its menu of natural wines. It does breakfast, brunch, and dinner seven days a week and it pays to book a table for large groups as this place is a popular spot. A seat at the bar is always fun, or head upstairs with a group for a chill atmosphere. Sundayinbrooklyn.com
Egg / 109 North 3rd St
This farm-to-table restaurant is another must-visit. I stopped here for fried organic chicken with homemade buttermilk biscuits in sawmill gravy (made with pork sausage or pan-seared mushrooms). It's simple food made beautifully. It serves breakfast and lunch with a menu rooted in the culinary traditions of Virginia and the Lowcountry. Eggrestaurant.com

Roberta's / 261 Moore St
There are several Roberta's outposts in New York and LA, but if you're in Brooklyn, a visit here is worth the trip. Choose from a menu of pizza and pasta. I tried the Lil Stinker pizza — tomato, mozzarella, garlic, onion, pepperoncini pepper. Delicious. Robertaspizza.com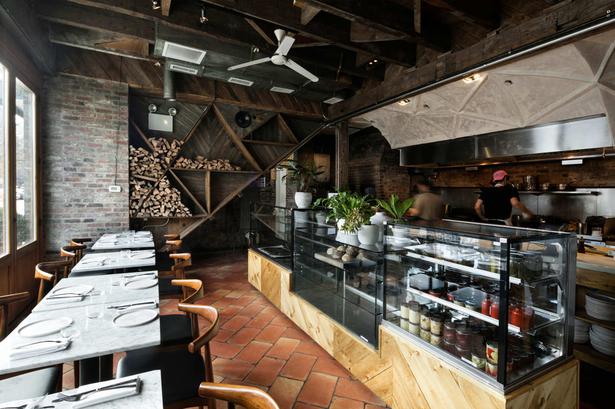 SHOP
The General by Vans / 102 North 6th St
A beautifully designed concept store. The store also highlights artists in the community by showcasing their artwork with Vans product. The store presents the very best of Vans, thoughtfully curated in a custom-built, boutique environment, and gives a better opportunity to really showcase the history of the Vans brand and its influence on both the West Coast and East Coast surf and skate cultures. Vansdqm.com
Awoke Vintage / 132 North 5th St
You'll find some of New York's best vintage stores in Brooklyn. Awoke Vintage is particularly great; it started as a little market stall in Perth in 2006 and has since become a vintage staple in Brooklyn since 2011. Awokevintage.com
Supreme Brooklyn / 152 Grand St
The giant free-standing skate bowl at Supreme, which opened just last year, is in itself worth the visit. Supreme was designed by New York firm Neil Logan Architect, who transformed a former warehouse that once housed delivery trucks, into a very cool concept store. Supremenewyork.com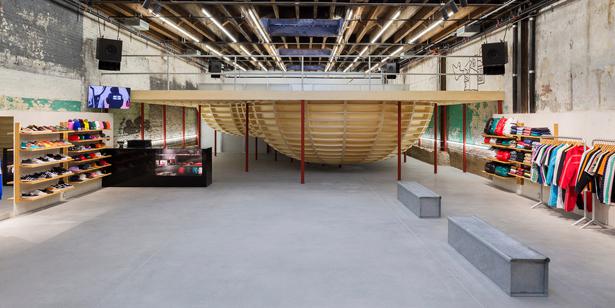 DO
The Brooklyn Museum / 200 Eastern Parkway
Discover the culture of the community at this respected museum, with several fun events happening right now, including a pop-up library exploring the life and work of Mexican artist Frida Kahlo, and the first New York City solo exhibition by the emerging artist Eric N. Mack. Not to be missed. Brooklynmuseum.org
Share this: