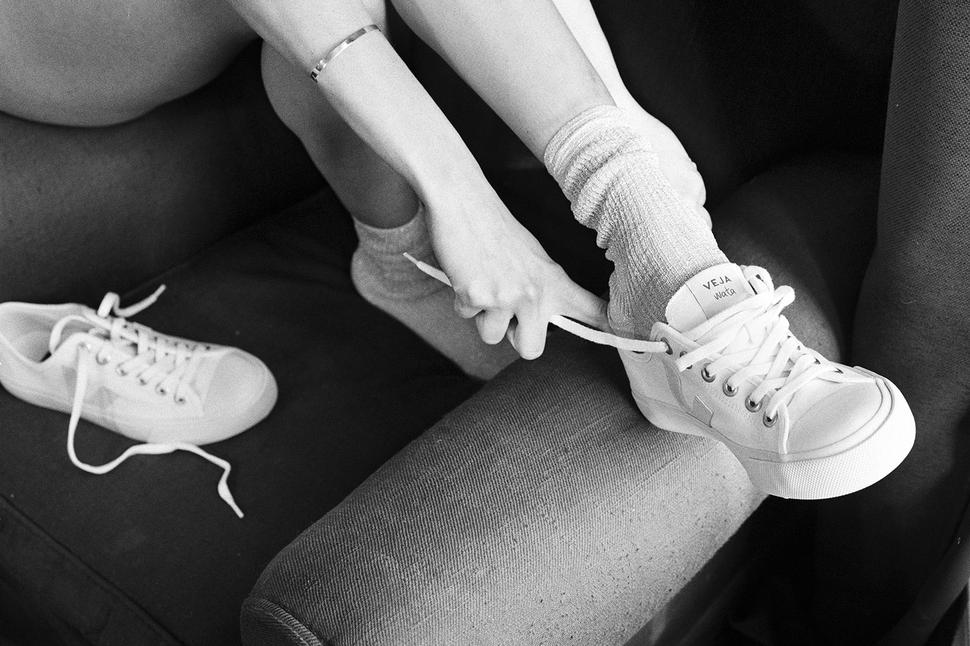 Sustainable Sneakers to Look Out For
The founders of cult sneaker brand Veja talk sustainable style in the world of footwear
Monday Feb. 26, 2018
Fashion and sustainability are gradually becoming more intertwined.
Last year, Gucci pledged to go completely fur-free, beginning with its Spring 2018 collection. US-based sustainable clothing label Reformation is, according to Forbes, on a path to $140 million in sales this year, and New Zealand's own Maggie Marilyn combines modern luxury with an ethically conscious sensibility, and is seeing global success.
In the world of streetwear, French footwear brand Veja is leading the eco-charge with ethically made sneakers. Founded by friends Sebastien Kopp and Francois-Ghislain Morillion, Veja is built on a foundation of sustainable practices.
READ: Stella McCartney's Top Tips for Sustainable Living
From their recycled packaging to the green electricity used in their headquarters, their "no advertising" policy and the materials that form their shoes, every step of the supply chain has a considered approach.
During a trip to Brazil in 2004, the duo found sources for all the raw materials they needed to start their sneaker brand, and Veja was born. The soles of their shoes are made from rubber that grows in the Amazon, the only place on earth where rubber trees can be found in the wild, incentivising communities to protect them from deforestation.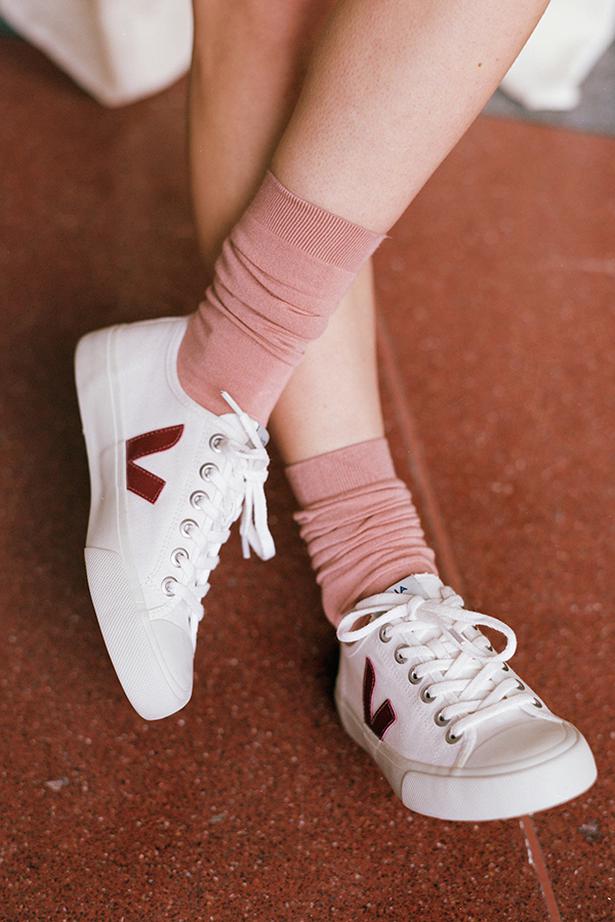 GMO, pesticide and fertiliser-free cotton is bought from small-scale farmers, and fair trade prices paid, and they recently invented a fabric made from 100 per cent recycled plastic bottles.
Ethics aside, Veja makes cool sneakers that are worn by the likes of Emma Watson, Marion Cotillard and Charlotte Gainsbourg and are sold in stores such as Good As Gold and The Shelter in New Zealand. Classic and minimalist in design, their "wear-with-anything" styles regularly sell out, whether consumers know how they're made or not.
What motivates you to do what you do?
Veja is about creating sneakers by connecting amazing projects together from the Amazon forest in Brazil — for the wild rubber for our soles — to the suburbs of Paris. Today, we have a great team of 60 people; our only wish is to keep growing peacefully without skipping steps.
What's the most unusual material you've used to make a pair of shoes?
Maybe fish skin leather. Tilapia is a tropical fish which has fine scales and gives a strong, yet subtle elegant leather. The tilapia we used is tanned only with vegetable extracts. Nine Tilapia skins are needed for a pair of sneakers, so the assemblage is each time unique. We invented a fabric called B-Mesh, from 100 per cent recycled plastic bottles, that is highly resistant and breathable.
READ: Talking About A Fashion Revolution With Theresa Grantham
You use leather in some of your shoes — is this eco-friendly? Are you planning on replacing it with another fabric?
Since the beginning of Veja, we have tried to use leather with low impact on the environment. We trace it so we can make sure it does not come from regions deforested by intensive livestock production. We use non-harmful chrome for tanning to make sure it complies with REACH regulations by doing random chemical tests on our shoes. For some leathers, we use vegetable tanning without chrome using vachellia, quebracho or non-harmful minerals. We are working on innovations to replace the leather — we already have more than 20 vegan styles.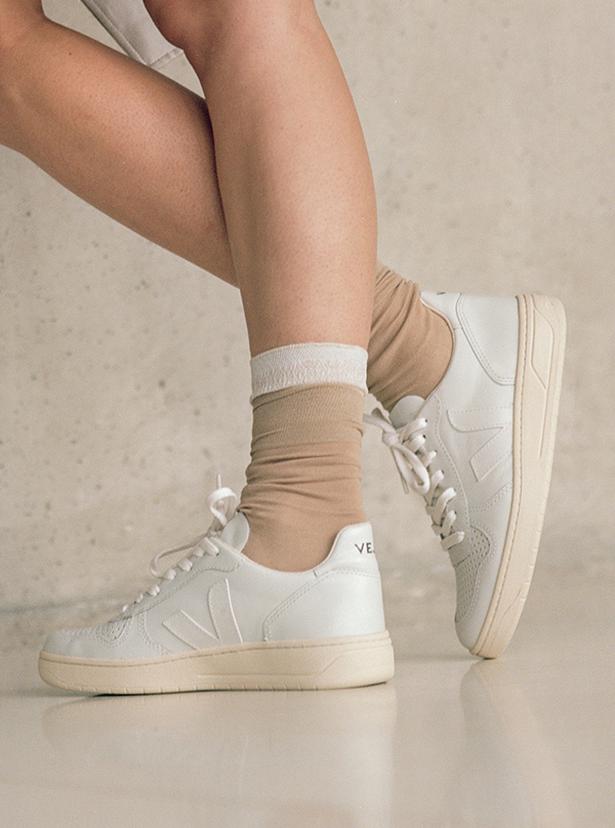 Will you branch out into designing other pieces of clothing?
We did bags and wallets but realised focusing on one product was the best way to improve. There is still plenty of work to do to make our products even more durable, transparent and innovative.
Your business model is quite unusual, and yet it works. Why do you think this is?
We spend zero money on advertising, so we have quite a healthy business model. We reallocate those costs to reality, innovation, and the people who work with us in Brazil. We also decided to refuse investors because it might ruin the consistency of the project.
Who would you love to see wearing your sneakers?
Actually, anytime we see anyone buying and wearing Veja, we love it. Because by doing this, this person can discover part of Veja or the whole project.
READ: Conscious Fashion Pioneer Laurie Foon on Fashion Revolution
Do you wear sustainable brands in the rest of your wardrobe?
Six years ago, we realised some other brands had great projects around transparency, durability . . . We decided to create Centre Commercial in Paris, a shop where we sell Veja, but also sell Patagonia, Freitag, Paraboot and over 120 other brands.
What are some of the biggest ways the fashion industry, in general, could improve, ethically and sustainability-wise?
Transparency is one of the main issues. It's really difficult to understand what you buy today, this is why we try to be as transparent as can be on our website and in social media.
Where do you think the future of sustainable fashion is heading?
The public conscience is much bigger. We want actions to follow global conscience. But we don't spend time watching or judging others: you can become crazy by doing so.
What's next for Veja?
We have a lot of new projects but we have a motto at Veja, we don't talk about them until it's done. It keeps the fun alive.
• Veja are distributed in New Zealand by Good as Gold, contact info@goodasgold.co.nz for your nearest stockist.
Share this: