What to Wear on a Plane
A guide to looking smart yet comfortable while travelling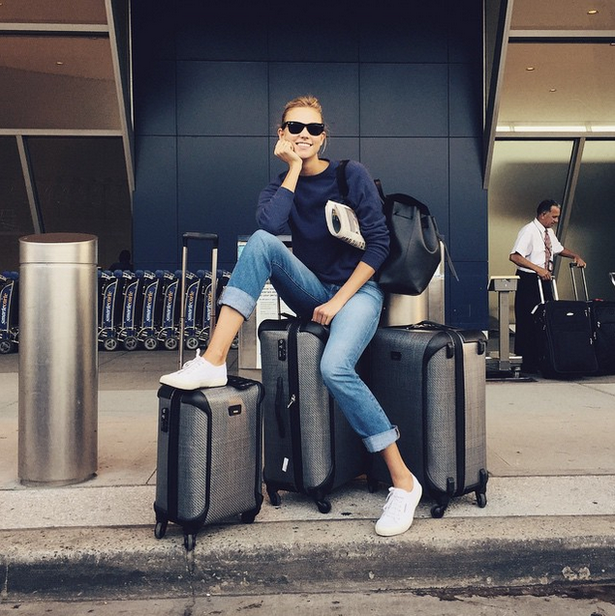 Wednesday July 8, 2015
There is no such thing as a universally perfect travel outfit. Perfection is an elusive myth (see Buddha, chapters one to infinity) and we're all different, but there is close to ideal. There is smart yet comfortable, stylish yet laid-back, crease-proof yet not Crimplene.
In short, there is denim. The dark denims fashionable at the moment are the most sartorially versatile, crease-proof and scrub up well at the other end. Acne's Shore and Raw styles are excellent: tailored, mid-rise, with an elegant loosely cut leg. No one needs to see you in actual pyjamas, so roll some leggings into the smallest corner of your carry-on.
Speaking of which, keep the carry-on bag light but structured, not too large (or you'll just fill it with junk), and very smart. At the other end, your glossy bag (and sunglasses) will be your talismen when it comes to shoring up imminent outfit collapse. If you're taking a trolley case in the cabin, I recommend one with an external sleeve for newspapers, documents and access to your laptop.
If denim doesn't do it for you, dark or khaki cotton drills are lovely and soft, ergo good for sleeping in. But they're a more casual option. Wear them with layers of light, good-quality, long-sleeved T-shirts in muted shades. I never travel without a DKNY Cozy — you can wear these drapey, cashmere/silk cardigans myriad ways to keep the air-conditioning at bay and then style as a scarf when you slip on something more tailored to disembark.
You do want some tailoring, by the way, whether it's a blazer, a coat or sleeveless trench. If you can fit in a pre-flight blow-dry, get it bouffed up more than usual — you'll feel miraculously groomed upon landing. If you need to look even more dressed up, a silk or chiffon blouse, stashed in the locker should do the trick. Sleep in a tank vest, which can then be worn under your blouse or T-shirt when you get dressed again.
The insane temperature fluctuations on planes and trains make dresses and skirts challenging, unless you relish the sensation of an eight-hour menopausal flush. But something uncrushable, shapely but not tight is best — cabin pressure has a habit of making your body swell. Patterns will play down creases.
Unless you're going directly from red-eye to board meeting with Victoria Beckham and Michelle Obama, you don't need heels. A pair of slip-on flatforms (what did we do before Celine and Prada made these a fashionable evergreen?) are the answer, allowing for a change in foot size and adapting to practically any dress code.
A metallic pair of skate shoes with a trouser suit will easily take you through most work situations if there's no time to change. I like the original Vans in bronze not least because their thick white soles comfortably add height. Clark's desert boots are another stylish possibility, but you'll need to wear them with rolled up trousers.
I hear reports that Sargossa's heels are the closest thing to walking on a cloud that you'll want to experience on a plane. We can't leave the foot region before talking about flight socks. Is there anything less jet-set? But you need them, to avoid feet and ankles the size of an airbus. No one will be the wiser to black ones.
The Victorian explorers got it right in an era that was low on Lycra and Elizabeth Arden's Eight Hour Cream. They prepared for travel as an event, whereas we see it as an inconvenient hurdle to be bolted over or, in extremis, smashed through, self-medicated with a few miniature bottles of vodka. Speaking of Eight Hour Cream — yes, yes, yes.
Use it wherever relief is required, plus This Works' wonderful lavender Pillow Spray and gentle In Transit rosewater wipes, Burt's Bees unctuous Carrot Nutritive Night Creme, slathered on while you sleep or catch up on box sets, and MV Organic's Rose Hydrating Mist.
To combat that time-zoned-out meltdown, I swear by Solgar's D-Ribose energy supplement powder; recommended by nutritionalists and mild but effective. A squirt of Batiste's travel size dry shampoo before landing to add what hair dressers call "guts" to your hair, and by the time you're through immigration, it — and you — should be at peak buoyancy. Or at least able to fake it.

— The Daily Telegraph
Share this: