New Zealand Streetwear Label Joins Forces With Wu-Tang Clan
NZ streetwear label Illicit is releasing a collection with Wu-Tang Clan, one of the biggest acts in the hip-hop world.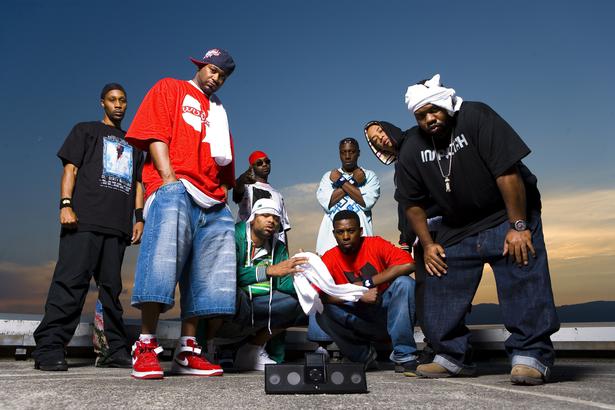 Friday Nov. 25, 2016
Today marks the launch of a new clothing line from one of the country's top streetwear brands Illicit and hip-hop outfit Wu-Tang Clan.
The collaboration has resulted in a collection fusing the band's artwork with Illicit's own distinctive brand of graphic prints.
For Illicit's owner Steve Hodge, it's a major coup for the label, which is celebrating almost 20 years of business as a K Rd institution.
"It was a funny one. I got an email from a guy in France who works closely with Wu-Tang. He was putting together a book about Wu-Tang Clan and the art and apparel that has been produced for them. I have done a few tees over the years with the Wu symbol featured and I thought he was about to sue me!"
READ: The Documentary Exploring Hip-Hop Fashion
Luckily the call came with some promising news, with Wu-Tang management approaching Steve to see if Illicit would like to be part of a new book being published about Wu-Tang art and collectibles. The conversation eventually prompted both camps to agree to a license and design deal for clothing. There are also plans for a worldwide Wu-Tang exhibition next year. 
"The book is being put together by Olivier Annet in France and will showcase the art and apparel collections of all the members of Wu-Tang and their team," explains Steve.
"It will also feature fan art, Wu clothing collaborations with all the big brands over the years (including Nike and Rocksmith clothing) and art by other established artists from around the globe. Illicit will be featured throughout the book with all the designs we have produced recently and in the past featuring Wu branding.
"The first Wu exhibition (Made in Wu-Tang) will open in Paris in April. It will then travel to New York and on to New Zealand and Australia."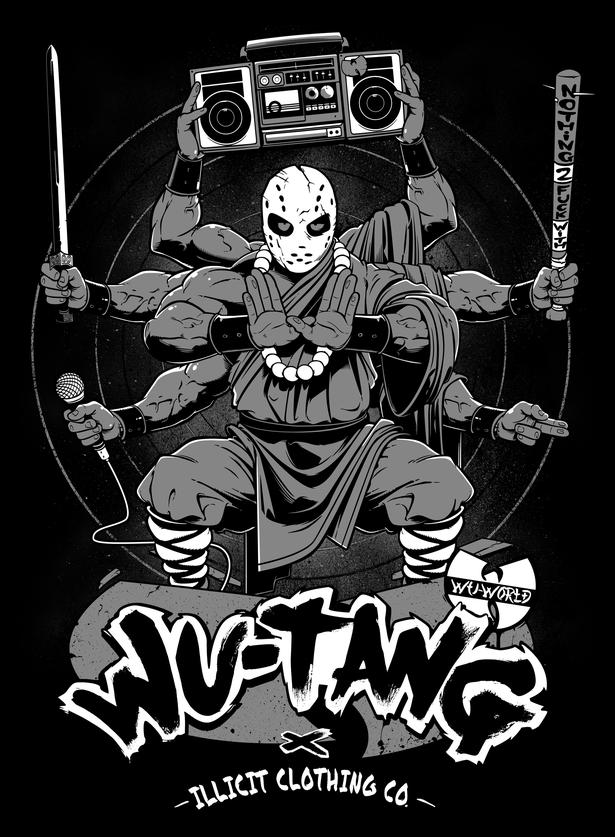 Monk design by Illicit Clothing. Picture / Supplied

The band is no stranger to fashion. This week, Wu-Tang member rapper and producer RZA announced his new clothing line 36 Chambers, a contemporary menswear line named after the Wu-Tang Clan's 1993 debut album inspired by RZA's love of kung-fu films and Chinese culture.

As an avid collector and admirer of band-based artwork from the likes of Rick Griffin and Frank Kozik, Steve's eye for connecting the streets with music and clothing has been a major part of the Illicit business over the years. Traditionally the brand appealed to emo punk and rockabilly fans, but in recent years the hip-hop community have become some of Steve's biggest fans.

READ: Ralph Lauren and the Lo Lifes

"Illicit is somewhat of a crossover brand of sorts," says Steve. "We were very much the punk rock tattoo brand for a while there but about 10 years ago with new blood on board we found ourselves with more of a hip-hop feel. Illicit has always appealed to the outsiders as such, and our new fans embraced us like the old ones never did.

"It's funny, 10 years ago when rapper Ghostface Killah was in Auckland doing a gig, my friends were doing security for him. They brought him to the store and boom, there he was with his crew on stage repping us hard!

"Wu is a respected brand like Illicit. There are so many great lyrics and imagery to work with that is similar over both brands."

With the label evolving over the years, Steve has embraced the changes both in terms of his customers and also the ever-changing marketplace.

"Often it's like getting blood out of a stone. Unless you have the best design in town it's a struggle. You need to be on point and price has to be competitive because it's damn tough out there."

The exclusive Wu x Illicit line will consist of classic streetwear staples featuring Wu graphics designed by Illicit including T-shirts, jumpers, hats and caps; with a fuller collection to coincide with the book and exhibition next year. The collection is available to purchase from today from Illicit.co.nz, Custom Teez Manukau and Otautahi Tattoo.

Share this: