A new movement from the NZ Fashion Museum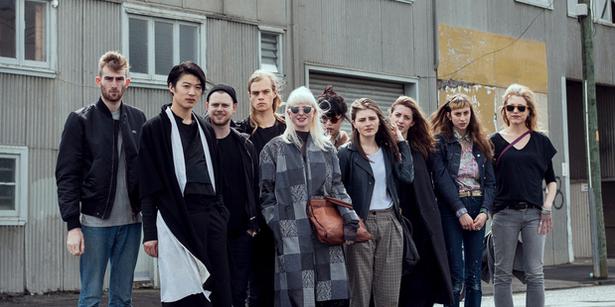 Friday Sept. 26, 2014
Elle and the Youthquake is the latest exhibition from the New Zealand Fashion Museum, telling the story of designer Wendy Ganley and her shop, Elle Boutique, which changed the face of New Zealand fashion from 1963-1976.
Garments and photos will tell Ganley's story, an important piece of New Zealand's fashion history - she trained under well-known designer Babs Radon, and in turn trained Marilyn Sainty, and also sold stock to Zambesi's Liz and Neville Findlay for their boutique, Tart.
Alongside the exhibition will be a pop-up shop showcasing new designers, most of which are pictured here. Also stocked will be African designer Nomsa Mabuto Botshiwe with label Nomsa Mabuto, accessory designer Elisabeth Kwan, and Mu, by Jeong-Hee Shin-Newstead, who has encouraged her own generation of talent as a tutor at Otago Polytechnic's School of Design.
Designers pictured L-R: Alex Bartley Catt of The Lucid Collective, Steven Park of 6x4, Anthea Tucker of Anthea, Glenn Yungnickel of label Yungnickel, Sam Clyma of MRK, Clara Chon of Blue Blank, Chloe Swarbrick of The Lucid Collective, Nicole Wesseling, Rose Thomas of Nymphets and Sera Mitchinson, with label Selector. 

Elle and the Youthquake is on at Britomart's Nathan Gallery from Saturday 27 September until 19 October.
Share this:
More Fashion / The Latest