Absolutely Fabulous at Any Age
Patsy and Eddie are back, but fashion is the real star of the show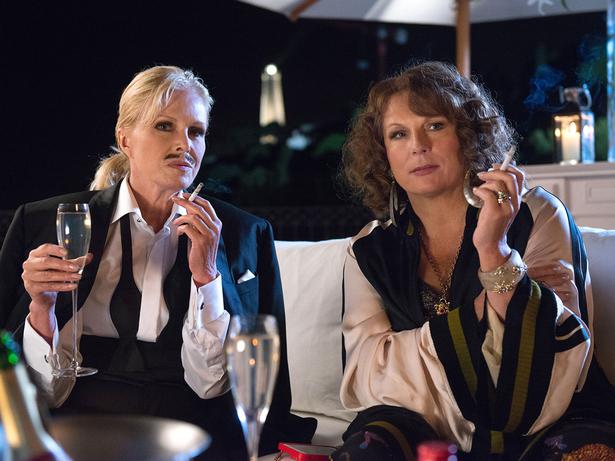 Tuesday Aug. 9, 2016
After the past few months, it's a comfort to throw yourself into the pre-Brexit world of Patsy Stone and Eddie Monsoon making a mess of the modern age. If it's art's job to hold a mirror up to nature, then Absolutely Fabulous: The Movie snatches a makeup-stained compact and gives us a scathing but entertaining reflection of our consumerist and hysterical selves. It might not be pretty but, in the light of recent events, we probably come off rather lightly.
The worry was that 25 years after Absolutely Fabulous first aired, the movie version would be outdated, another fashion film flop like Zoolander 2 or the frankly insulting Sex and The City 2. But though the plot line is (naturally) ridiculous, and the writing in no way as piercingly satirical as, say, Armando Iannucci's brilliant Veep, Saunders' fast-paced script is just wittily observed enough to chime with her audience.
Her attention to detail perfectly captures the frenetic, absurd world of now — our fashion obsession, our adulation of celebrity and youth, the relentlessness of the 24-hour news cycle — while throwing in gags on injectable cosmetics, gender-fluidity and the hilarity and agony of being women of a certain age.
Some things are eternal, some things change, but thankfully Ab Fab has moved with the times. Patsy and Eddie are as recognisable in character and appearance, from bad hair to daft shoes, as they were a quarter of a century ago, but because they spend their lives worshipping at the altar of the fashion zeitgeist they are also bang up to date. And that makes for the biggest laughs.
And so we have Patsy in the back of a limo swigging Chanel No 5, while swiping right on Tinder. We have Eddie continuing to battle half-heartedly with her weight and wearing slogan T-shirts — but now the shirt reads "Frack Me!" — and her gesture to exercise is scooting like a kid between the six feet from her front door to her car. Her signature Day-Glo feather boas have been replaced with faux-fur scarves from the cult London brand Shrimps.
The duo are still shopping with wild abandon, but now Harvey Nichols has been dumped in favour of a stream of Net-a-Porter black boxes, and the name-checked restaurants are the Chiltern Firehouse and The Wolseley. Still obsessed with looking young, these days Patsy wakes up and injects herself in the face.
The celebrity cameos — more than 60 in all, including Jerry Hall, Stella McCartney, Sadie Frost and Graham Norton — provide a constant run of contemporary pop-culture currency; they're only lacking Adele and Boris Johnson (Samantha Cameron gets a namecheck, though).
This reaches its peak in a dream scene where Eddie lies on a sofa in a candle-lit room surrounded by a crowd of adoring models and It-girls — Alexa Chung, Cara Delevingne, Jourdan Dunn, Lara Stone, Daisy Lowe and, high priestess of them all, Kate Moss. Moss says Eddie can be her PR — Eddie trying to achieve this becomes the crux of the plot — while McCartney, who refuses to let Eddie wear her designs in "real life", purrs that she "would love to dress" her.
With further appearances from Lulu and Abbey Clancy, you can't help thinking this film is one for the Brits and, even more, Brits of a certain age. Who under 40 is going to appreciate the deliciousness of Janette Tough (aka Jimmy Krankie) playing the current hot new designer Houki-Mouki? Or Judith Chalmers on the dance floor at an 80th birthday party?
What one would really hope for is a sign of our times, or perhaps the dawning of a new age: the sight of two women past 50 romping about on the screen being irreverent, hedonistic, non-airbrushed and fabulously unselfconscious. As director Mandi Fletcher has said, without the history of the TV show nobody would have green-lit a film about post-middle-aged women behaving like this.
Saunders (57) and Lumley (unbelievably, now 70) have used that back catalogue in the best way, sending themselves up, laughing about age, female sexuality and the inanity of always trying to look your best. The result is endearing and maybe a bit empowering. Perhaps our reflection isn't so bad after all.
— The Daily Telegraph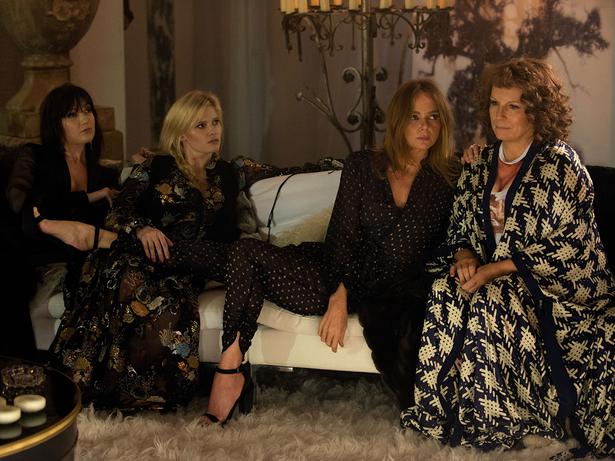 Models Daisy Lowe and Lara Stone, designer Stella McCartney and Eddie Monsoon. Picture / Supplied.
COSTUME SECRETS OF ABSOLUTELY FABULOUS
1. The dress Kate Moss wears to emerge from the Thames is based on one Johnny Depp bought for her 21st birthday
"I went to Kate's stylist and said that we need a dress that stands out but you've got to be able to wear it over a wetsuit coming out of the Thames in the middle of November," costume designer Rebecca Hale says. "Kate said I've got this dress Johnny Depp gave me on my 21st birthday. It's perfect."'
2. Saffy's shop of choice is Mountain Warehouse
"It's not just finding a ghastly piece of clothing," the costume director Rebecca Hale says."You might find a nice shirt and style with ugly cargo pants from Mountain Warehouse. Or old jumpers in charity shops and mix them up with a nice piece from Brora."
3. Stella McCartney is the new Christian Lacroix darling
"Stella is who Jennifer Saunders sees as the leader of the fashion world now," explains Hale. "But Stella doesn't want Edina to wear her clothes because she's a social embarrassment."
4. But Bubble still looks bonkers ...
London design duo Vin and Omi are Jane Horrocks' costumes. "We decided that Bubble was all about the younger audience so we came up with the concepts of doing social media outfits," Vin explains. As for what they all mean? True to Bubble's character, not very much. "#bm? It stands for button mushroom, we totally it made up."
Share this: