Adam Hale of The Daily Splice's Collages
Adam Hale, famous on Instagram as The Daily Splice, talks to Rosie Kelway about his distinctive collages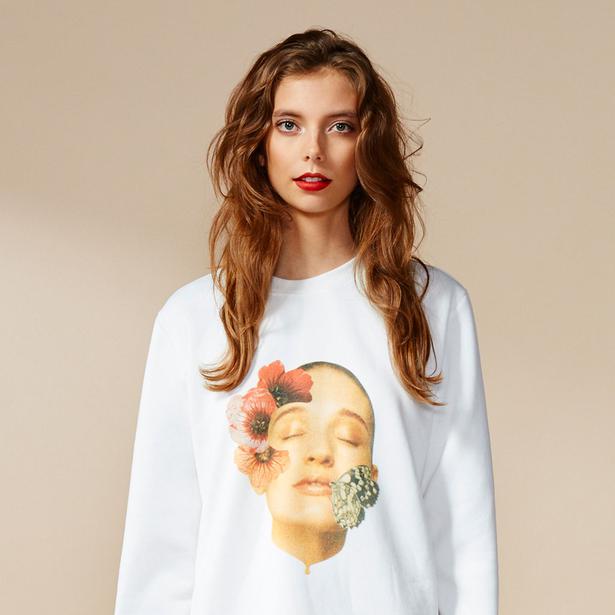 Thursday Aug. 18, 2016
Each year, the London Underground carries 1.3 billion passengers and two billion travel on the city's buses. Every day, a number of free publications are distributed, read and discarded. Last year Adam Hale, known on Instagram as The Daily Splice, started collecting these free titles, cutting up the images inside and using them to create thought-provoking collages that reference pop-culture. Done entirely by hand, each collage can take anywhere from 20 minutes to months to produce.
Adam loves to take images out of context, and mix them together. He uploads one collage a day to his 119,000 Instagram followers (@the.daily.splice), with another account (@mr.splice) offering an inside look into his process.
"I started sharing behind-the-scenes shots because so many people couldn't believe that my work was made by hand, they assumed it was photoshopped," Adam says.
His striking collages have caught the eye of the likes of W and i-D magazines, with Ruby designer Deanna Didovich discovering his work via Instagram last year. Instantly she knew she wanted to collaborate with him, and the pair created an exclusive print that features in Ruby's summer collection.
Deanna was drawn to the quirky personality of Adam's work, and his concept of taking something disposable and making it permanent. The pair worked over Skype and email, with Deanna sending photos of Auckland model Jade Woods to Adam to use in the collage.
Adam, who was recently married, shares some background to his distinctive work.
What is it you love about the medium of collage?
It appeals to me so much because it gives me a great sense of freedom. It offers me the chance to develop and discard ideas quickly and has become an addictive creative outlet. It may sound like a contradiction but I also enjoy how limiting it can be; there's only a certain amount of source material out there but I thrive on the challenge of bringing random images together.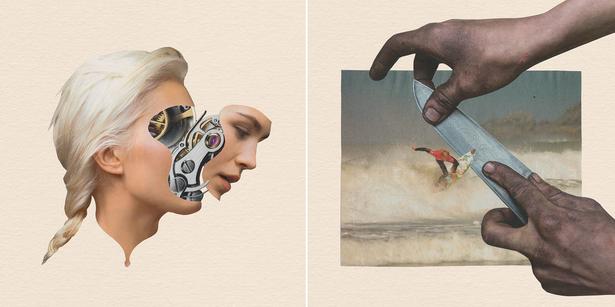 What do you like most about collaborating with brands?
Collaborations are really important to my development as an artist; they allow me to work in a new way and I always strive to bring something exciting and original to the table. It's great to have free rein over a project but I actually find the challenge of a brief can be more productive and often takes my work in directions I'd never think of. I've been lucky enough to work with some amazing brands from many different industries and this latest collaboration with Ruby has been a real journey. My aesthetic seems to appeal to the fashion industry a lot, presumably because of the source material I use.
Do you ever have issues with image copyright?
I've never had any issues as I don't reproduce blatant prints for people to purchase. In fact I've never put any artwork into production despite hundreds of requests. I respect copyright law but would hate for it to hinder my creativity so I choose to create artwork using any image I come across. I don't make any money posting personal work on my Instagram and if a subject was offended by my work I would respect their rights and remove them. I've only ever had good feedback from celebrities and models who find themselves in my work. Most people are flattered to have been used and end up reposting the work on their own feeds.
How do you make a collage?
All my collages are created by hand and I prefer it to digital processes. I'm a big fan of the Adobe Creative Suite and have used these tools for years, however there's something magical about handling my work without the middle man. Using scissors to create curves and shapes is immediate and I can shave bits off until I'm happy. It obviously has its drawbacks there's no way to flip or resize different elements but this feeds into the work itself. I tend to start a piece by quickly scanning over newly collected images looking for things that could work together visually or conceptually. A lot of my work is never shared because I'm quite hard on myself but I think that's ensured a decent Instagram feed over a long period of time.
How do you select what to collage?
Most of the images I collect are chosen because they're visually or technically viable, for example a professionally shot portrait may only work if there's no hair covering the face. I'm also drawn to anything out of the ordinary as they could help spice up a collage, and these elements are saved up until I have a set of images that work well together. I love creating metaphors and anything witty that can be communicated at first glance so it really comes down to each magazine I collect, and the best thing of all is that I literally have no idea what my next piece will look like.
Share this:
More Fashion / Features & Profiles