Brand to Know: Adam Selman
Celebrity favourite Adam Selman is the designer behind summer's must-have accessory. He talks fame, humour and sunglasses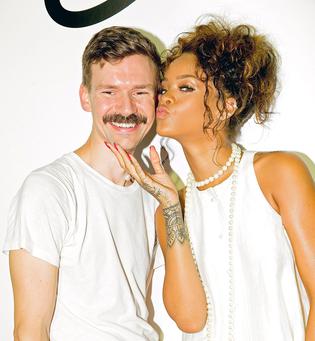 A sense of fun, campish nostalgia runs through everything Adam Selman does. The Texan-born, New York-based designer, with a 70s-style moustache and penchant for double denim, began his career as a costume designer before launching his namesake brand in 2013. Describing his aesthetic as playful and sexy with a tomboy edge, his designs have been worn by the likes of Alexa Chung, Gigi Hadid, Katy Perry and Man Repeller's Leandra Medine. Cool girls love Adam Selman.
But Rihanna is his most high-profile fan. Adam's boyfriend is Mel Ottenberg, the stylist behind some of the superstar's coolest looks. Adam also works closely with her, having designed several stage costumes and red carpet outfits - including the now iconic 'naked dress' from 2014, studded with over 200,000 Swarovski crystals. She has also been frequently photographed wearing Adam's cult cat-eye 'Last Lolita' sunglasses from his recent collaboration with Le Specs - which have sold out several times over (they're back in stock, but get in quick), and been described as the accessory every fashion girl wants.
How did you approach designing the original collection with Le Specs?
I love film and pop culture and fantastic stories that inspire my work. For Le Specs I wanted to think about the most memorable sunglass moments in film, I instantly thought of Sue Lyon in Lolita and Catherine Deneuve in The Hunger. I've always loved those movies and those icons' sunglasses, so that was my starting point. Do you realise how many times I watched The Hunger? I could watch it over and over and over.
The Last Lolita frames are the style that really took off - why do you think that is? Did you expect them to become so popular?
To be honest, I didn't know what to expect. That was the fun part. I was just doing my thing, and Le Specs was so supportive. The Last Lolitas are different than what others are offering right now, so I think that's what's set them apart. They instantly give such major attitude when you wear them.
The sunglasses were inspired by moments in film: what's your favourite film?
I could never answer that question! I love movies too much. I'm always changing what I'm watching and get easily obsessed. Don't even get me started on Jon Benet! The last movie that I've just been obsessed with is Body Double. The visuals and soundtrack are just something I'll never tire of. [Brian] DePalma is a genius.
You started out designing stage costumes, then launched your own label. Do you think that stage background influences your approach to designing today?
I just love to design, period. Everything I've done I think comes into play. I was a handyman and made furniture for years and worked on a craft book with Amy Sedaris and I toured around the world for almost three years with the Scissor Sisters. I've been fortunate to have a lot of different jobs, meet incredible people, and really hustle for work and try to do my own thing. I think I'll always be that kind of guy.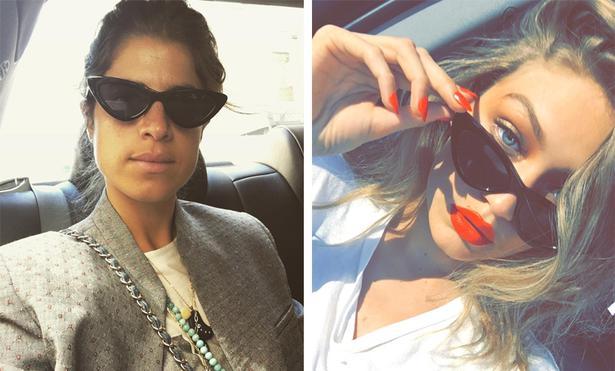 Leandra Medine and Gigi Hadid wearing Adam Selman for Le Specs sunglasses. Pictures / Instagram

Your work always seems to have a dark or dirty sense of humour. Do you think there is enough humour in fashion right now?
Me? Dirty and dark? Ha! I've never heard it put that way, but those are two words I am not afraid of. I think there is plenty of great humour in fashion right now. Clothes are meant to create moments, define eras and humour is definitely something that I love to convert thorough my clothes. I think in the age we live in, in a global environment where everyone has access to something, the world is changing and becoming less monotonous. I think the fashion world is doing a great job of keeping up, it's time retailers start doing the same.

Do you have a celebrity muse?
"Muse" is a strong word to me, I either go for people that I know personally and admire their style or lifestyle and consider them muses, or I go for someone that I could never imagine meeting … untouchables. Jerry Hall, Pat Cleveland, Gloria Vanderbilt or Mariel and Margaux Hemingway. I'm not interested in people just because of their fame status, I am more interested in what they put out into the world. That's a muse to me.

SHOP: Playful Sunglasses for Spring

You create lots of outfits for Rihanna. What's it like working with her? What's a favourite look that you've made for her?
She is the best, I can't say enough great things about her, she is uniquely herself, and I am so lucky to have worked with her as much as I have. Each outfit has a story or says something about the time we were working together, so it's hard to pick a favourite.

Gigi Hadid just wore your beautiful hand-beaded shift dress in Paris, and she's worn your Last Lolita frames a lot. Is she someone you'd expect to have worn your pieces?
After she wore the Last Lolitas, I got the chance to work with her on a shoot. She is charming and professional, and surprisingly funny. I genuinely loved getting to spend time with her. I was so happy she wore the beaded dress and I was at the event when she wore it, so getting to see her live in the dress in person was beyond special.

You're very good friends with the incredible actress and comedian, Amy Sedaris. Tell us a little bit about your friendship.
There's nothing that I don't love about Amy. I was a fan of hers after watching Strangers With Candy, I always wanted to make something for her when I was younger, and then we met on a Dolly Parton video shoot almost 10 years ago. We instantly clicked and haven't stopped laughing since. We worked on her craft book Simple Times: Crafts for Poor People together, and she's been my number one supporter since day one. Speaking of muses earlier, I couldn't think of a more perfect word for her.

Share this: