Pharrell's New 'Hu' Collection with Adidas Originals
Singer Pharrell Williams celebrates the colours of the world with his new line of activewear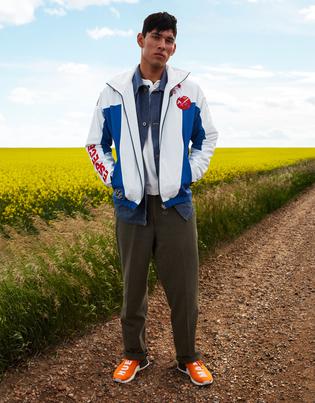 Pharrell Williams releases his latest collection with Adidas Originals this Thursday, continuing the designer's longtime successful collaboration with the sporting giant.
Called Hu, the collection of activewear and sneakers for men and women represents the singer's vision of connecting people through the ideals of love, passion, energy, and colour.
"Hu is short for human – human being, human race, humankind," says Pharrell. "But Hu itself is also a reference to colour. As human beings, we all have a colour. We all look different, we all speak different languages, but we're all connected. I play for the human race."
See Pharrell's Best Fashion Moments
The singer released his yellow NMD sneakers with Adidas in July, catching the attention of sneakerheads with its unique lacing system connected to the midsole and featuring a graphic decoration of the words 'human' and 'race' appearing on the right and left shoe respectively.
The latest drop this week will feature new colours - scarlet, black, sharp blue, green and tangerine - with each printed with its own split slogan, such as 'Hu Race', 'Human Species' or 'Hue Man'.
Pharrell's style credentials are well known. In 2014 he was awarded the prestigious CFDA Fashion Icon Award, and his eclectic and colourful approach to fashion is evident with this new range, highlighting global motifs such as flags, stripes, and prints featuring translations of the phrase Human Race in English, French and Japanese.
WATCH: Pharrell's acceptance speech at the 2014 CFDA Awards:
The campaign, photographed by Eric Valli, features people from all walks of life, including a group of Native Americans from North Dakota who invited Pharrell into their community to share their stories and culture.
"I am so thankful to the people of MHA Nation who shared their journey and experiences with me," he says. "I want to use my platform for people to tell their stories and help empower people no matter where they're from. By understanding humanity's past, we will build a bridge to its future."
The collection follows on from Adidas' other successful collaborations with the likes of Stella McCartney, Yohji Yamamoto, Jeremy Scott, Raf Simons, Rick Owens, Rita Ora and Kanye West.
The Adidas Originals by Pharrell Williams Hu collection launches on September 29, and will be available from Loaded in Auckland and Area 51 in Wellington.
Share this: