Model Adwoa Aboah Speaks Out About Depression
Vogue cover star Adwoa Aboah shares how depression and addiction caused her to try to take her life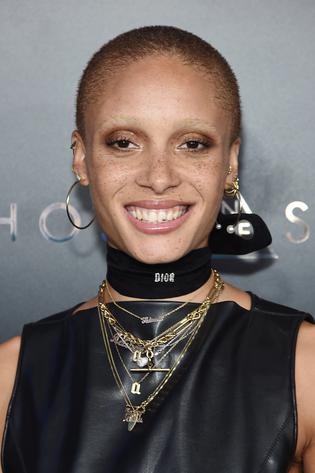 You would imagine Adwoa Aboah has led a charmed life. The British model is in high demand, having just finished a stellar catwalk season (undoubtedly her most high-profile yet), which saw her appear for Marc Jacobs and Coach in New York; Topshop and Erdem in London; Versace and Fendi in Milan; and Dior and Chanel in Paris.
Her face graces the cover of the March issue of AmericanVogue, alongside Gigi Hadid, Kendall Jenner and a kaleidosope of other models meant to represent "multiplicity" (fashion's new take on diversity).
And when she's not travelling the world for work, she splits her time between the plush London home of her parents (Camilla Lowther, an elite fashion photography agent, and Charles Aboah, who owns a location scouting company for fashion editorials and campaigns) and her new apartment in Brooklyn. Oh, and her best friend is Cara Delevingne.
But the modern It girl label is not one Adwoa would ever choose to wear herself. At 1.7m tall, with striking freckles, flawless caramel skin and closely cropped red hair, she is as arrestingly beautiful in the flesh as you may expect. Yet her edgily cool look — black leather trousers, military-style jacket, two gold hoops dangling from one ear lobe — belies an obvious shyness. She seems a far older soul than her 24 years.
That's perhaps unsurprising when you learn that, only two years ago, Adwoa was so numbed by depression and wrapped up in drink and drug addictions that she attempted to take her own life. A happy consequence of a resurgent career is that it has provided her with a platform to talk about mental illness, in the hope that she can inspire others to get help before they reach the point she did.
She has already set up Gurls Talk, a movement that aims to get young women across to open up in a safe space online, and now she can be seen talking frankly with her mother about the darkest time of her life in a short film they made for Heads Together. This is the charity set up by the Duke and Duchess of Cambridge and Prince Harry to help change attitudes to mental health.
WATCH: Adwoa and Camilla in the Heads Together #oktosay Campaign:
Astonishingly, this was the first time mother and daughter had spoken in depth about what was an emotionally devastating period. The conversation is revealing, with Camilla admitting that the family was "in denial" about Adwoa's depression, which first developed when she left home for boarding school outside London.
"Before I went there I was so happy," Adwoa tells me. "I'm not sure I was ready for it. I was only 13. My parents didn't send me away; it was my choice as well. But I definitely shouldn't have stayed for five years."
Painfully shy, she found it hard to make friends, but didn't want anyone to see how lonely she was. "I made a decision that I was just going to stop talking about anything to do with emotions or what I was actually going through," she says. "I started experimenting with drugs. I kept it a secret for ages."
Juvenile experimentation escalated into an addiction to ketamine, a powerful horse tranquiliser that can cause hallucinations and out-of-body experiences. And while her career took off — she signed to modelling agency, Storm at 18, while studying drama at Brunel University — her personal life began to come apart.
"To everyone else in the outside world I was doing really well, but inside I was just slowly crumbling.
"No one knew how bad it was. My go-to protective thing is isolation. It's turn off the phone, don't speak to anyone, lie in bed all day and then maybe go out at night and do the same thing over again."
READ: Fashion Girls Don't Get Depression, Do We?
By the time she was 21, her worried parents realised the extent of her drug problem and sent her away to a rehab centre in Arizona.
"I knew I'd been self-medicating [with drugs] because I was depressed," she says. "I wasn't going to Arizona to stop drinking or taking drugs, I was just going to sort out why I'd been so sad, but they both went hand in hand."
She was, she says, completely exhausted by life. "I remember thinking I couldn't be bothered to feel any emotions any more. I will never feel as bad as I did that time . . . you could be in the most amazing place in the world and everything is grey, bleak and numb.
"I needed somebody to tell me it was fine to feel the way I did, and someone to relate to. If I'd had that, I would not have felt as alone as I did for that long."
After returning to London, she relapsed and spiralled into a deeper depression, which resulted in her attempting to take her own life with an overdose at a rehab centre in October 2015. She spent four days in a coma, while her parents and younger sister Kesewa kept a bedside vigil.
It is clear from the Heads Together film, shot in the family's West London home, that they have only recently been able to process how close they came to losing their eldest daughter. "I thought you had a problem with drugs," Camilla tells Adwoa. "I didn't really think it was anything else until you tried to kill yourself."
WATCH: The Mission of Adwoa's 'Gurls Talk' Movement:
The filming process has been cathartic for both of them. "I've never been ready to have that conversation with her," Adwoa tells me. "We have an amazing relationship but we tend to brush past certain things, and have done for a long time."
Now, however, she understands she wasn't the only one in pain: "It was me who was going through it, but I wasn't the one who was going to be left. Sitting by my bed, not knowing if everything would be okay. I wasn't even awake for that part."
Although her treatment for depression, bipolar disorder and addiction has been successful, the filming has alerted her to her mother's residual anxiety.
"She brought up things like how if I don't answer the phone — and quite often I don't — their immediate thought is that I've done something.
"For me, I find that really annoying, because I'm not fragile, I need them to trust me more. But hearing it from her side, I understand."
On the flowery sofa in Adwoa's living room, there is a cushion with the words: "It is the friends you call at 4am who really matter" stitched into it. She has learned the value of surrounding yourself with people who care about you, and doing work you love. Happily single and about to live alone for the first time, she seems to have found a sense of calm and balance.
"One day at a time," she says, smiling broadly to reveal a tiny diamond twinkling in her front tooth. "I live by that."
— The Daily Telegraph
• Friday, April 7 is World Health Day, with this year's theme 'Depression: Let's Talk'. Find out how you can get involved, or help someone in need.
Share this: