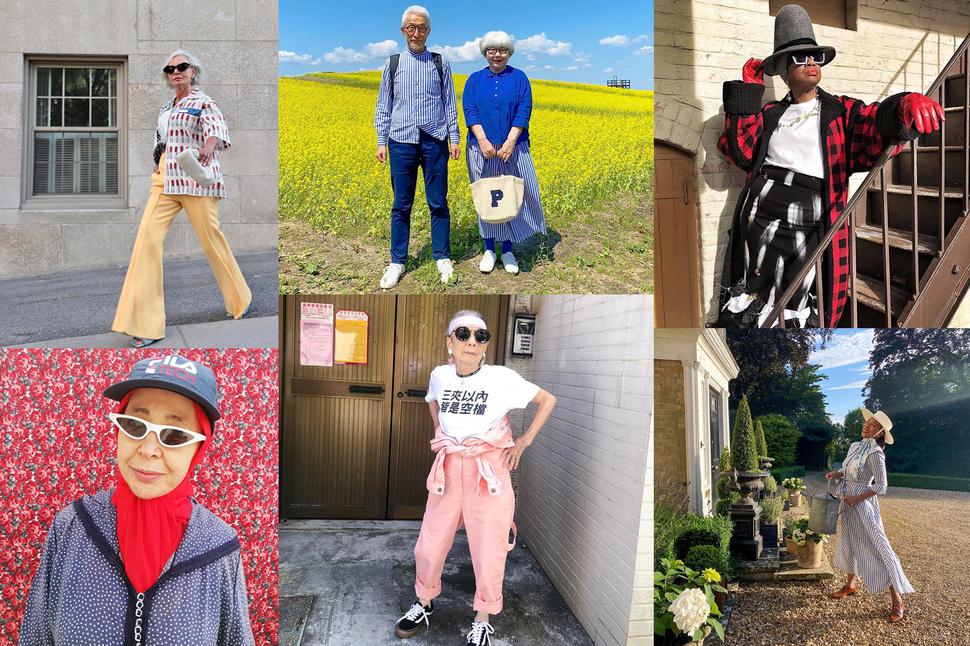 12 Stylish People On Instagram Who Prove Age Is Irrelevant
No matter how old you are, the coolest thing is to just be yourself
Friday Aug. 7, 2020
Paula Sutton, @hillhousevintage
Fans of a vintage country look, cottage gardens and nostalgic style will love Paula's aspirational and uplifting Instagram account. The main star, other than herself of course, is her picturesque Georgian house in Norfolk, where the former editor has lived for ten years — before which she was an editor at UK Elle.
min - height: 699px">
Tsuyoshi and Tomi Seki, @bonpon511

Famous for their coordinated style, this couple shares a crisp yet quirky aesthetic and practical approach to fashion. Expect lots of stripes, polka dots, and excellent coats.
min - height: 699px ">
Grece Ghanem, @greceghanem
On the cover of this week's issue of Viva, Grece Ghanem is a silver haired street style star based in Montreal. She favours refined glamour, contemporary tailoring and statement eyewear. Originally a microbiologist in Lebanon, she's now a personal trainer — and a fashion favourite.
min - height: 699px ">
Arlinda McIntosh, @funkingafter50
Vibrant and expressive, Arlinda McIntosh lives up to her Instagram handle — embracing volume, colour and creative accessories. Based in the US, she's a stylist and fashion designer behind slow-fashion label Sofistafunk.
min - height: 699px ">
Jenny Kee, @jennykeeoz
Famous for her bright, distinctive style, Jenny Kee is an Australian knitwear designer whose "blinky" koala jumper was famously worn by Princess Diana in 1982. Kee was pivotal in helping shape a vibrant, eclectic vision of Australian fashion with her knitwear brand and iconic Sydney boutique, Flamingo Park. She continues to share her inspiring vision today — as well as championing locally made fashion.
min - height: 699px ">
Najate Leklye, @meryemsfirst
Based in Rotterdam, Najate Leklye is the star of her daughter Meryem Slimani's Instagram account — the bio of which reads "My mum took over my Instagram I'm now just here to take her pics." Leklye's style is fresh, personal and thoroughly modern — layering streetwear, florals, traditional Moroccan dress, and inventive colour together into a melange of culture and identity.
min - height: 699px ">
Moon Lin, @moonlin0106
She's the Taiwanese retiree subverting streetwear and challenging what senior style can look like. Not only a fan of brands like Supreme, Moon Lin also supports small Taiwanese streetwear labels.
min - height: 699px ">
Lance Walsh, @dinneranddance
Another influential streetwear figure, London fruit-seller Lance Walsh is so low-key that someone else runs his Instagram account.
min - height: 699px ">
Helen Ruth Elam Van Winkle, @baddiewinkle
Famous for her searingly bright outfits, irreverent approach to style and bawdy sense of humour, Helen Ruth Elam Van Winkle — aka Baddie Winkle — has been an Instagram celebrity for a few years now (Rihanna's a fan) and her optimistic fashion sense is particularly mood elevating right now.
min - height: 699px ">
Michele Lamy, @michelelamy_
She needs no introduction (Michele Lamy is an iconic creative figure, and Rick Owens' other half) but her unique, eccentric style is an enduring favourite of ours and feels very of-the-moment for 2020's dystopian mood. To be honest, we're lucky she's even on Instagram.
min - height: 699px ">
Yasmin Furmie, @yasminfurmie
With her closely cropped hair and quirky style, Yasmin Furmie is a fashion designer and influencer worth following for fresh and accessible style inspiration.
min - height: 699px">
Lyn Slater, @iconaccidental
A fashionable New Yorker with a penchant for the avant garde, Lyn Slater is a professor of social work who uses Instagram (and her blog) to express herself creatively and share her many chic outfits.
min - height: 699px "
Share this: