Ageless Style: Masako Hylands, 72
Masako spent her career showing off our beautiful country to Japanese visitors. She shares her life and style journey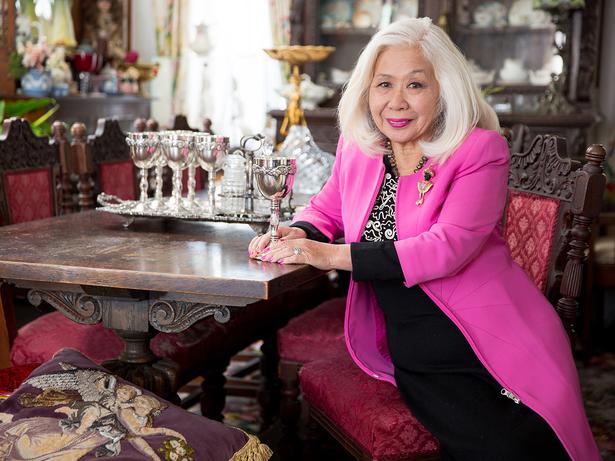 Wednesday Aug. 9, 2017
Tell me about your style over the years — are there any distinct changes or phases you've gone through?
During my working life, I really liked wearing suits. A jacket with either matching pants or a skirt always looked so professional. On the other hand, however, when I wasn't working I loved expressing my personality through what I wore. It's been important to me to choose styles that have interesting designs. I've always wanted to be different from other people and I suppose nothing has changed.
I enjoy mixing colours and patterns especially in summer. I adore wearing accessories from luxury designer brands but also vintage and antique jewellery. I also love creating my own one-off jewellery pieces.
I'm crazy about decorative arts from all over the world.
READ: Why Vintage Jewels Are In Vogue
How would you describe your career?
I started off as a technical advisor for the Hastings 1968 Blossom Festival. At the same time, I was promoting Japanese cars in New Zealand. After this, I became a Japanese-speaking guide and interpreter.
I guided Japanese agriculture and horticultural tours that came to New Zealand and also looked after Japanese politicians, mayors and tourists. It was a very busy but rewarding career and I met so many people. I loved showing them our country, the beautiful places, the wonderful people and giving them memorable Kiwi experiences they'll never forget.
Although I'm now retired, I still keep very busy, catching up with friends, gardening and looking after my grandchildren. I love cooking for my family and trying out my own original recipes.
Which item in your wardrobe is most sentimental?
I don't have anything too sentimental. I do have some beautiful kimonos, which are very old and precious. They are quite special to me.
What does beauty mean to you?
It's true that beauty comes from within. Truly beautiful people have a good heart that shines through. On the surface too, it's important to keep yourself looking good. Take time to look after yourself and always make an effort. Do you hair and makeup to look polished. Look after your skin and take care of your health.
What is the best thing about getting older?
All the experience that comes with age and having my wonderful grandchildren. In Japan we say that after 40 you're responsible for the way you look. After then, it's up to you as to how you preserve yourself.
Where in the world do you feel most at peace?
At home and in my garden. Time goes away there and I'm in my happy place.
Your most memorable style moment?
I loved the 1970s when I wore all the wonderful 70s fashions. Ponchos, flares, platform shoes, lamé one-shouldered jumpsuits with matching turbans and full circle wrap skirts come to mind. So fun.
What is a piece of culture you feel most connected to?
I love reading books about the decorative arts from Victorian to art nouveau and art deco.
What's the biggest or most important life lesson you've learned over the years?
Never have any regrets and always be true to yourself. Be yourself because you're unique!
Share this: