Ageless Style: Modern Ways To Wear Timeless Fashion
Dressing up has no age limit. Embrace sensual fabrics and languid silhouettes, to be worn with an effortless and relaxed sensibility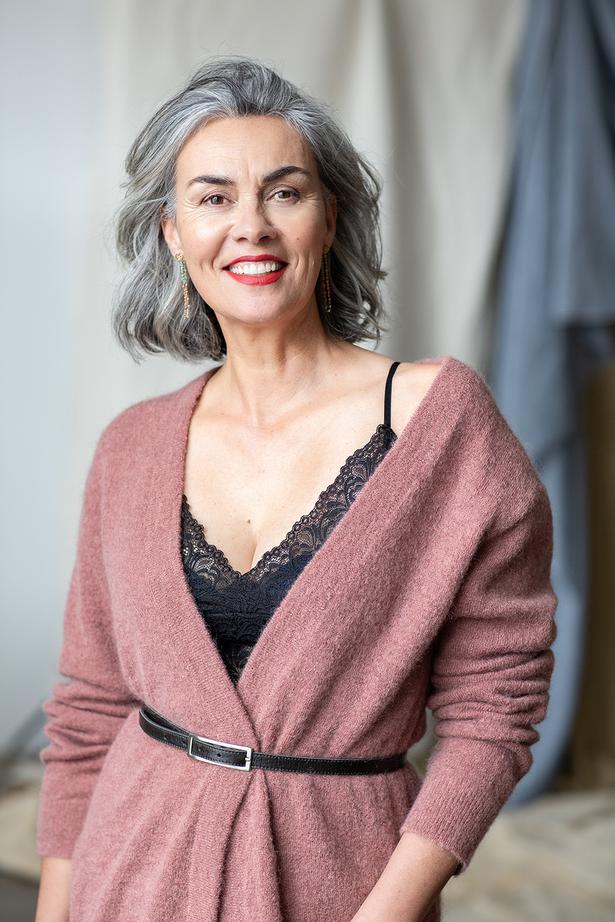 Wednesday July 10, 2019
Silver-haired beauty Rewa shows us how to wear today's updates on timeless looks with a dressed up edge. Think luxurious fabrics like silk and fine wool, plenty of special jewellery and a contemporary state of mind.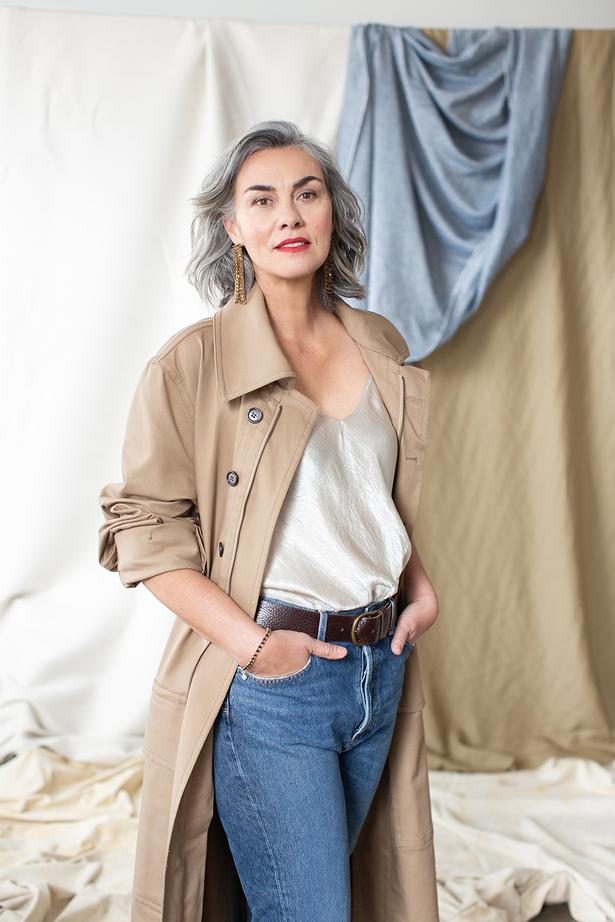 SIMPLY CLASSIC
A slinky top and vintage-inspired blue jeans are an effortless pairing with no expiry date, and are perfectly paired with a slouchy trench coat. Light-catching jewellery will make the look extra special, especially some shoulder-grazing statement earrings. 
Shjark camisole $199. Agolde denim jeans, $329, from Fabric. Jasmin Sparrow earrings $899. Jasmin Sparrow bracelet $449. Ann Demeulemeester coat, $1116, from Scotties. Wallace Rose belt $135.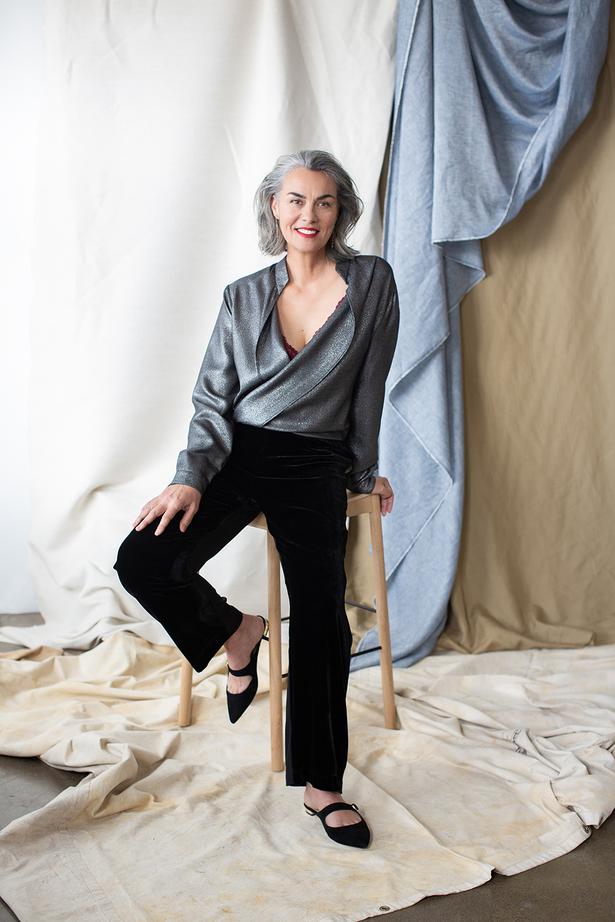 TACTILE EXPRESSION
Make fabric the focus of a classic combination of blouse and trousers. Deep-black velvet is a plush base for metallic silver. A hint of lace and flat mules make this a sophisticated ensemble that's relaxing to wear.
Knuefermann top $349. Knuefermann bralette $25. Wallace Rose trousers $398. Witchery shoes $160. Gucci GG Running earrings, $3450, from Orsini.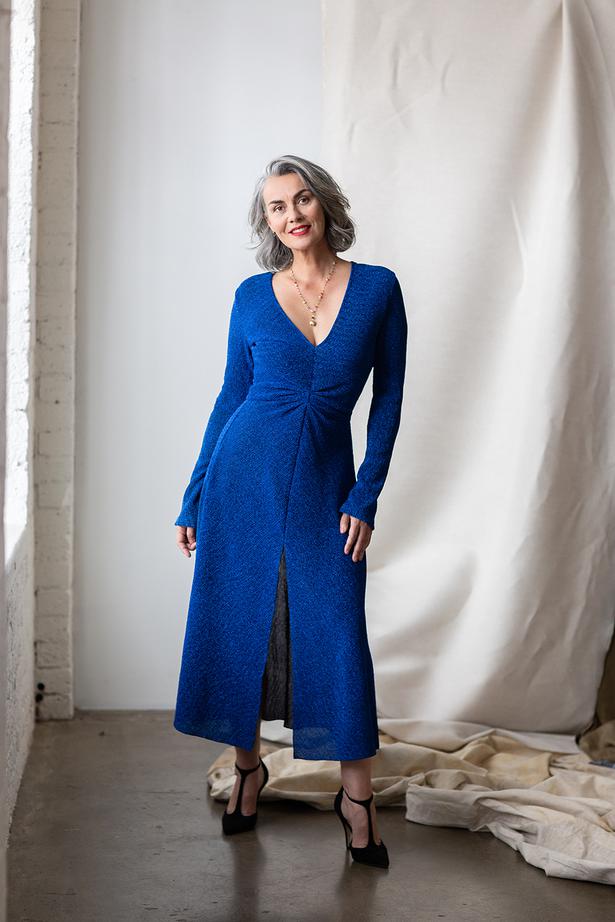 STATEMENT MAKER
Yves Saint Laurent once said, "Over the years I have learned that what is important in a dress is the woman who's wearing it." Rewa embodies this sentiment; it helps when the dress fits as well as this sparkling lurex version by Rotate. 
Rotate Birger Christensen dress, $429, from Workshop. Witchery heels $200. Marco Bicego Africa Lariat necklace, $5840, and Pomellato Nudo earrings, $7350, from Orsini.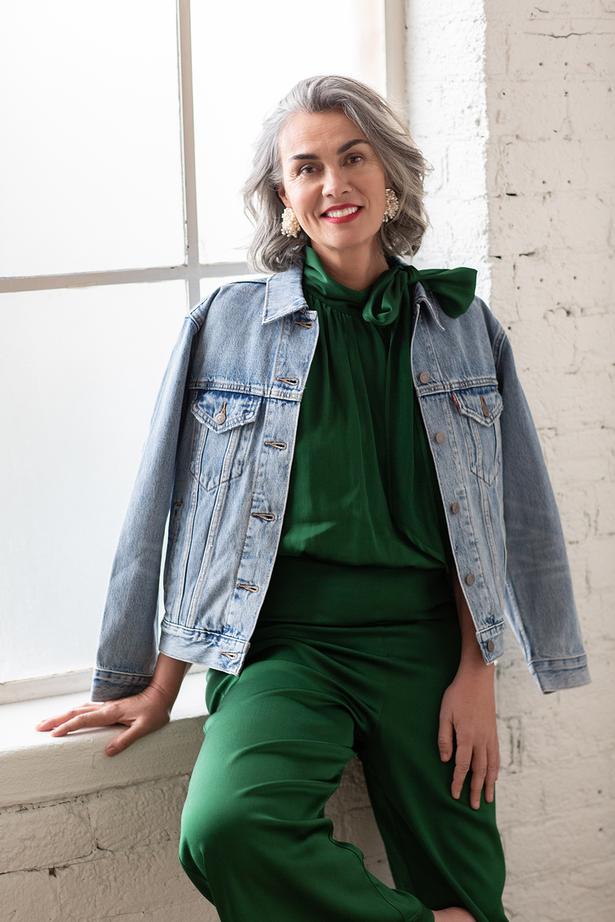 DOWNTOWN GLAMOUR
Who says costume earrings and denim can't go together? This jewel-toned pantsuit from Ruby is a just-as-fancy alternative to a dress. Paired with classic blue denim, it's the epitome of easy yet opulent cool. 
Ruby jumpsuit $349. Jasmin Sparrow earrings $949. Levi's jacket, $169, from Fabric.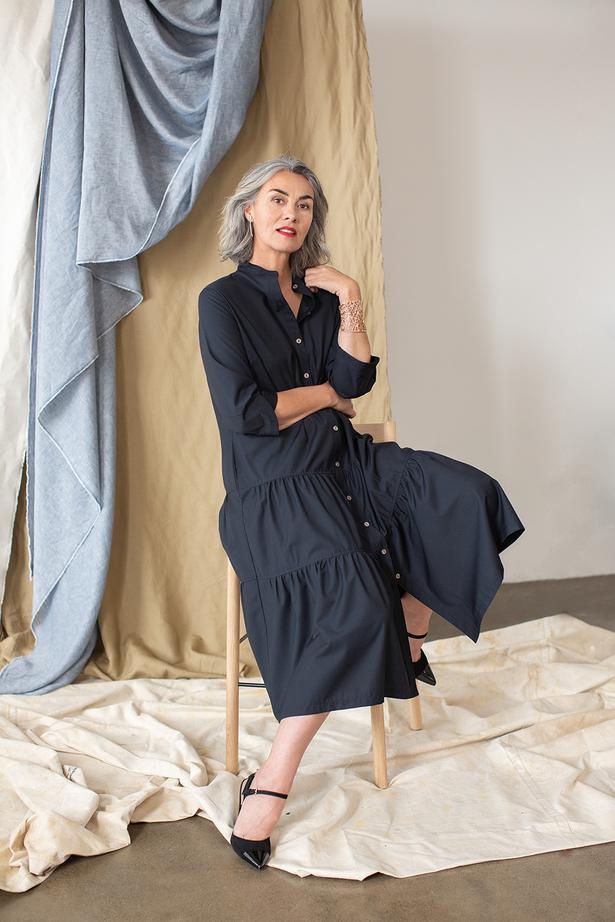 LA BOHEME
A versatile, artistic shirt dress has enduring appeal. This tiered version from Jane Daniels is a graceful staple to take you from day to night.
Jane Daniels dress $655. Sofra cuff, $31,800, and Crivelli earrings, $21,395, from Partridge Jewellers. Witchery heels $200.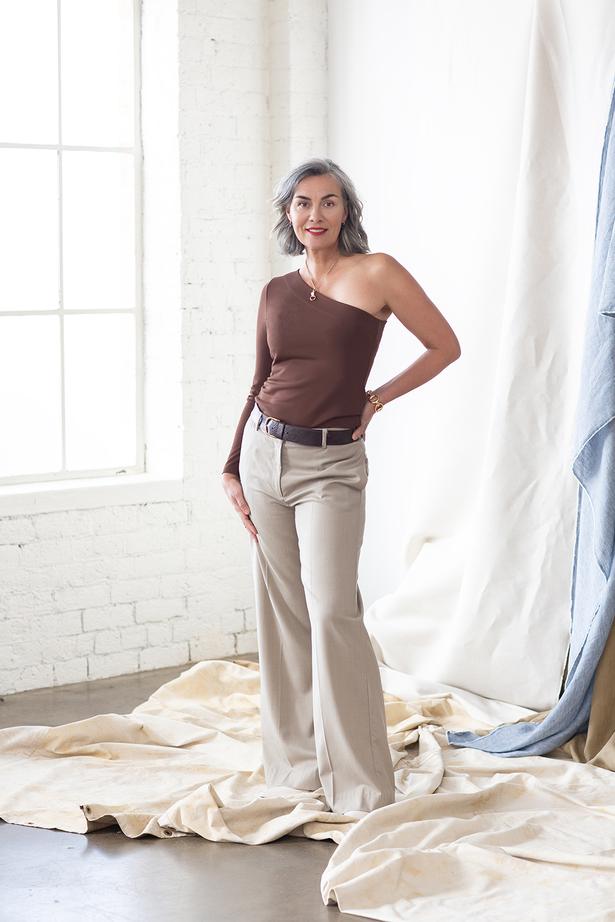 MODERN MUSE
The one-shouldered top may be a noughties throwback but today's version is nothing but timeless. Nut brown is a beautifully rich alternative to wearing black, thanks to its skin-tone-flattering qualities. Tailored trousers are given a cool, wide-legged update. Don't forget a good belt and some weighty gold jewellery.
Witchery top $80. Shjark trousers $369. Gucci Horsebit bracelet, $10,555, Horsebit necklace, $3510 and Pomellato Nudo earrings, $7350, from Orsini. ATP shoes, $619, from Gregory. Wallace Rose belt $135.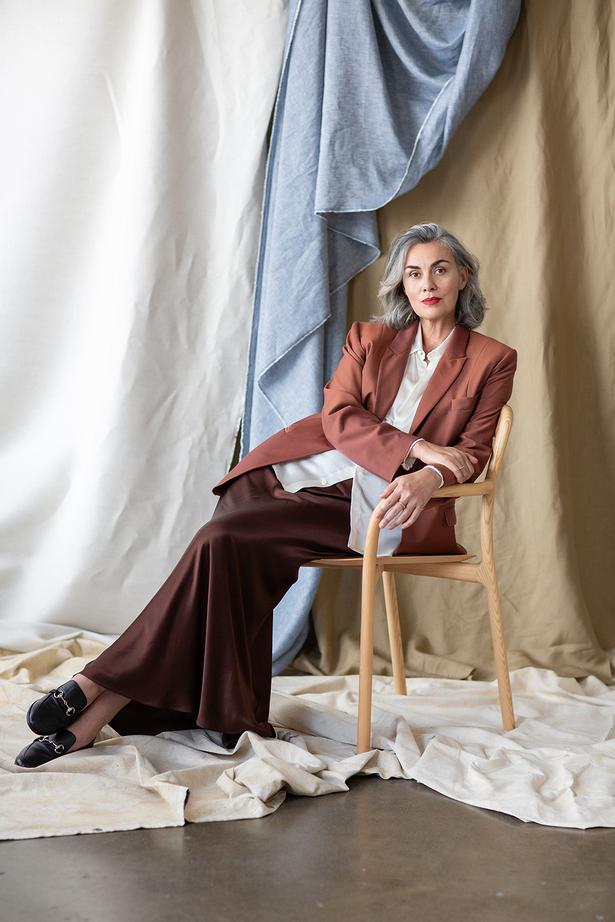 EASY ELEGANCE
A liquid chocolate silk skirt meets its match with an equally luxurious shirt and blazer combination. Harman Grubisa's cinnamon-coloured Jade Jacket is a very special release, crafted from Dormeuil Jade, a fabric made with a combination of wool and ultra-fine South Island greenstone particles. The textile is incredibly soft and sturdy thanks to the pounamu, and is superior in its drape and feel.
Haider Ackermann silk shirt, $995, from Scotties. Wynn Hamlyn skirt $390. Harman Grubisa Dormeuil blazer POA. Mi Piaci loafers $260. Jasmin Sparrow rings, gold $269 and silver $239.
Photographer / Babiche Martens. Fashion editor / Rosie Herdman. Model / Rewa Harker at Silver Fox Mgmt New Zealand. Hair & Makeup / Carolyn Haslett using M.A.C Cosmetics. Fashion Assistant / Annabel Dickson
Furniture: Resident Tangerine Stool, $674, and Mattiazzi Branca Chair, $1442, from Simon James Design.
Fabrics from Martha's furnishing fabrics: Sandstone Linen, $64 per metre. Latte Linen, $48 per metre. Chambray, $68 per metre.
Special thanks to Martha's Furnishing Fabrics, 12 Melrose St, Newmarket. Marthas.co.nz. Special thanks to Symmetry Studio, Ground Floor, 20 Beaumont St, Freeman's Bay. SymmetryStudio.co.nz
STOCKISTS: Fabric (09) 366 4528; Gregory.net.nz; Harman Grubisa (09) 963 6129; Jane Daniels (09) 358 5756; Jasminsparrow.com; Juliettehogan.com; Knuefermann (09) 366 0983; Mipiaci.co.nz; Orsini Fine Jewellery (09) 354 3115; Partridge Jewellers (09) 309 8925; Rubynz.com; Scotties Boutique (09) 366 1664; Shjark (09) 558 2181; Simon James Design (09) 377 5556; Wallace Rose (09) 376 0572; Workshop (09) 524 6844; Witchery.co.nz.
Share this: