Ageless Style: Yolande Palmer, 61
Yolande Palmer's floristry shop Here Among the Wild is her ultimate creative space. She shares her life and style journey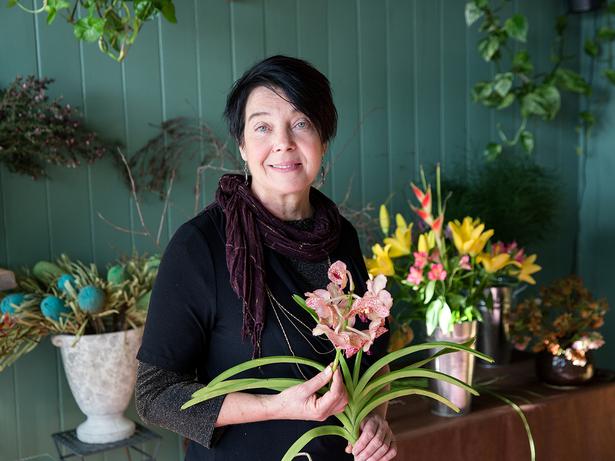 Friday Aug. 11, 2017
Tell me about your style over the years — are there any distinct changes or phases you've gone through?
I've always enjoyed hunting in flea markets for exceptional pieces. I have often re-visited some of these pieces because of the beauty of the fabric.
How would you describe your career?
I'm a late bloomer and have reinvented myself several times. Creativity has become more and more important as I get older, and I won't ever earn my living again without embracing this.
What does beauty mean to you?
I am a beauty addict. My eyes and ears are forever searching for a beauty "hit". Beauty to me is something which resonates perfectly with its environment, with a stroke of disequilibrium.
READ: What Beauty Means to Dancer Jahra Rager Wasasala
Where in the world do you feel most at peace?
Looking at the moon, listening to my favourite opera Norma Casta Diva Bellini. The moon is so magnificent and mysterious that small daily concerns fall into shadow.
What is the best thing about getting older?
Bringing more "intention" into my days.
Which item in your wardrobe is most sentimental?
I don't own anything of sentimental value. I suppose I prefer the philosophy of letting go.
Your most memorable style moment?
The first few weeks after opening the shop and hearing people say how much they loved spending time in the space. All I had visualised over the past few years had been rewarded.
What is a piece of culture you feel most connected to?
I love the poems of Mary Oliver. One line particularly resonates with me at the moment. "Tell me, what is it you plan to do with your one wild and precious life?"
What's the biggest or most important life lesson you've learned over the years?
Everyone has a story. I read the Desiderata when I was 14 and I have always remembered a line: "... and listen to others ... they too have their story". This is true for me.
Share this: