Alaia Launches E-Commerce With Net-a-Porter
Iconic Parisian design house Alaia is now available to buy online at Net-a-Porter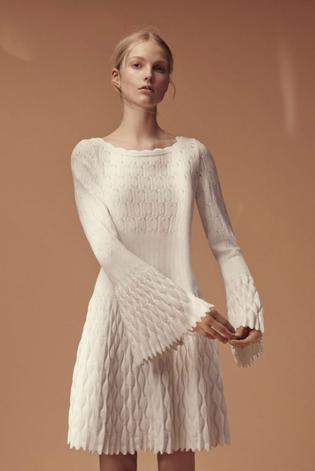 For years you haven't been able to purchase iconic Parisian design house Alaïa's designs online - but now, an exclusive edit of the brand's spring 2017 collection is available on Net-a-Porter.
The luxury e-tailer is offering 60 Alaïa pieces, including signature sculptural knit dresses, seasonal garments, shoes, bags and beauty products.
"We wanted to provide our customer with a wide offering, so we've bought a variety of the classic knit dresses in different colourways, with varying sleeve lengths and hemlines," Net-a-Porter senior buyer Holly Russell told WWD. "Whilst dresses are a significant part of the offering — we have 22 styles in classic Alaïa shapes — separates were also very strong and therefore prominent within our selection."
Tunisian-born designer Azzedine Alaïa rose to prominence in the 1980s, and is known as the "king of cling" for his figure-hugging knit dresses.
Known for shunning conventional methods of revealing his collections, he refuses to show his clothes at Fashion Week and to the traditional fashion calendar, instead presenting collections when they are ready to select buyers, friends and media.
His designs are fashion and celebrity favourites, beloved by everyone from supermodels Naomi Campbell and Linda Evangelista to Michelle Obama and Victoria Beckham. 
The famous "Robert Palmer girls" in the music video for Addicted to Love wore Alaïa dresses, and the designer was behind Grace Jones costumes in A View to a Kill. The brand was famously referenced in Clueless too: "You don't understand. This is an Alaïa... [He's], like, a totally important designer."
It doesn't come cheap: pieces on Net-a-Porter range from $1200 to $10,000 NZD, with beauty products from $80 to $170.
Recently, Net-a-Porter has persuaded a number of high-profile luxury brands to sell online, including Chanel and Prada.
Shop The Collection:


Share this: