How Alexa Chung Made Style her Business
From nifty blazers to ruffled blouses, Alexa Chung is queen of street-style trends. Lisa Armstrong asks her why it's taken so long to launch her own label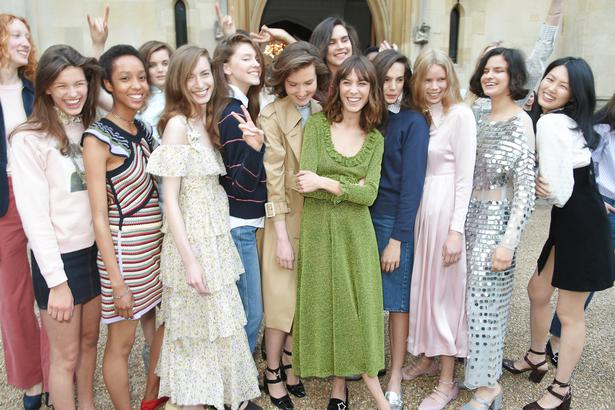 Thursday June 1, 2017
Alexa Chung does a good Brooklyn drawl - she should do, having lived there, on and off, for six years. "So this girl comes up to me outside a restaurant and says, 'Oh my gaaahd. Alexa Chung, right?' Then she turns to her boyfriend, 'Hey, do you know who Alexa Chung is? She came up with pantyhose under shorts.' And I'm thinking, I don't think I did. I think everyone in Brick Lane came up with that."
Here we have the concept of AC in concentrated essence. The too-cool-for-school pay-off, undercut by deadpan British deprecation, even as she acknowledges that Alexa Chungness is a bit of a phenomenon.
Whatever the true provenance of tights under shorts, Chung, now 33 and as girlishly coltish as ever, has launched more street-style trends than anyone since Kate Moss. School uniform meets Brixton rave, seasoned with luxury labels, from Chanel to Erdem, Chungness is both quirky and classic, hence its pan-generational appeal. She has sold trench coats and navy blazers for M&S (a collaboration that saw queues round the block), silky shirts, mini-dresses and denim dungarees (or Chungarees as she calls them) for AG Jeans... but has never properly cashed in by launching her own label.
GALLERY: Alexa Chung Style File
Until now. Alexachung by Alexa Chung (brimming with true-to-Alexa staples, from surprisingly well cut blazers, "secretly" sexy chungarees with scooped backs, frilled mini-dresses, skinny jumpers, block-coloured Fred Perry-style shirts, star embellished loafers), has just debuted in all the right stores, as well as on her own website. It is very good, nicely made (the knitwear is produced in Scotland; the prints are designed in-house, one by her artist father), with just enough of a twist to be not quite what it seems.
So what took her so long? "Hah! For one thing I wanted to wait until I was properly back in the UK." She has kept her apartment in Williamsburg, Brooklyn, but mainly resides in Newington Green, east London, in what she says resembles a vicarage (very Alexa that, to find a Victorian rectory in a hip area). Crucially, it's close enough for her to walk to her new studio. Underneath the one-liners and goofy poses, she is serious about this business.
There are already 15 people working in the company, including two pattern cutters. Edwin Bodson, the head of atelier at Haider Ackermann, moved to London to become her managing director in April. Her backer is Peter Dubens, co-founder of Oakley Capital Private Equity, which oversees assets of more than £1.2 billion, and also invests in Bella Freud. Their first meeting last year rammed home the importance of the pitch. "Peter said, 'I've got 20 minutes, shoot'. I was so ill-prepared. But he asked really interesting questions, like, 'Are you happy?' "
Shop Alexachung:

Is she? Other than hating dating, she thinks so. "I have a pathological fear of dating," she says. "If someone says, 'Do you want to meet for dinner?', I'm like, 'Is that a date?' and then usually, if they're funny and get it, they say, 'No.' "
Sounds like semantics to me. But the crux is that she goes for dinner, and she wears dungarees: "Because they suggest you don't really care."
She seems a sunny soul, relatively unperturbed by the Korean girls who stake out the vicarage. "The manager of the local café told me one girl sat there with her family for a week, waiting for me to go in." She has, however, stopped tagging her location on Instagram.
It's a strange business, being famous for the way you dress, especially when you're also clever. Chung didn't set out to be a model, or an It Girl, or a muse, or any of the other nebulous titles which have been attached to her. It's just that her boarding school, mixed with ballet lessons, horse riding and her brother's rugby shirts coalesced into a style that turned out to be globally appealing.
"Funnily enough, at 16 I wanted to be a designer," she says. A presenting gig at MTV thrust her into the public eye when she was 25, and her nifty knack with blazers and ruffled blouses, at a time when catwalk models were mainly receding into the chorus, created a strange hybrid career that she has mainly managed with aplomb.
Back then, she says, she wore blazers ironically. "I thought it was funny turning up to a gig in Brixton in a navy blazer." Now she wears them in earnest.
Such are the nuances of modern style. Maybe she needs subtitles with her outfits, I suggest. "Hmm, today's would say, 'This is not my best.' " She looks great from where I sit - denim mini, perfect cashmere sweater in lovely blue-grey and black opaque tights which conclusively put paid to the dogma that dark tights kill a look. "Didn't know that rule," she says blithely. "What are you meant to wear when it's chilly?"
She loves the changeable British climate. "Keeps you on your toes and makes you spontaneous," she says.
Watch Alexa Chung wearing Alexachung:
Other things she loves: a trench coat; a hooded jumper underneath it; white shirt; the perfect navy blue jumper; ballet pumps; her Chungarees; a tea dress; and a blazer. How do you find the perfect blazer? "By calling up someone from Savile Row and getting them to make your blocks for you," she says - which is what she did for her label.
"How boring is that?" she says of her desert island sartorial list, knowing full well that by the time she's added a flat-set zip that goes all the way to the navel to the dungarees, a dropped shoulder line to the cashmere, multiple straps to the ballet pumps and a hoodie to the tea dress it will all have alchemised into Chungfection.
Not that this line is only about her. She's had to consider how it will look on different shapes, sizes and ages. "If you're asking whether I'm really involved... yes, I am 100 per cent involved. I mean, I didn't study fashion, but I am quite good at looking at something and knowing how to make it better."
It is not cheap, but priced in the "advanced contemporary" category, ie mid range. "It's really hard to get the right quality if you're cheap and small scale," she says. Then adds, with characteristic directness: "I don't think you'd turn to me for the future of fashion or a new shape, but if you want nice clothes, I think I've got them."
— The Daily Telegraph
Share this: