Alexander Wang's Fashionable Adidas Tracksuits
Alexander Wang didn't take the suits far from their origins. And that was just fine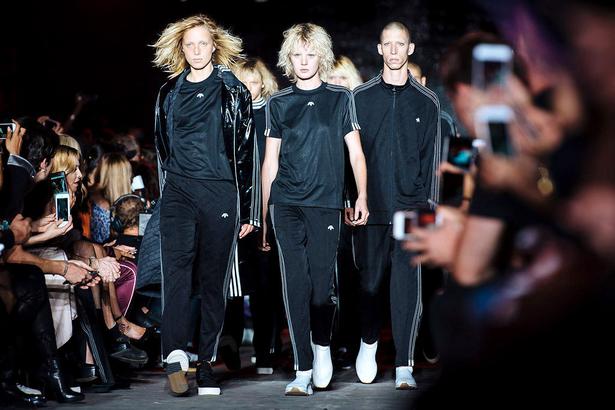 Monday Sept. 12, 2016
The track pants, T-shirts and jackets are basic black, which doesn't sound all that interesting, but the colour manages to give it all a sleeker look so that it is at once retro and kitschy but also modern. Alexander Wang designed the collection in a collaboration with Adidas Originals, which he unveiled on the runway as part of his spring 2017 presentation.
It may be hard to believe, but once a time sweatpants and sweatshirts were just throwaway garments meant for, well, sweating. Then along came hip hop and Run-DMC and Juicy Couture, and sweatsuits became a fashion thing, a cultural thing, a rarified thing - not because of how they looked but because of how much they cost.
These Wang-Adidas unisex sweats were unleashed on the world with a massive drumroll, as the finale to Wang's runway show, which brought out Madonna and her daughter Lourdes Leon. One assumes they were there to support her son Rocco Ritchie, who models in the fashion campaign for the collaboration.
The advertising campaign for the collection features models on the streets of New York looking particularly grumpy, perhaps because several of them appear to be dragging overstuffed garbage bags - or perhaps designer gym bags that just look like Hefty bags. Whatever they are, they don't look fun to haul around.
Getting one's hands on this collection will be a complicated endeavor as it will initially be sold via pop-up trucks that will be driving around in New York on Sunday, and in Tokyo and London on September 17. Knowing exactly where those trucks will be or when involves following either Alexander Wang or Adidas Originals on Instagram or Snapchat. For those with more patience, the collection will be available in the usual online and bricks-and-mortar way in the spring.
The unveiling of the 84-piece unisex collection, which also included footwear, was celebrated after the runway show with an elaborate video and giant music festival that suddenly appeared as the catwalks' backdrop gave way to reveal food trucks, a performance stage, a fully functional 7-Eleven, Slurpee machines, a McDonald's and plenty of booze.
That is a lot of hoopla to sell track pants, pullovers and sneakers, which speaks to the dominance of street and athletic style over pretty much everything else in the fashion universe. Sacai's Chitose Abe has created a collection with Nike. So has the brand Undercover. Stella McCartney has a long relationship with Adidas. Athletic gear has influenced everything.
Still, when these sportswear companies step into the fashion ring, they often can't resist bringing in a celebrity to add sizzle, whether it's Rihanna at Puma or another Adidas co-conspirator, Kanye West. It's easy money. But it's really unnecessary.
In many ways, Wang is a celebrity, but he's mostly a designer - one sensitive to the relationship between fashion and street style. And the funny thing about Wang's take on Adidas is that he didn't move the garments that far from their origins. What would be the point?
High fashion isn't welcoming lowly streetwear into its rarefied world by giving it a luxury makeover. The balance long ago shifted. Fashion is coming down from its high perch to marvel at the allure of a sweatshirt.
Share this: