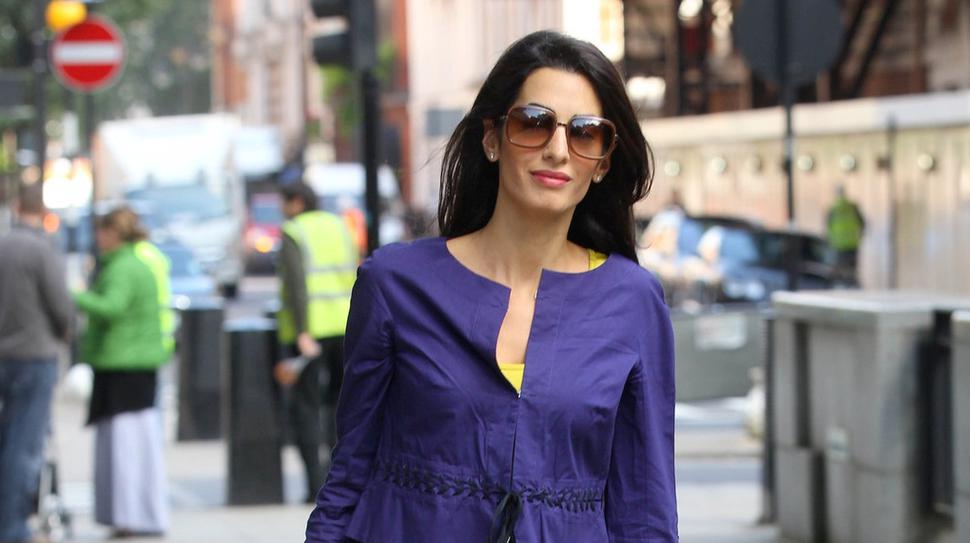 Amal Alamuddin: Even more gorgeous than George
Thursday June 19, 2014
So effusive are the accolades lavished on Amal Alamuddin, the human rights lawyer recently engaged to an up-and-coming Hollywood actor, that a reporter on Radio 4's Profile confessed on air that she had been one of their most difficult subjects. If only Profile had examined her clothes. The clues to her character are all there.
That not wholly surprising charge that she's a workaholic, for instance. Well, duh. Anyone who takes such a 360-degree, meticulous approach to monochrome as Alamuddin recently displayed in one of her dress-down sorties must be able to call on extraordinary focus. If you were an international war criminal or a victim of injustice, that's the kind of attention to detail you'd want on your team.
Then there are the Soft Power Suits. A far cry from strident shoulder pads and misbegotten shapes, Alamuddin's matching tops and skirts (very now) in vibrant colours are a quietly confident manifestation of effectiveness.
Beauty and brains have always been a high-wire double act, the one tending to cancel out the other as far as many observers are concerned. But Alamuddin, an alumna of Oxford, fluent in Arabic, French and English and possessor of undeniably shiny, Middletonian hair, seems to be extremely agile. At 36, she has both represented the unlovable (Assange and Gaddafi's spy chief) and advised the august (Kofi Annan) - as well as topping the 2013 tumblr poll of London's Hottest Barristers.
Geoffrey Robertson, QC, cites her defence of the morally dubious as evidence of her commitment to "the basic idea that everyone is entitled to a basic level of dignity".
It may also be that she's instinctively drawn to the controversial and teeth-grating. That's not an unidentified "close friend" saying that: that's the somewhat unconventional pairing of her ripped jeans and frilly socks talking.
Either way, Robertson was so impressed that he offered her a job on the spot, after she came to talk to his chambers about Lebanon, where she was born. "We offered her an exceptional pupillage, which we do for exceptional people, and she was indeed exceptional," he told Profile.
Never mind Clooney - the style-osphere is smitten. There are now websites devoted entirely to the contents of her wardrobe (although at least one of them came over a bit faint over her ripped jeans).
To be fair, it is quite a large repository of clothes. Brogues, metallics, top-handled bags, white trousers and that trophy of 2014 trends, the pink coat, all feature regularly in Alamuddin's fashion library, along with a roster of top fashion names. That pink coat was by Balenciaga. The silver brogues were Prada. Another pair were by Nicholas Kirkwood.
This does not suggest a traditional bluestocking who gets dressed in the dark and whose head is so deeply interred in the records of the Hague's Criminal Courts that she doesn't have time for a sneaky peek at Vogue or Grazia.
She is a bluestocking, though - albeit the souped-up, 2014 model who knows this year's Miu Miu from last year's Mulberry and who likes to reward herself after a hard day's grinding research. She may even occasionally distract herself from Clause 470, Section XXXVII, with a DIY manicure. Again, this observation is evidence- rather than proof-based. But we wouldn't be surprised. Human rights, as Robertson points out, is not intrinsically glamorous work, "cramped over a desk with thousands of pages of case law to get through in an evening".
The daughter of an academic father and a high-profile journalist mother, she moved to London from war-ravaged Beirut when she was 3. Those dual cultural influences are also present in the way she dresses: dexterously businesslike during the day, classically but sedately sexy at night, in silky red dresses and high heels - but always with a ladylike tote bag nestling in the crook of her elbow or dangling off a shoulder.
When that marriage finally happens in September, the fashion world will go crazy. For Alamuddin is the real thing: a woman who can't be bought; a racier Duchess of Cambridge; and a genuine intellect (as opposed to the rent-a-pseuds who appear in various glossy ad campaigns).
Does any of this matter? Yes, if you think we could do with a few more positive role models of intelligent women who haven't had to compromise their liking for pretty, feminine stuff to get ahead. 
Share this: