An Anzac Tribute at iD Dunedin
New Zealand and Australian designers were showcased at last night's show, reports Rosie Kelway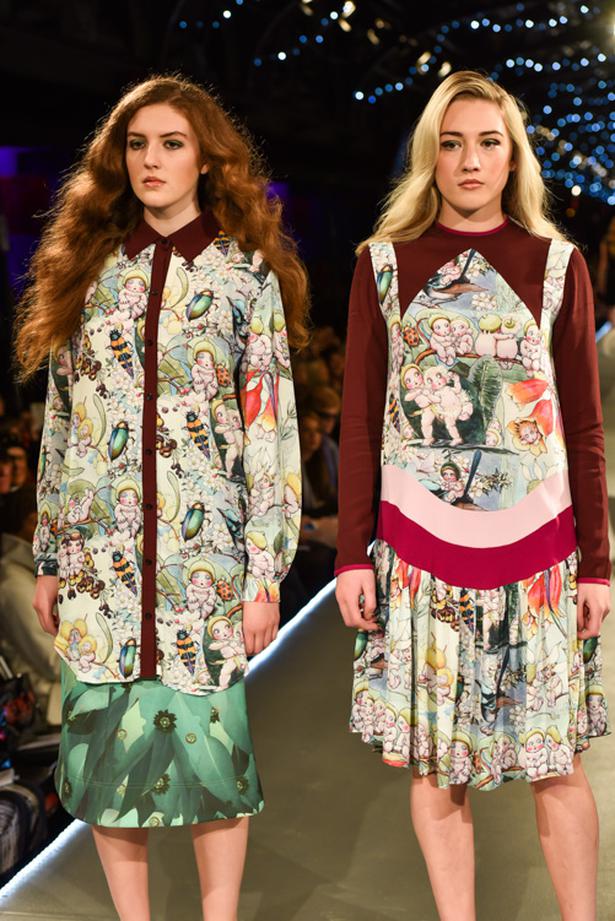 Saturday April 25, 2015
A model dressed head-to-toe in black, holding a New Zealand flag was the first look down the runway at last night's iD Dunedin Fashion Show, opening Doris De Pont's curated show, dubbed 'Together Alone Revisited'.
De Pont combined looks from four New Zealand designers, including her own brand which she stopped designing for in 2008 to focus on the New Zealand Fashion Museum, Nom*D, World and Zambesi. Looks from four Australian designers followed, including Akira, Material By Product, Romance Was Born and Maison Briz Vegas. She says with today being Anzac day, it was a great time to reflect on the differences and the relationship between New Zealand and Australian fashion.
"We do have a relationship but we are almost like rival brothers, aren't we? We're on the same side but when you put us together we want to rub up against each other so I think it's really nice to just present those two voices; the New Zealand voice and Australian voice.
See highlights from the iD runway show here.
iD Dunedin Fashion Week is now in its 16th year, with last night's show presented again at the iconic Dunedin Railway Station. It boasts a 110-meter long catwalk, apparently the longest in the world. The two and a half hour show featured thirteen local designers, as well as looks from the winners of the iD Dunedin Emerging Designer Awards presented on Thursday.
The show was closed by 18 stunning vintage, red-carpet worthy gowns curated by Doris Raymond.  She brought the dresses with her from LA, where she is based and has a renowned vintage store The Way We Wore. Her gowns have been worn on the red carpet by Angelina Jolie, Florence Welch and Adele.
"I was trying to show the different sides of red carpet dressing from bohemian to non-traditional to traditional," she explained after the show. Some of the dresses date back to the 1920s and 30s, while there was also a Givenchy dress from the 50s, Halston from the 70s, Yohji Yamamoto from the 90s and a number of dresses from Christian Lacroix and Mary McFadden.
Raymond's favourite was an original hand studded Gianni Versace dress from around 1990, "because it's iconic." When asked how she feels about the direction Versace took after the death of Gianni, she admitted she preferred his designs.
"I'm a purist, I prefer the pieces during the lifetime of the designer – I think Donatella has gone in a different direction and it's not a bad direction, it's just not my direction. I've got some Donatella Versace, but it's not my favourite."
Who showed?
iD Dunedin Fashion Show designers : Nom*d, Mild-Red, Carlson, Company of Strangers, Charmaine Reveley, Dada Vintage, Storm, Perriam, Deval, GG (Shanghai), Liann Bellis, Beats clothing, Jason Lingard and Jane Sutherland.
Otago Polytechnic Graduate Selection: Duncan Chambers-Watson,  Kelsi Bennett, Daniel Kwok, Michaela Poots, Simone Watson and Marc Jun. 
Guest Selection: Doris Raymond and Together Alone Revisited by Doris de Pont.
Share this: