An Interview with Choupette Lagerfeld
The most fashionable cat in the world talks to fashion editor Dan Ahwa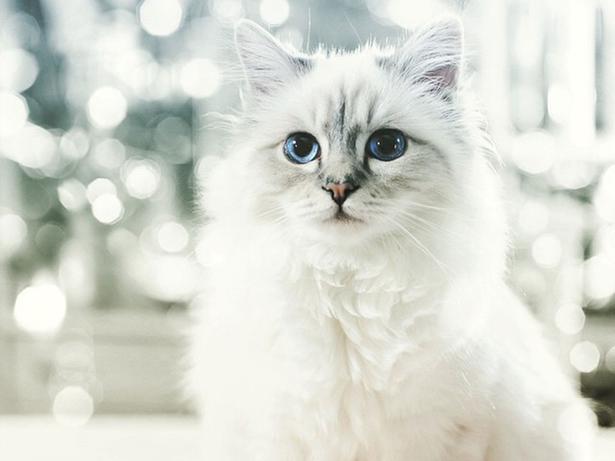 Wednesday June 17, 2015
When it comes to the fashion industry, those tropes and stereotypes of the vacuous and vain can leave outsiders bewildered. Project those same stereotypes on to cats and somehow it's acceptable. No one bats an eyelid at a high-maintenance cat with a proud gait, luxurious fur and bitchy glare — particularly if you're a beautiful birman called Choupette. As a companion to Chanel's Karl Lagerfeld, Choupette lives a charmed life. With more than 60,000 followers on Instagram and 48,000 on Twitter, this cat knows how to build an empire.

Hey Choupette, how are you today?
After a long day of events, like my good friend Aliza Licht's book launch, I could use a catnap. How are you dahhhling
I'm excited about this issue of Viva dedicated to pets. What is it like to be one of the most watched pets in the world?
Fame always comes at a price but you can't put a price tag on moi!
We loved your special edition cover for Lucky magazine in April. How do you find being in front of the camera?
I was lucky enough to work with the inspiring Eva Chen for one of her final April Fool's covers. She kept me at ease as we joked about her signature Instagram pose!
There have been rumours circulating that you will star in the Zoolander sequel. . . Is this true?
Cat's got my tongue on that one!
You're a fan of South American music. Who are your favourite artists?
I'm a fan of all kinds of music. Daddy Karl Lagerfeld introduced me to a variety at a young age, which allowed me to appreciate all different genres.
Your first shoot was in Paris for V Magazine with Laetitia Casta. How was that?
I'm never nervous next to another beautiful lady but Laetitia Casta (almost) upstaged me! She works the camera like she's looking through the pages of V Magazine at the readers.
Viva loves working with New Zealand model Ashleigh Good who is friends with Karl. Have you met her?
Unfortunately, I have yet to have the pleasure but I'd appreciate an introduction. Oui?
What does your daily beauty regime entail?
If I listed all the beauty products I use, we'd be here all day and I have people to see and places to be pampered. But here's a shameless plug: keep up on all my beauty picks on my blog Choupettes Diary on prettyconnected.com
Do you think you'll ever make it to New Zealand? You have many fans here.
It depends, is Daddy Karl Lagerfeld invited? If so, I'll call the private jet, me-ow!
What does the rest of 2015 have in store for you? What can your fans look forward to?
My latest endeavour was at CatCon LA just last week, where I changed the perception of the crazy cat lady and gave insider tips on living a chic lifestyle. I'll have to check my black book for all other future bookings and have my agent get back to you!
This week at Viva we're celebrating animals - the influential, the kind that keep you company, and the ones in need. To raise money for the SPCA we've launched The Pet Project, asking local designers and artists to donate and create special items to be auctioned off to the highest bidder. We'll donate all of the proceeds to the SPCA, so get bidding!
Share this: