Androgynous Designs Win at iD Dunedin Emerging Designer Awards
Steve Hall was announced as the winner last night. Rosie Kelway reports from Dunedin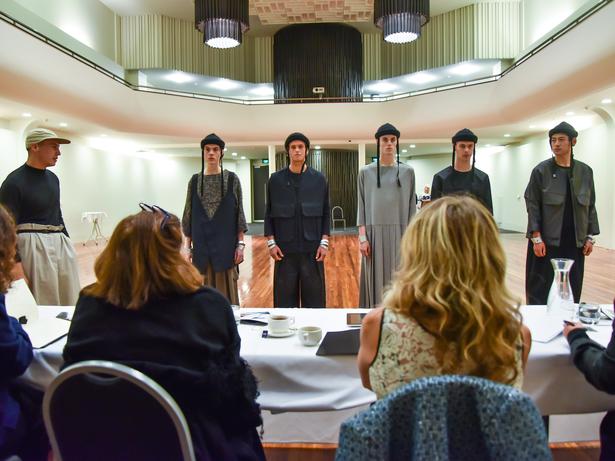 Friday April 24, 2015
One of the biggest competitions in the Southern Hemisphere for up-and-coming fashion designers was held at Dunedin Town Hall last night.
More than 1400 packed into the hall to watch 28 emerging designers from all over the world take to the runway. Designers from as far as Slovakia, to Singapore, China and Sydney had all flown in to present their innovative and highly original designs. Steve Hall of Massey University was announced as this year's overall winner.
Often described as the highlight of iD Dunedin Fashion Week, it is the 11th year this competition has been running. There were nearly 100 entries, and a prize pool of more than $15,000 to be won. Past winners have gone on to work for Burberry, Sass & Bide and Vivienne Westwood.
See runway highlights from the show here.
Five judges with experience in various areas of fashion selected the winners. International judge Doris Raymond, who has a vintage store in LA and who has supplied costumes for Oscar-nominated film American Hustle and television show Mad Men, was flown in to judge. She says the judges came to a "unanimous" decision about who should win, and she was looking for "originality, finishing creativity, marketability".
Margi Robinson, the Dunedin-based designer of Nom*d and owner of boutique Plume, returned as a judge this year. What struck her about iD Emerging Designer winner Hall's androgynous designs was his impeccable pattern making and styling.
"I think it was quite unique in that we weren't blown away by sparkle, embellishment or overtly feminine things and I think it's very now, in that we are living in a no gender society, when you looked at his garments they just fitted into that sort of realm at the moment."
The 25 year old won with his "Abandon Man" collection, which draws on Japanese culture and the costume of the samurai and ninja. This is his first collection since graduating from Massey University in Wellington last year. He describes himself as a menswear designer, but says his designs are for whoever likes them.
"It's androgynous and unisex, but I definitely make it for myself and I call it menswear, because there are some men out there that would wear it."
Androgynous clothing has been a trend overseas, seen on the runway at Prada, Gucci and J.W. Anderson, with men also seen wearing dresses. Hall walks the talk, as he discusses his clip-on earring collection. "I wear skirts, but I still keep it quite masculine – I don't want to look like a lady."
Another standout was local Dunedin designer Grace Averis, from Otago Polytechnic with her collection, "Trust Us", based on the uniforms of doctors and forensic whites. Former Whitecliffe student Wilson Ong, who had developed his own textiles using materials such as paper and resin, impressed the audience.
Then there was Melbourne designer Jessie Kiely, with her collection titled "Fashion Baggage", which had models wearing upholstered couch dresses. Her collection examined "the toss, this is associated with discarding the old to make way for the new, that so often occurs in fashion". The couch dresses act as real life couches that unwanted garments have been thrown on to.
Kiely's collection was a timely reminder as today is Fashion Revolution Day. In the centre of the octagon in Dunedin, a kowhai cloak has been draped across the statue of Robbie Burns, made from recycled T-shirts, highlighting fast-fashion and asking the question "who made my clothes?".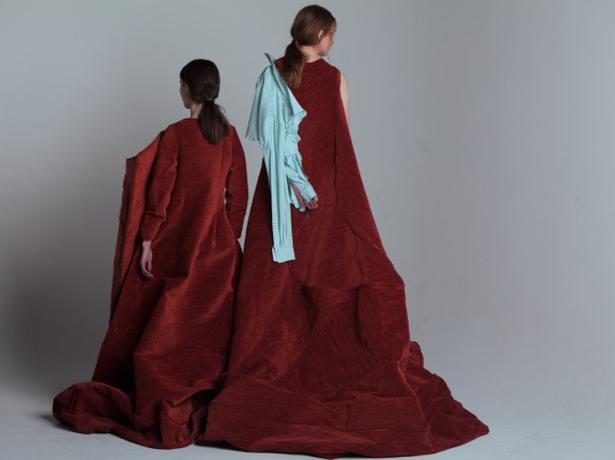 This year's winners are:
First prize: Steve Hall, Massey University, New Zealand
Second prize: Vanessa Emirian, University of Technology Sydney, Australia
Third prize: Emma van de Merwe, Royal Melbourne Institute of Technology, Australia.
The Fabric Store Award for Excellence in Design: Monique Duggan, University of Technology Sydney, Australia
New Zealand Light Leathers Prize: Erica Deluchi, University of Technology Sydney, Australia
Dunedin's Golden Centre Mall Most Commercial Collection Prize: Tara Gurisik, University of Technology Sydney, Australia
Share this: