Anna Wintour on Politics, Trump and The Business of Fashion
The most powerful figure in U.S fashion is urging the industry to work with, not against, Donald Trump's presidency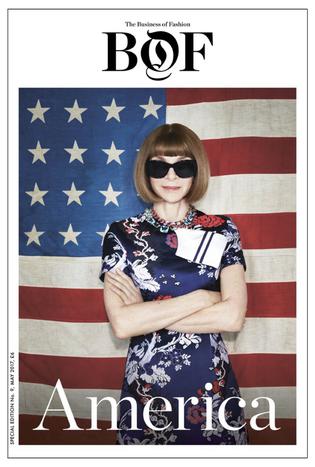 The name Anna Wintour conjures an image of the archetypal editrix, poised on the front row, bob perfectly intact, Prada-clad, with bug-eyed sunglasses shielding any flicker of emotion. Beneath the glossy veneer, though, Wintour - who has been editor-in-chief of American Vogue for 29 years - is, almost unarguably, the most powerful person in fashion. In fact, in the latest issue of The Business of Fashion's print magazine, she is hailed as "President Wintour".
In a new interview with the publication - a must-read for fashion industry insiders - Wintour has spoken candidly for the first time about Trump, Theresa May and being at the vanguard of change.
"We decided that we wanted this issue to focus on everything that's happening in the US as we reached the end of the first 100 days of what might be the most controversial presidency in living memory," says BoF founder, CEO and editor-in-chief Imran Amed, who interviewed Wintour at her office in One World Trade Center. "So after we decided that, the question came of who could speak authoritatively across a number of issues about the US and we couldn't think of anyone more fitting than Anna Wintour."
In the run-up to last November's election, American Vogue took the unprecedented move of officially endorsing a presidential candidate, offering Hillary Clinton their backing. Wintour has long been a prominent supporter of the Democrats and was even rumoured to have been in the running for an ambassadorial role at one stage.
READ: Why Vogue Endorsed Hillary Clinton
Nearly six months on, though, she is forthright, yet pragmatic about what Trump's administration will mean. "There's no point about whining or complaining or screaming. The country voted. So what can we do now to be most helpful and to also stand up for what we believe in?" she says, quoting designer Diane von Furstenberg, in the Business of Fashion profile. "Dissent is not enough."
Like many in New York society, Wintour was acquainted with the Trump family long before The Donald's political rise. She is gracious regarding the First Daughter, Ivanka, who has taken a prominent role at the White House since January. "Ivanka has had a long history with the magazine, and I have respect for Ivanka and everything that she has achieved."
Despite her personal opposition to the new administration, Wintour promises that Vogue's coverage will continue in the vein of its heritage. "It doesn't mean that we are necessarily agreeing with everything that they say, but a lot of the country does," she explains, adding that a cover shoot with First Lady Melania Trump is not off the cards. "We always photograph or cover in some way the first ladies, so... I can't imagine that we wouldn't at some point cover the first lady."
READ: How to Throw An Anna Wintour-Approved Party
American Vogue's most recent coup was pipping its British counterpart to the post in interviewing and photographing the Prime Minister, Theresa May. "Going back to Vogue having that sense of responsibility to reflect the time, that a woman is prime minister in Britain, which is our great ally, for the first time since Margaret Thatcher," says London-born Wintour of why she featured the Prime Minister, who once chose a Vogue subscription as her Desert Island Discs luxury item.
"We know that our readers are interested in politics, we know they're interested in women, we know they're interested in the world, so she was a natural fit for us."
Wintour is renowned for her precise uniform; a mid-length dress or skirt, often with a dainty cardigan or fur coat layered over the top, those ubiquitous sunglasses and an unwavering dedication to Manolo Blahnik heels.
"To me, fashion is ceaselessly fascinating because it is an expression of self," she tells BoF, expressing joy at the current vogue for dressing up for street-style photographers outside fashion shows. "I find [the photos] very, very inspiring and fun - and thank god they're not all dressed in black the way they used to be. I like seeing people making such an effort and having so much fun with it."
The industry has also come under increasing pressure to feature a more diverse cast of models, with many brands and publications now embracing different ages, sizes and ethnicities. "We have to reflect the world that we live in. I think fashion, and I count us within that, has been guilty of being too narrow-minded," she admits. "Thank god that's changing. I think it's wonderful."
- The Daily Telegraph
Share this: