"Curvy Isn't A Trend" — Supermodel Ashley Graham On Her Return To The Catwalk
A year after having her first baby, supermodel Ashley Graham tells Caroline Leaper about motherhood, walking in heels again and being a powerful changemaker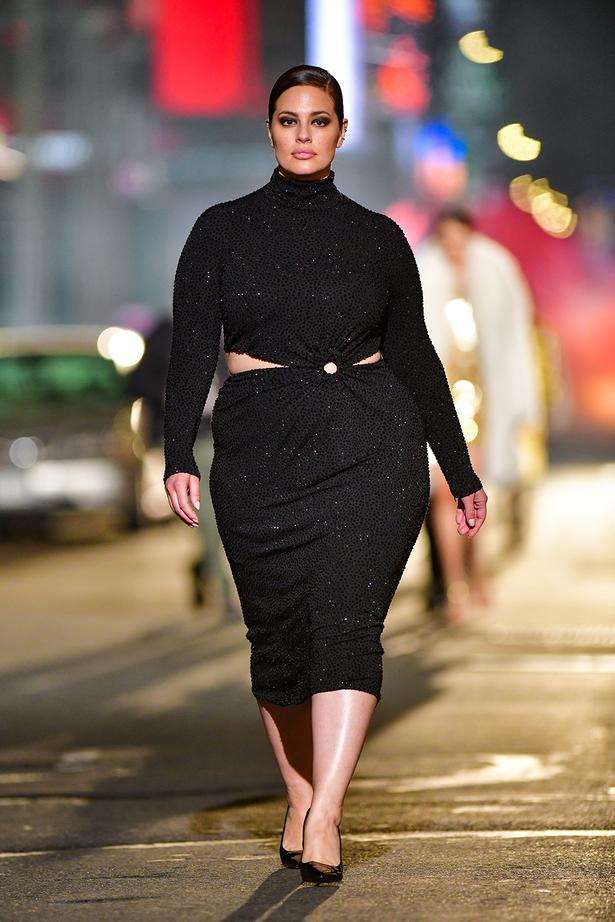 Saturday May 22, 2021
Ashley Graham is so happy, she's singing. Every other sentence is punctuated with an "amaz-ing", or "excit-ing", the final syllable operatic. The supermodel is returning to catwalks, covers and campaign shoots after a pandemic-defined maternity leave that she never could have predicted.
The face of Pandora's new collection, she's wearing stacks of diamond rings and earrings on our video call, with an apple green Frankie Shop shirt, holding a sunshine yellow McDonalds coffee cup.
"I'm in Issey Miyake shorts, but they are elasticated," she admits. "What I learned in the last year is that chic and comfort can go hand in hand, it's just a matter of how you put it to-geth-er!" Graham, 33, has become one of America's most popular and bankable models in recent years, as well as a changemaker in the fashion industry. A prominent body positivity campaigner, her career has been filled with symbolic "firsts" — the first "plus size" model to star on the cover of Sports Illustrated's Swimwear Issue in 2016, and the first to make the cover of American Vogue in 2017.
For Vogue's January 2020 cover, she was photographed, goddess-like, by Annie Leibovitz when six months pregnant. "I have that picture framed but not hung," she cackles. "I think it's going to go in the office. I can't have that girl watching over me when I'm in my sweats in the living room."
Her latest effort has been to change the narrative around what happens to a woman's body after pregnancy. Ashley provides an honest, alternative role model to those who post social media pictures suggesting they have "snapped" into shape at just one week post-partum.
After 10 years of marriage, Ashley and her cinematographer husband Justin Ervin welcomed their first child, Isaac, in January 2020. She felt it was essential to share every aspect of new motherhood — from breast pumping to her slow and steady approach to exercise — with her 12.5 million Instagram followers.
"Having Isaac was a big change for me," Ashley explains. "Being a new mommy and breastfeeding, I was trying to figure out what motherhood means for myself, my body and my family dynamic. I still have 25lb extra on me from the baby and we're over a year in. God bless the women who bounce back after a couple of months, but that is not my body. My body has been screaming at me — we are not meant to go back."
Ashley made her return to the catwalk in September, starring in socially distanced shows for Fendi and Etro, both in Milan. In February, she walked in Michael Kors' New York show.
"When I went to the runway in Milan, I was only gone for four days," she explains. "In some ways it felt like a vacation, in other ways it felt like torture. I had Isaac in January [2020] and I knew I wasn't going to make it back on to the runway for February, because that would be insane. I wanted to go back for September."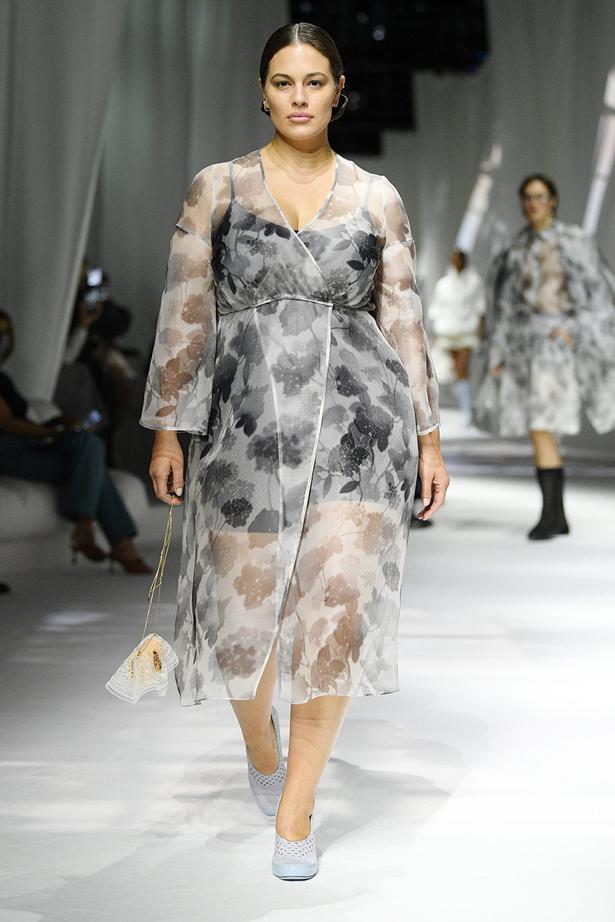 Ashley Graham walking in the Fendi spring/summer 2021 show. Photo / Supplied

Due to the pandemic, Ashley wasn't sure if there would be any fashion shows to return to. Her young family had driven 20 hours from New York to her mother's home in Nebraska when the crisis began. They stayed for six months.

"It turned out to be the maternity leave I could have never asked for," she says. Preparing for that first job with Fendi, refreshingly, didn't involve a crash diet or a military exercise regime. For Ashley it was as simple as learning to walk in heels again.

"When Fendi booked me I was so grateful," she says. "It felt so good. I put on a pair of heels at my mum's house and walked around for an hour, as my first thought was that I hadn't worn heels since November 2019."

Ashley's newest job is with Pandora — she is the face of the jewellery brand's new range of Brilliance lab-created diamonds.

LISTEN: What Is It Really Like To Be A Model? An Inside Look At NZ's Modelling Industry

"I'm all about self-gifting," she says of Pandora's ethos, to encourage women to buy jewellery for themselves. "I had a really terrible break-up with a boyfriend [when I was young] and I saw a necklace that really spoke to me. It had a tiny diamond and it said, I love you. I bought that for myself, to remember to love myself. Jewellery can do that for you."

Ashley was just 12 years old when she was scouted at a shopping mall in Nebraska and was — even at that age, and a UK size 14 — labelled as an adult "plus size" model. She predominantly shot catalogue commercials until 2010, when television networks banned an underwear advert she starred in for department store Lane Bryant, on the grounds that it was "too risque".

Ashley, then 23, considered the rejection discriminatory; would it have happened to a less voluptuous model? She spoke out, and started an international conversation about body-shaming in fashion media. She began working with designers from Dolce & Gabbana to Tommy Hilfiger and by 2017, she had made Forbes' list of the world's richest supermodels.
"I remember at the beginning of my career, people were asking me, 'do you think that curves are just a trend?'," she says of how attitudes have changed. "My response was, 'do you think that my body is a trend?' The average size of an American woman is 14-16 [UK 18-20], those are the facts. It's who we are." While the visibility and inclusivity of "plus size" women in fashion has improved greatly, Ashley has her sights on a very specific goal.
"I've been doing this for 21 years, and the shift has been astronomical," she says. "Originally the hard thing was changing the minds of designers, to acknowledge that every body is beautiful and every body deserves clothing that fits. I think the next hurdle is getting designers to learn about size grading [in pattern-cutting classes] at university level. The change will be gradual, but to me that's a good sign, as it means it will last."
READ: Model & Storyteller Naomi Shimada On Her Next Chapter
Ashley has been steadily building her experience as a television and audio host. Her YouTube exercise video series, Thank Bod, has gained a 289,000-strong following. She stood in to present Ellen DeGeneres's flagship talk show, and has hopes to develop a live show format of her successful Pretty Big Deal podcast for Spotify.
"I love being an interviewer, I am so curious about people," she says. Over 47 episodes, she has quizzed stars from Kim Kardashian to Serena Williams. "I'm so excited [venues] are opening up, as I'd love to have an audience. I want people to be a part of it."
Ashley is an open book, a superstar in a new era of modelling that could not be further from the "never complain, never explain" generation before her. "I'm just being myself," she shrugs. "I hope I can give people confidence to be themselves too. I want to keep making that change in the world."
— Telegraph Media Group
Share this: