At Home with Juliette Hogan
Designer Juliette Hogan talks to Ginny Fisher about minimal aesthetic at work and home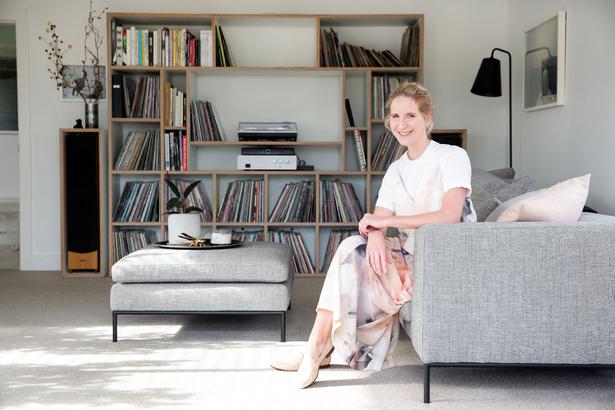 Friday Sept. 1, 2017
It's a rare spring-like day in late winter in Auckland. As I pass through inner-city suburbs, families and sleepy 20-somethings pack cafes and sip on lattes, Saturday-morning traffic buzzes and the sound of lawnmowers indicate sunshine has arrived.
At the end of a quiet, elevated, Mt Albert street, behind a white picket fence, sits a tidy white bungalow. This is home to Auckland fashion designer Juliette Hogan and her small family. Inside there's a scene of domestic happiness and hustle. One-year-old Myra isn't content to be put down for her nap and partner Dion is out back with his noisy power tools working on a project in the garage.
Juliette is dressed casually in a beige cashmere sweater and black pants, wears no makeup and looks fresh as a daisy — a picture of effortless put-togetherness — no milk-marked tracksuit for this new mother who decides Myra will join us while we discuss the designer's interior style and the inspiration behind the design of her new Wellington store, set to open on September 1.
Unpretentious, raised in Karaka, fashion scholarship winner to Parson's School of Design in New York and a hard worker who has sweated out her first decade in fashion, Juliette says she's rapt to be a position where she can now flexibly work four days a week and enjoy early motherhood.
Far from the early years of grind, Juliette now has 22 employees and last year injected more than $1 million back into the local economy, due to her manufacturing almost all her garments locally.
Rather than being a fleeting fashionista, Juliette's interest in the fashion world was spawned by a passion for sewing. Her mother taught her one end of the sewing machine from the other, and her love of garment making led to a degree in textile design in Wellington.
With a strong sense of what she likes, Juliette translates her preference for strong, pared-back design into her domestic environment — a space that is light, uncluttered, yet homely and inviting.
Having recently moved from a tight apartment in Ponsonby, Juliette is enjoying more space, a generous backyard and plenty of outdoor living, thanks to a Louvretec covered outdoor room — a recent addition since they moved last year.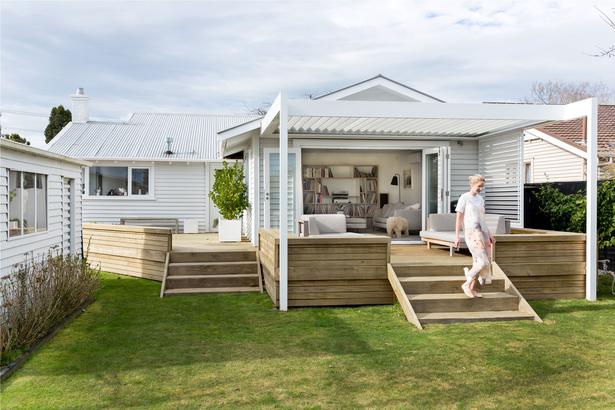 "Eventually we'd love to start from scratch with an architect, but this is great at the moment," she says.
Bright white walls provide a clean backdrop for the couple's art collection and in the neutral-toned living room, a wall of vinyl records, housed in a custom-built shelf, does all the talking in terms of texture and colour.
"We're not really TV people. By making the records a feature, we end up sitting around and listening to music."
But not your typical lazy Saturday sounds.
"Dion's into heavy metal!" she says, laughing.
Like her clothing; clean-lined, minimal, feminine yet unfussy, Juliette's interior style is quiet, allowing her art and objects to speak.
She replicates this feeling in her retail stores (three in Auckland), including her latest Wellington space, which she designed herself. Although, she says architect Nat Cheshire was helpful throughout this project, allowing her to get a grip on the unusually shaped glass-clad space that is a long rectangle with odd hexagonal ends and has more than 27m of windows.
"We've got a huge heat pump to warm it up!"
Juliette wanted to create a feeling of calm, a "homesque" space that allows the shopper to feel they're in an intimate environment.
"I find department stores so overwhelming, in fact I don't really like shopping that much."
Her concept for the new store is minimal yet comfortable. The space is split in two, in the first half the clothes take centre stage on matte black steel racks, and at the far end the store develops a salon-type feeling, made more homey with a plush burnt sienna velvet ottoman and two American oak side tables, all designed by Juliette. It's here she will display her new accessories range — candles, eyewear and soon-to-be-released velvet house slides and cashmere loungewear.
"Design is a product of what you need in your life. Right now I want to be comfortable, but not look like I've just got out of bed."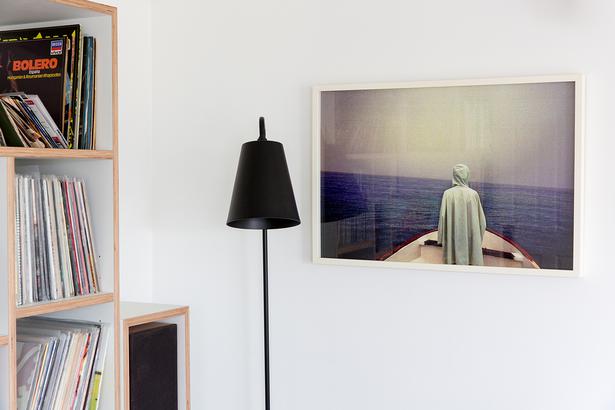 Furniture design is also an area she is considering expanding into. Supported in this interest by partner Dion, who is an industrial designer for Fisher & Paykel, the pair have shared notes when it comes to designing chairs and tables for the new fit-out.
"We can't wait to build a house," she adds. Lighting for the store was sourced from ECC and Juliette opted for matte black steel-track lighting and recessed LED lights set into the cabinetry in the changing area for a warm soft natural light.
For further softening of the concrete-floored space, natural linen drapes and Kalahari rugs by Ivy House in hemp and wool provide warmth and texture.
In her own home, Juliette has a number of striking photographic works, including a large aerial landscape at Whangarei Heads — all sheep, sea and sky, a print from the 50s that has been hand-painted in cool greens and citrus yellows. It's one of Juliette's favourite pieces as it reminds her of holidaying in the area as a child.
In the hallway a series of brightly coloured skateboards from the 1980s tell the story of Dion's successful skateboarding past. "They're collector's items," Juliette explains, "reissues of well-known board designs."
Other works include a pair of graphic architectural photographs taken by one of Juliette's employees in her last year of art school, quintessential New Zealand images, one of a wool shed, another of a country church, all lines and sharp horizons.
A beautiful dried flower creation from Grey Lynn duo Mark and Antonia, painstakingly put together with glue, attaching buds and dried petals to branches, is kept out of reach from little hands on a tall cabinet opposite a bold photograph by Stuart Broughton, titled Boatman a man in a blue raincoat looking out at a stormy abyss.
In the kitchen, a clever line-drawing by Dion of a macabre husband and wife, a Day of the Dead impression of two skeletons dressed in wedding garb, was a gift to Juliette.
"It's kind of sweet don't you think?"
Another photographic work, this time taken by Juliette, of a road trip scene through Palm Springs, has an empty, expectant feeling, a place on the way to somewhere else.
A feeling you don't get around Juliette, who seems to know exactly where she is going and how she's going to get there.
Share this: