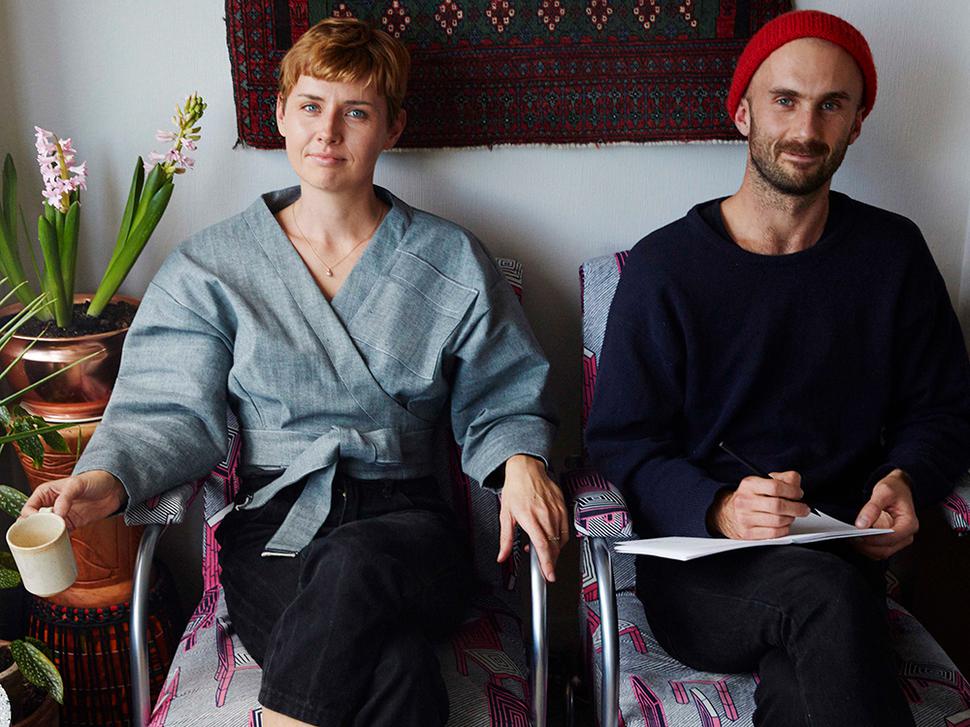 Meet The Couple Behind Cross-Cultural Initiative Companion Co-Design
Will and Kareen Durbin collaborate with talented former refugees to create an inspiring collection of crafts
Thursday June 7, 2018
Creative duo Will and Kareen Durbin make furniture and textile items crafted using techniques sourced well beyond their small Mt Roskill home studio.
From wooden stool tops carved using ancient Iranian practices to silk scarves embroidered with Afghan traditions, Companion Co-design is an inspired collection created in collaboration with former refugees.
We are meeting in their home studio where Kareen, dressed in one of the brand's indigo wraps, is explaining how Companion's aim is to celebrate diversity. "People bring so many skills with them when they come to New Zealand," she says. "We're trying to create something that's representative of that."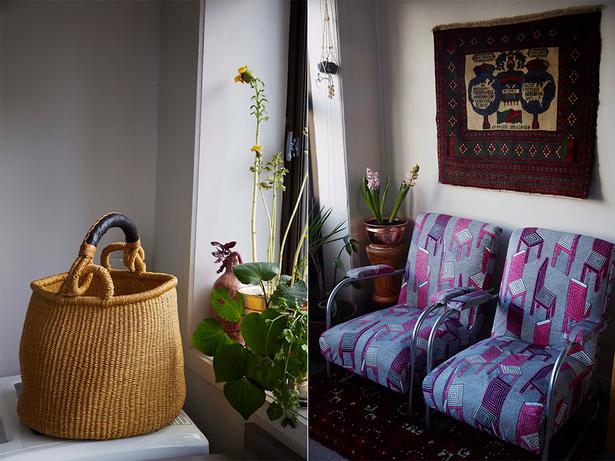 Inside Will and Kareen's Mt Roskill home and studio. Photo / Rebecca Zephyr Thomas

The social initiative, which began last February with a Kickstarter fund, has been providing part-time employment to resettlers here. The label 'former refugee' is problematic for many of the artisans they work alongside, they say.

"Each person we work with would call themselves something different," says Kareen. Still, it's needed to communicate what they do. "The customer needs a framework to associate to, but it's difficult reinforcing stereotypes in doing that," adds Will.

READ: Meet The Designers Behind Label Hemant & Nandita

At the moment Sasan Mohammadi, who is Kurdish and from Iran, and Aliakbar Sultani from Afghanistan are doing woodwork alongside Will, while Thawil Seefong from Thailand and Pary Ghulam Hussain from Afghanistan thread and bead textiles with Kareen. And when it comes to any language barriers, this can actually help to shape the creative process.

"What can get lost in translation becomes a really interesting outcome that you wouldn't have otherwise had," says Kareen. Will provides Sasan with wood, often unsure of the end result, but knowing it's in capable hands — Sasan learned to carve when he was eight. "There's communication but I like to take my hands off the process and let the products be what they will be," says Will.
Embroidered bag with bamboo handles. Photo / Kareen Durbin. Denim wrap top. Photo / Rebecca Zephyr Thomas

The pair hope their pieces, which can be bought at pop-ups around Auckland and online, are found at first glance to be beautiful and interesting. "That's without needing to know the whole story in terms of who made it," says Kareen. "But then you add so much value when there's a narrative and a reality of how it came to be."

Companion strives to be sustainable and use upcycled materials where possible, such as vintage silk and FFC wood for the stools, which are fixed using organic oil instead of glue. Will has recently teamed up with design company Critical to make stool tops out of recycled plastic.

READ: Knitwear Designer Areez Katki In Mumbai

Compressed shampoo bottles result in a surface of yellow and green and milk bottles in speckled blue and white. He also plans to make use of any off-cut wood shavings. "You can actually burn it and use the ash to make soap," he says.

For Kareen, their range is a reaction to fast fashion, and the price point of the handmade elements reflects the idea of buying less and buying well. "We hope that somebody would recognise it's not machine-made and [also recognise] the people involved in the project."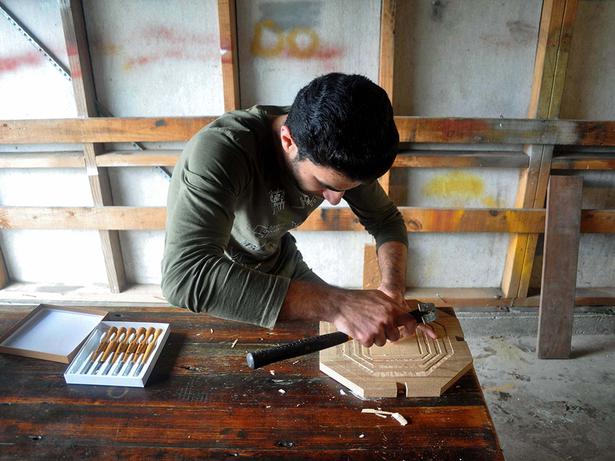 Sasan Mohammadi spends six hours carving each stool. Photo / Kareen Durbin

The pair, who both juggle other jobs, say the business has been a slow burn at times, and they would like to see it grow by engaging with a bigger community, extending work hours, and dream of having a larger studio space with a shop front. A shared passion for social good keeps them going, as does the opportunity to work for themselves and together.

READ: How to be a Conscious Clothing Consumer

Will and Kareen first met through friends in Wellington in 2015, and instantly connected over shared master's degrees in social enterprises; Kareen in fashion and design from AUT, and Will in development studies from Victoria University."It wasn't a setup. We started chatting and were both interested in engaging with refugees," laughs Kareen.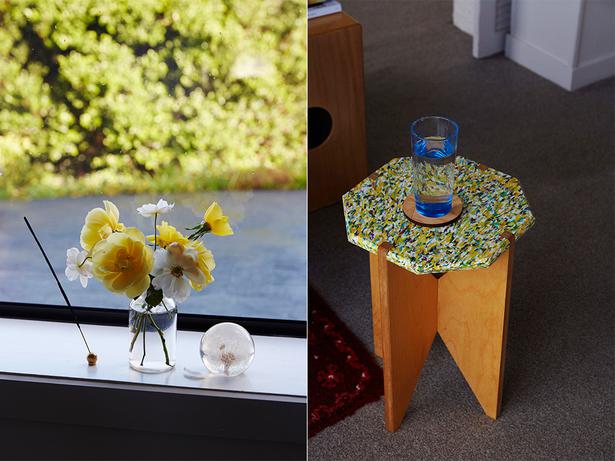 Stool top made from recycled plastic. Photo / Rebecca Zephyr Thomas

Will, originally from Wellington, says his interest in this type of work was inherited from his mother. "She loved cross-cultural interactions and making people feel welcome. I absorbed that growing up." He's since worked with organisations such as the Red Cross, volunteered in Nepal and Thailand, and currently works part-time as a teacher aide with SENZ Alternative Education.

The small remarks of gratitude he hears when working with Sasan is a highlight, he says. "I get a real kick out of how welcomed he felt. We were here from the get-go for him. Now, he really wants to repay that to us and to New Zealand as a whole."

READ: Favourite Things: Artists Ophelia Mikkelson & Ryder Jones

For Kareen, who turns her fashion expertise into styling and shooting all of Companion's imagery, says this alone wouldn't be enough. "Creating for me would be much less interesting if it didn't involve the process of cross-cultural interaction." She, too, has travelled overseas to research new craft skills, working with Freeset in India, teaching women how to sew, and doing voluntary work in a creative context in Tonga, Afghanistan and Thailand.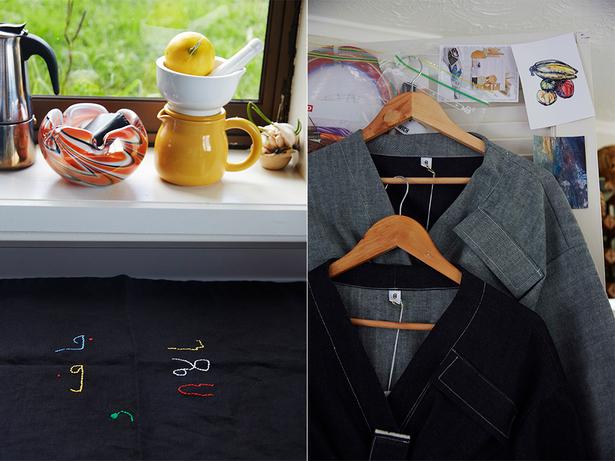 Ultimately, the couple would like to see refugee numbers here increased, while still providing a quality experience for people. It's exciting to have such a cultural community in Auckland, they say. "It's like travelling to the other side of the world but instead you can just go down the street," says Kareen.
— Visit Companioncodesign.com
Share this:
More Fashion / Features & Profiles