Memorable Moments from Australian Fashion Week
Viva editors share some memorable moments from Mercedes-Benz Fashion Week Australia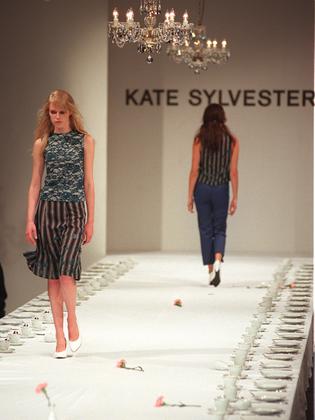 Amanda Linnell, managing editor
I remember as a young journalist covering Australian Fashion Week in its early days. It was the glamorous big sister with international media, celebrities, and fabulous parties. It was with a great sense of pride I followed, year from year, the success of the New Zealand designers as they carved out their mark on what was and still is an important market. Highlights include: rubbing shoulders with Sydney's fashion elite at Government House, Kate Sylvester's Brighton Rock show where models kicked china tea cups into the crowd, and seeing for the first time the ethereal elegance of Akira Isogawa's creations and then drinking tea with the quietly spoken designer the next day in his studio.
GALLERY: Street Style at Mercedes-Benz Fashion Week 2017
Dan Ahwa, fashion editor
The Josh Goot show at the Carriageworks in 2007 remains one of the most memorable shows I've been to at Australian Fashion Week because of its directness. There was a no-fuss attitude about the whole thing that blew everyone away from the energetic music to the graphic colours from the collection. The models were walking as if there was no time to spare. Goot was still fairly new at the time, so this collection stood out as one that really marked what he was all about, from the bodycon shapes to the languid jersey trench-coats that celebrate a particular Sydney aesthetic: modern, sporty and powerful.
READ: Dayne Johnston of Zambesi shares his favourite spots to visit in Sydney
Zoe Walker, associate editor
The moments that have really stuck in my mind are all quintessentially Sydney. Dion Lee's incredible show at the Opera house in 2011 with the Sydney sunlight streaming in and Romance Was Born's crazy "Renaissance Dinosaur" show at the University of Sydney in 2010 were epic. Visiting Icebergs in Bondi for Kirrily Johnston's shows. And trying to crash the Ksubi after-party my very first year attending, when my "job" was to photograph and ask people what they were wearing at parties and in the front row. As a young, naive fashion writer, it was fantastic, eye-opening training.
Janetta Mackay, beauty editor
1997: It was the first year New Zealanders were invited to show at Australian Fashion Week and Viva wangled to get me off the Herald newsdesk and over to Sydney to report on the event (which was a breakthrough in itself!). The original four were Zambesi, World, Moontide and Wallace Rose.
Back then we had fashion shows, of course, but the local cult of the designer had barely begun. Sydney helped change that, paving the way for our newly confident creatives to look further afield, particularly to London in 1999, often mistakenly considered where it all started. By then Karen Walker, Kate Sylvester and Nom*D had joined the international runway roster. Names that have lasted (such as Helen Cherry) and passed by (including Nicholas Blanchet) were in group shows in Sydney in 2000 and Pieter Stewart was scoping out New Zealand's own Fashion Week which started the following year.
READ: Georgia Alice Shows at Australian Fashion Week 2016
Much as I would like to say 1997 was when New Zealand was hailed as the new Belgium, that came a few years later courtesy of fashion commentator Marion Hume, then editing Australian Vogue. Our designers definitely did stand out as different from the celebrity, supermodel and skin fest of much of the week, however, and I remember the buzz from how assured Zambesi's atmospheric show looked. World's styling also stood out and Moontide's swimwear was cut from a more sophisticated cloth than the string bikinis and hats with corks at one Aussie show.
My fave super Linda Evangelista, in a ridiculously giant Alex Perry ballgown, was pretty spectacular, but the most eye-catching sight was Anna Piaggi. The bird-bright fashion editor of Italian Vogue chirped away to me about new talent Akira Isogawa, whom she championed. His show, like the New Zealanders, had its own aesthetic.
I've been to a few other Australian Fashion Weeks and further afield since, but 1997 was the most fun. We did feel like innocents abroad, but we were discovering something all our own could cut it out there.
Share this: