7 Stand-Out Looks To Layer-Up This Autumn
Let's talk transitional dressing, with versatile scarves and everywhere dresses
Wednesday March 16, 2022
As the leaves begin to change colour, a seasonal shift prompts a fresh look at new and noted ideas for autumnal dressing. From glorious knitwear for cocooning at home, to sophisticated outerwear helping us brave the elements — this is easy chic done right.

The short jacket
Sometimes a cropped jacket is all that's required to deal with our temperamental weather patterns. Here's one that works just as well in the North Island as it does in the deep south. Lined with sheepskin, you can throw it over a prim look or, of course, layer over a wardrobe staple of a T-shirt and jeans for a shortcut to an effortless outfit for autumn. R. M. Williams jacket $1600. Hej Hej top $190. Vintage skirt, $149, from Painted Bird Vintage. Gucci heels $1425. Mi Piaci bag $260.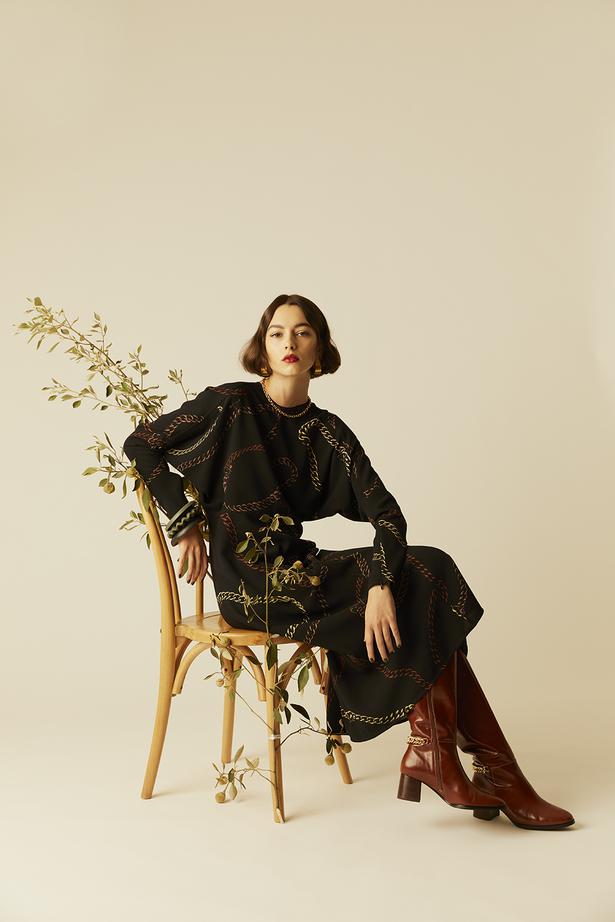 The everywhere dress
A dress that works across any occasion from day to evening, office to cocktail, is one that is cut to perfection and made in a fuss-free fabric. With elegant dolman sleeves, a mid-length and a tactile cady crepe featuring a chain print, this Victoria Beckham option is all class. Victoria Beckham dress, $2160, from Adorno. Kathryn Wilson boots $449. Brie Leon chain, $189, from Black Box Boutique. Craig McIntosh bangles, top to bottom: $1415 (pakohe/argillite), $1415 (granodiorite), $1060 (gabbro, 24ct gold leaf) from Masterworks Gallery. Vintage Golden Diva earrings, $49, from Painted Bird Vintage.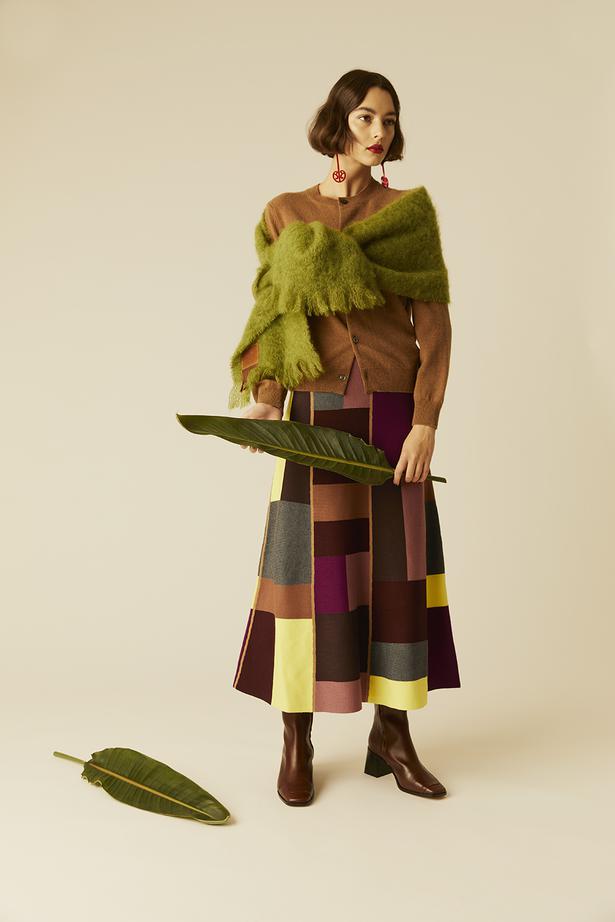 The versatile scarf
Fastened around the neck, draped around the shoulders over a cocktail dress on a cool evening, sashed around the waist like a fuzzy cummerbund — if there's anything we've learned about dressing ourselves these past two years, versatility is a high priority. Scarves are a welcome styling trick you can go to town with. This vivid green number from local label Deadly Ponies, $269, is just the right length for around-the-clock warmth and protection worn in a multitude of stylish variations. Comme des Garcons Play cardigan, $479, from Fabric. VVB by Victoria Beckham skirt, $550, from Adorno. Mi Piaci boots $360. Nichola earrings $35.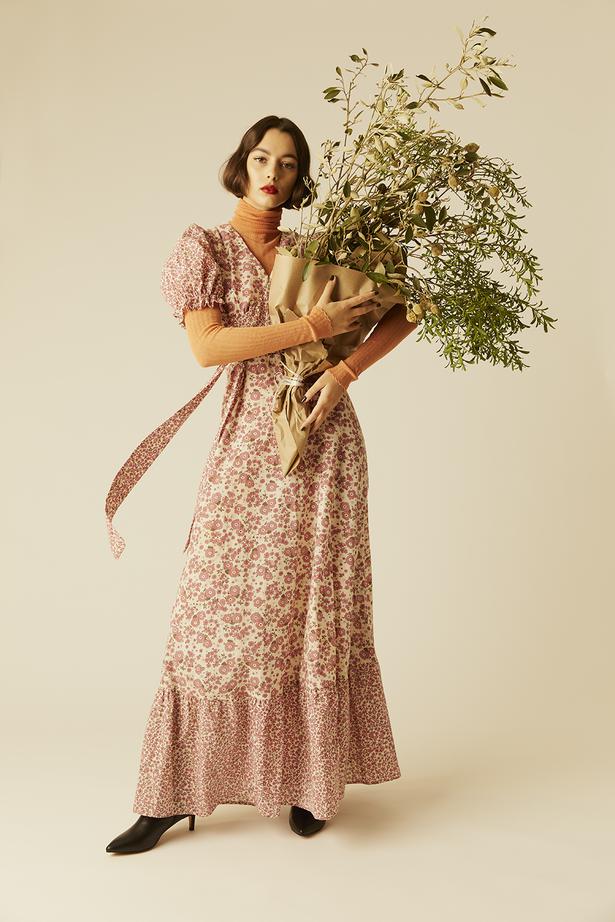 The house dress
Days spent working or simply idling at home needn't always equate to a hoodie and a pair of tracksuit pants. From the billowing to the voluminous, an easy house dress is a surprisingly refreshing nod to the past that feels relevant now. Waft about in a grand house dress from local designers such as Daylight Moon Studio and Caitlin Crisp, or delve through the pretty options at your local vintage or hospice shop for a unique gem like this, $189, from Painted Bird Vintage. Standard Issue polo neck top $199. Jerome Dreyfuss boots, $590, from Scarpa.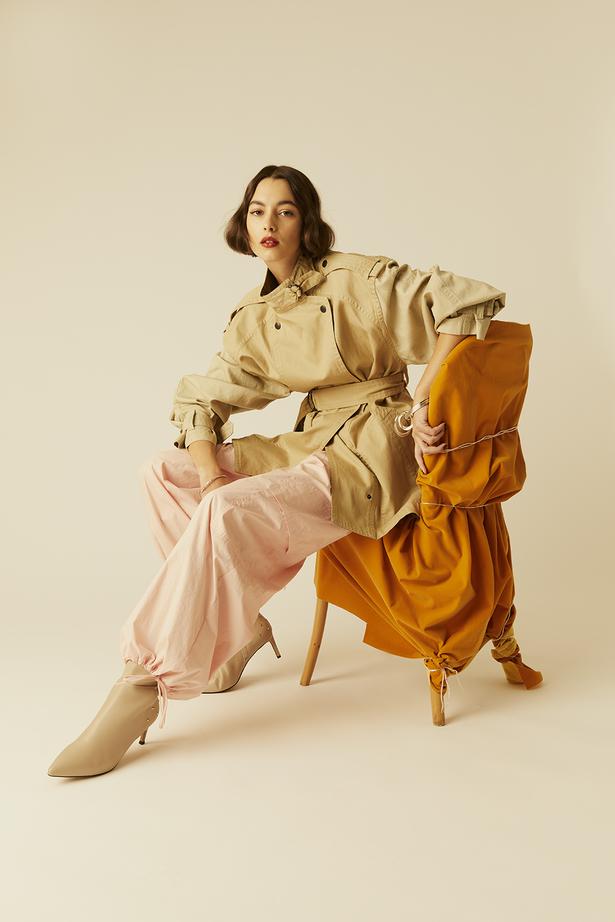 The new mix
Who has time for ironing? Tactile fabrics that combine utility with sportswear are a shortcut to easy dressing for busy lives — and there's no denying the chic possibilities of an ensemble built with attention to that daily grind. Hardworking separates that take inspiration from sport and street are an ideal combo for everyone, from mums on the go to CEOs. A pair of Y2K-inspired parachute trousers from local label Ruby, $249, are the perfect match to this quintessential Isabel Marant Etoile jacket with all the trimmings, $1098, from Workshop. Noon Passama Title 3 Bracelet, 2017 (silver, epoxy clay; hand-sculpted shapes, electro-plated with silver, polished surface), $1740, on chair, and Frances Stachl Gold Interruption Bangle (sterling silver, 18ct gold) $500. Kathryn Wilson boots $589.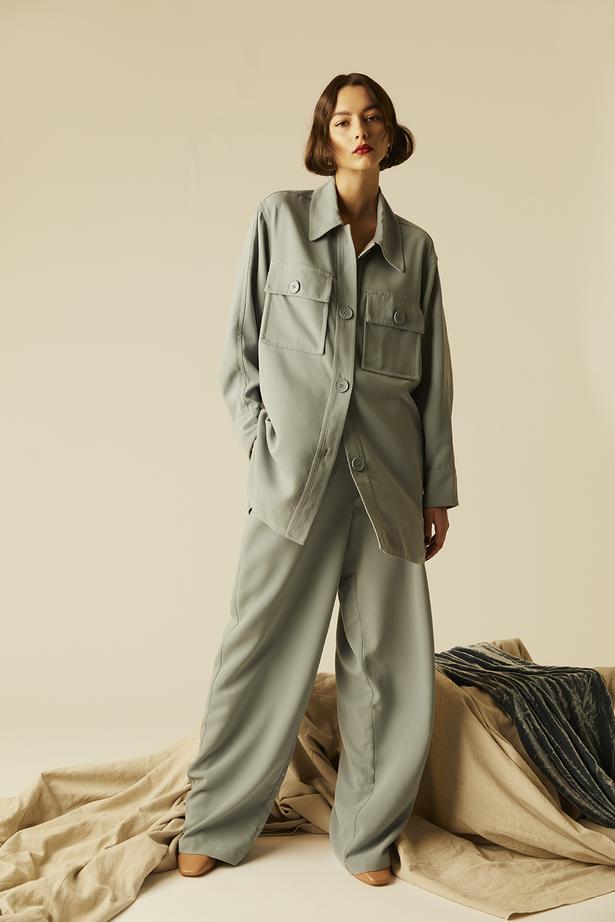 The new suit
The delicate pastels worn by Severine in Belle de Jour provided the perfect tonic to her sexy after-hours wardrobe — an inspiration behind the latest collection from Harris Tapper. This new take on the suit factors in our new lives, combining a pretty seafoam hue, comfort, elegance and the insouciance that comes with relaxed clothes. Even better, the look works just as well with a pair of comfortable trainers as it does worn with a pair of heels. Harris Tapper shirt $549 and trousers $499. Mi Piaci heels $260.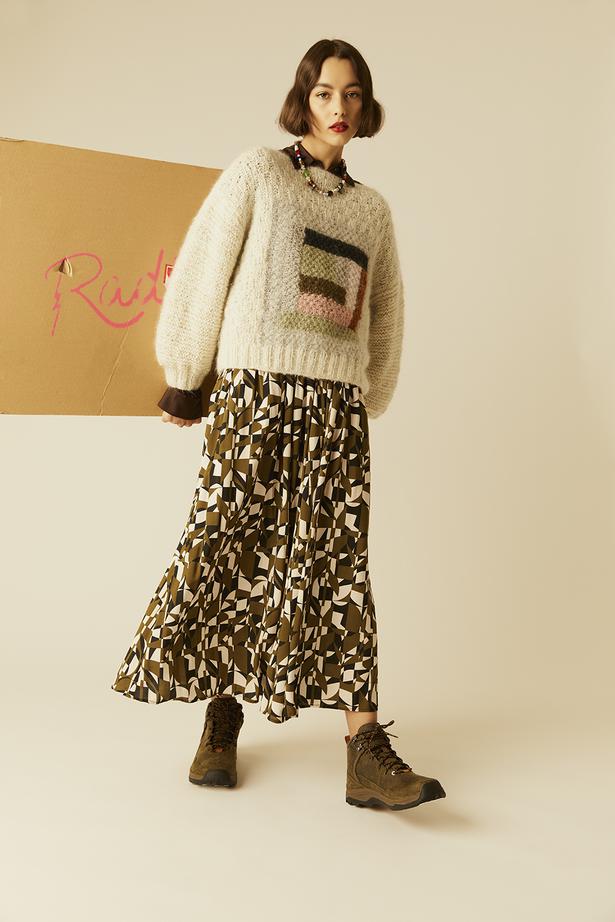 The homespun knit
A multitude of knitters are making their unique wares known right now — whether by word of mouth or surprisingly soothing curations on social media. This Widdess hand-knitted mohair merino wool jumper, $489, is a plush place to begin, featuring a charming geometric print. We've taken artistic license and teamed it with a Juliette Hogan skirt that features a geometric/Bauhaus-inspired print of its own, $429, and a suitably crafty necklace from local maker Spacey Gemz $85. So rad. Teva hiking boots $290. Juliette Hogan shirt $529.
Photographer / Mara Sommer. Fashion director / Dan Ahwa. Model / Alida Aciu from Super Management. Hair and makeup / Virginia Carde. Photographer's assistant / Lou Corry.
Share this: