Why Fashion is Going Avant-Garde
It's time to think outside the boxy jacket, writes Lisa Armstrong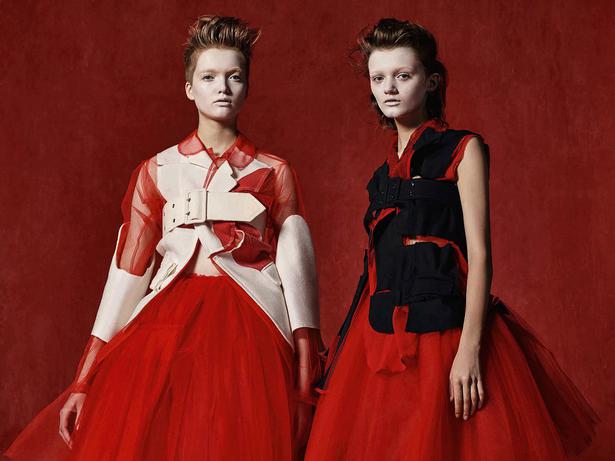 Thursday April 6, 2017
It's a fashion paradox that the more avant-garde the piece, the less likely it is to date. Or maybe it's not such a paradox. The same applies to all areas of creativity. Literature? James Joyce is almost certainly more widely read (or at least studied) now than he was when Finnegans Wake was first published in 1939.
Picasso? Most people wouldn't be averse to having any one of his works on their walls, although when he started, he was a much tougher sell.
If you can train your eye to adjust to the shock of the new, you're on to a winner. That's not to say you'll make a financial killing — not on clothes, at any rate. Whatever they tell you when you're hovering over an expensive special buy in a store or at the auction houses, clothing still doesn't appreciate in monetary terms the way art or cars do.
But fashion economics are about more than cold cash. They're also to do with longevity. It's a Soros-proof truism that, provided you avoid the more obviously trend-compatible details (huge 80s shoulders, for instance, although even here, there's a caveat, which we'll come to in a moment), practically anything from Comme des Garcons, Yohji Yamamoto, Issey Miyake (all Japanese) and even Azzedine Alaia (French-Tunisian) is dateless.
That's because when you march to your own beat, as they all do, you operate in your own timeless paradigm. If done without humour, that can seem parodically pretentious. But on the upside, in a world of endlessly disposable products, theirs aren't.
Whereas it's become quite common for women to feel a bit shabby in certain company when they're wearing "last season", there's no stigma attached to wearing an avant-garde outfit from two or 10 years ago. The reverse, in fact. It marks you out as an early adopter.
And it makes for uniquely versatile staples. When a dress is also a hybrid jacket, or an evening tux has sporty details, you end up being able to wear it to all kinds of events.
It's probably no coincidence that the hottest labels around now — Vetements, Balenciaga, Celine, Jacquemus, J.W.Anderson and Sacai — position themselves at the avant-garde end of the spectrum. Not only that, even their most outre propositions are spawning mass-market imitations.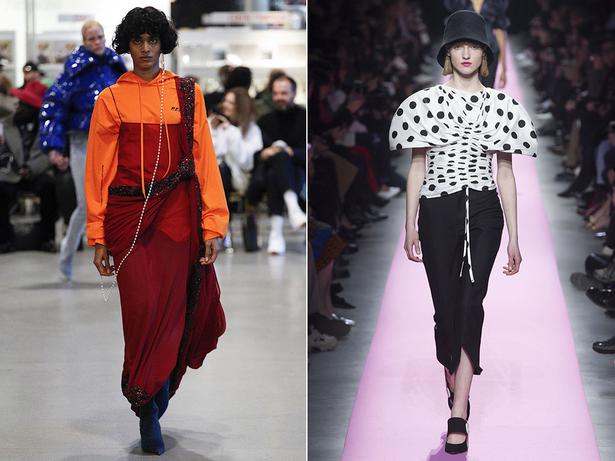 The mismatched shoes on Celine's spring catwalk — one of those "not in a million years" styling suggestions — have been taken up not just by Brooklyn Beckham (mismatched high-tops) and Naomie Harris (a chic pair of asymmetric jewelled sandals by Calvin Klein), but by White House press secretary Sean Spicer, who wore one black brogue and one brown last month. Now Asos is selling mismatched pairs.
Perhaps it's a reaction to the blingy, body-con old-school aesthetics of the White House's current incumbents. But in the fashion world, ideas have, momentarily at least, overtaken embellishment.
It will be interesting to see how this all plays out at the Met Ball, which, as Anna Wintour buffs will recall, is on the first Monday in May. The theme, as ever, will coincide with the Costume Institute's annual fashion exhibition, which this time is Rei Kawakubo, the 74-year-old founder and designer of Comme des Garcons.
The exhibition is entitled Art of the In-Between — in-between being, according to the Metropolitan Museum's reckoning, "the space between boundaries". "Objects," it adds, "will be organised into eight aesthetic expressions of interstitiality in Kawakubo's work."
READ: 60s Fashion Label and David Bowie Favourite Mr Fish to Be Revived
In-between could also refer to that slippery territory where fashion sometimes has the temerity to meet art. For although many designers blanch at comparing themselves with artists, Kawakubo seems untroubled at the prospect, often presenting her shows without music, at a stately tempo and in the kind of hushed atmosphere experienced at an installation at Tate Modern.
By contrast, at the Met Ball, in-between tends to mean that awkward patch where High Fashion takes on the sexed-up aesthetics of celebrity. A couple of years ago that worked out just fine. Fashion was having a tryst with transparency — a trend Beyonce and Kim Kardashian interpreted somewhat reductively, both looking almost naked under the flashbulbs.
READ: Fashion Designer Slams Beyonce and Kim Kardasian
How Kim will work her way round Kawakubo's desexualised vocabulary is anyone's guess. Beyonce, who'll be around eight months pregnant by then, may be excused attendance — however, a vintage dress from Kawakubo's notorious hump-back and bump-fronted collection from 1997 could prove to be ideal maternity wear.
Kawakubo, although famously gnomic, will probably relish the spectacle. Despite her not much given to random expressions of joy (i.e. smiling), she has an impish sense of humour — or that was my impression when I once interviewed her.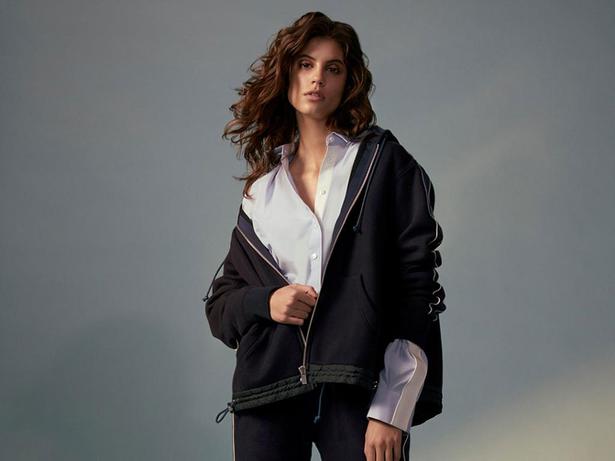 Her energy and delight in challenging conventional notions of taste, beauty and fashionability after almost six decades in fashion is inspiring and important, not least because it proves fashion can be enjoyed in many ways, sometimes simply as a spectator sport.
Even if you're sufficiently conventional to want to wear your clothes, you can still partake in the avant-garde. Choose wisely — avoiding the droopy and the cumbersome — and you'll discover that they're both ageless and graceful.
The previously mentioned Sacai is an excellent place to start. Its genuinely ground-breaking designer, Chitose Abe, splices technical innovation to make hybrid classics with an aesthetic that's playful and elegant. Recently an exclusive collaboration between Sacai and Net-a-Porter-com landed on the site. It's a simplified take on Abe's usual modus operandi.
"I focused on pieces that easily fit into a woman's life and take her through all the possibilities that her day presents," says Abe.
She really has. Abe's design process may be complex, but the results are effortlessly simple, versatile and ooze a timeless modernity that works for any age.
There's a skirt suit in a masculine check with sportswear details, a poplin shirt that's sprouted a hoodie and, for the first time since their launch a few months ago, the Sacai bags are globally online, with a version of the double clip purse hobo, in navy blue and featuring an exclusive strap combo. They're chic, practical, original.
So next time you're thinking of buying yet another boucle tweed cropped jacket or a beige trench, challenge yourself to look at the avant-garde interpretations. They're classics in the making, rather than of the past.
— The Daily Telegraph
Share this: