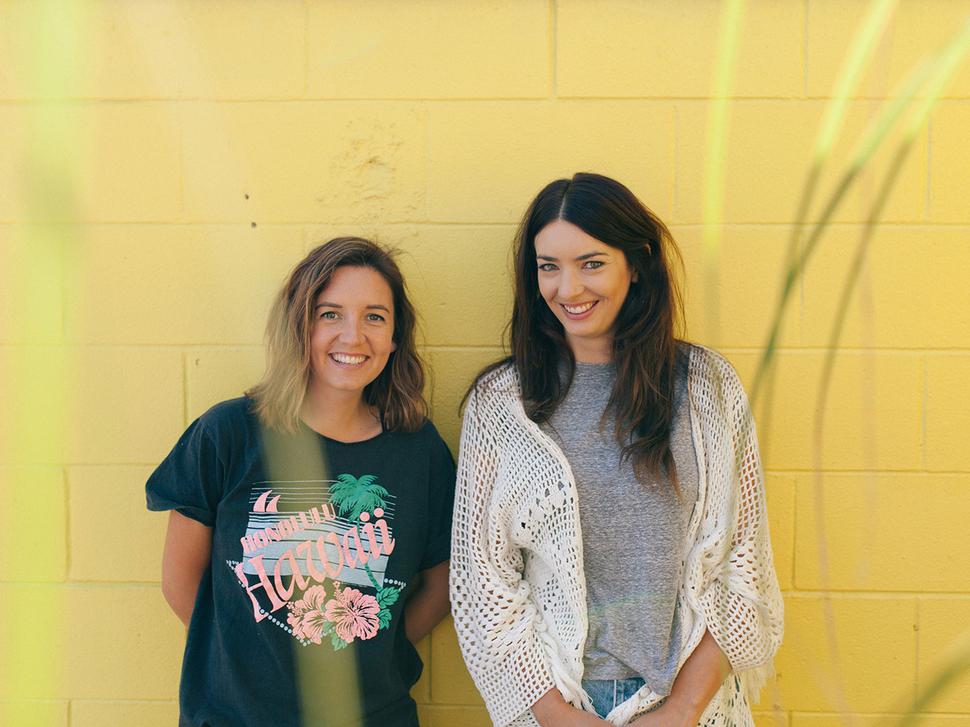 3 Beachy Labels to Know
Try something new this summer, with brands which draw inspiration from the sun, surf and sand
Wednesday Dec. 16, 2015
SURFCLUB
Who? Friends Nicola Reweti and Claire Price, from the beachside town of Mt Maunganui, are the duo behind Surfclub. They met at a party held at the local Main Beach Surf Lifesaving Club, hence the brand name, and decided to combine their skills. Nicola has a background in fashion and retail, while Claire is a graphic designer and photographer.
What? Launched last month, the lingerie, lounge and swimwear label is made with the "girl next door" in mind. It is a more of a lifestyle brand, says Claire, as opposed to "boudoir or super-tanned babes on a beach". When it comes to their swimwear they ask themselves one key question: "could you adventure in this?"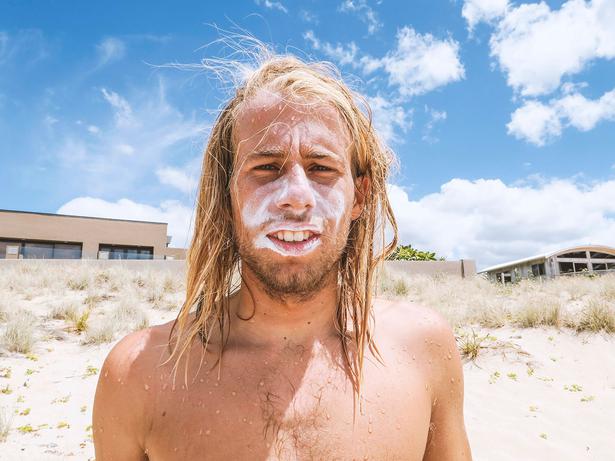 So far they have released one swimsuit style, which comes in red and black (named the Pamela, as it closely resembles the actress' iconic Baywatch swimsuit),
There is also a lace kimono, bralette, briefs, shorts and a slip, with the founders aiming to use as many natural fabrics as possible.
Why? Frustrated with the lack of selection available at their local lingerie and surf stores, they decided to brainstorm and come up with something new and fresh. "The options were all really bright, nylon, same-same or didn't fit if you have curves, and we both have curves," says Claire.
"We have big dreams for our little brand and we want it to have a positive effect on girls and the environment wherever we can."
Where? The 'Pamela' swimsuit (pictured) is $169.90, from surfclublabel.com
— Rosie Kelway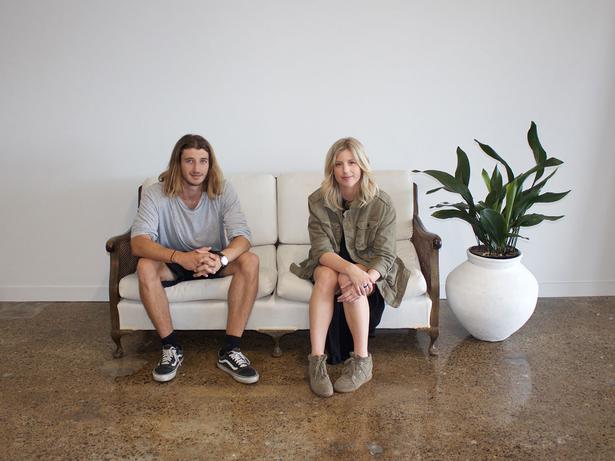 Rick Everard and Tori Taylor of Chalk. Picture / Supplied.
BEACH BRAINS
Who? Gareth Hemmings, a former visual arts student who launched surf-inspired label Beach Brains earlier this month with — what else — a house party. "Think everybody enjoyed getting back into a good house party, dancing to Drake, drinking cheap drinks and going hard to mates' bands. Never want that to stop," he enthuses.
Gareth had been living in Tairua in the Coromandel and moved to Auckland this year to start the line. "I'm definitely inspired by my surrounds but not inspired by the city. Small beachside towns filled with swannies, Holdens and DC Chunkies is where I get a lot of ideas."
What? Fashion has continually been inspired by the good-time vibes and community spirit of surf culture, with Beach Brains all about making good-quality clothes that support locals and community (everything is made in New Zealand).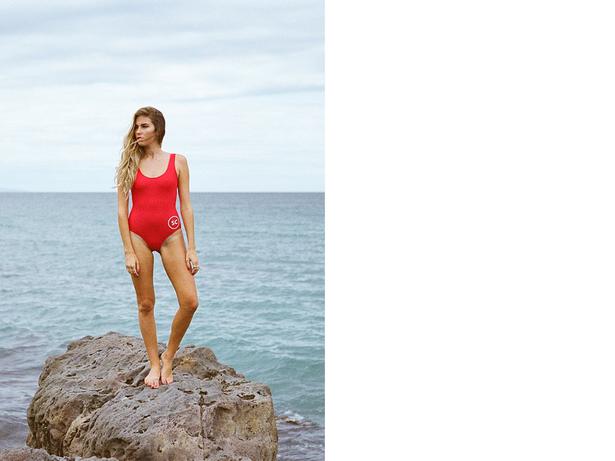 "The identity of the brand is a reflection of this and how I enjoy living," explains Gareth. "Close to the beach, sandy sheets, melted tar on my feet, best friends around the corner, fires, fresh fish, surfing the point, skating the ghetto and looking out for the groms."
The first release, some of which has already sold out, includes baggy cotton drill shorts, a classic white linen shirt, a "heavy duty" wool check shirt and tees. The label has also already had a very high-profile supporter: Lorde posted to Instagram twice about the launch party, and her "super tough boy Japanese drill pants".
Why? "I launched Beach Brains because my sister made me." Gareth's sister Megan had been designing womenswear, and the pair wanted to start a business together.
"I just made exactly what I wanted to wear: really hardwearing denims and drills, warm wool and thick tees," says Gareth. "Stuff that's going to last the test of time and just look better thrashed by the sun and salt."
As for that memorable name, it was inspired by a now-defunct surf blog Gareth followed in art school. "A couple of surfers and skaters used to post photos of them sleeping at the beach and just mucking round."
Where? T-shirts from $55, at beachbrains.co.nz
— Zoe Walker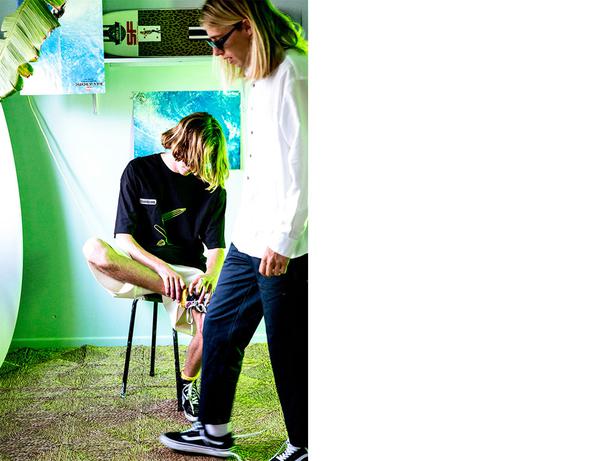 Beach Brains clothing. Picture / Supplied.
CHALK
Who? When two innovative beach babes, who have oodles of creative talent and are partial to pushing boundaries meet, big things are bound to happen. For Tori Taylor, who has a Bachelor of Design and Fashion, it was spending the last few years travelling Europe working on super yachts that ignited her passion for contemporary, well-made swimwear.
It was a perfect pairing for Rick Everard, an ex-Stolen Girlfriends Club intern and freelance graphic designer, known for his artistic knack.
"Rick was always known around town to be someone to watch in terms of creative thinking, so I approached him one day and pitched the idea. We've been working as a team ever since to make it into a reality," Tori explains. Months later Chalk was born, a breath of fresh air in the local swimwear scene, fusing beach and leisurewear.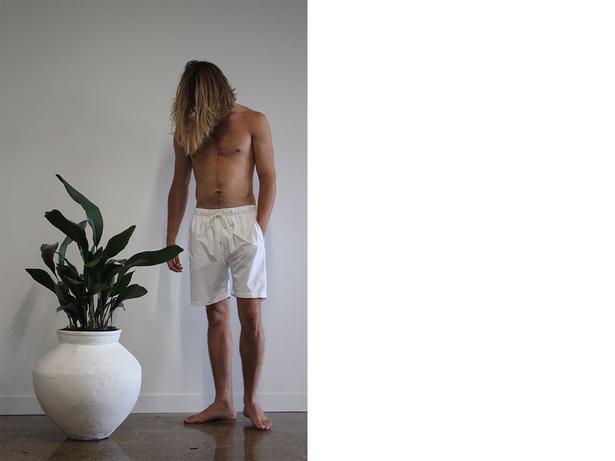 What? Launching this week, Chalk's first collection of board shorts comprises three patterned shorts in addition to two plain black-and-white pairs. Made in New Zealand, there's nothing 'fast fashion' about these shorts; with artwork designed and created in-house by Rick using high-quality water-based ink on textured fabric. "I created all the artwork using pastels, to give the desired depth and texture for the soft exterior of our fabric," he says. Personally test driven by the duo, the shorts are made of quick-drying fabric with built-in underwear — perfect for taking you from the beach to the streets.
Why? Left uninspired by the array of bland board shorts on offer in stores, the twosome decided to take matters into their own hands. "We decided to create Chalk after spending countless seasons searching for easy-to-wear, well-made summer short options," says Rick.
Where? From $129, available from The Department Store, Black Box Boutique and chalkthebrand.co.nz
— Anna Lee
Share this: