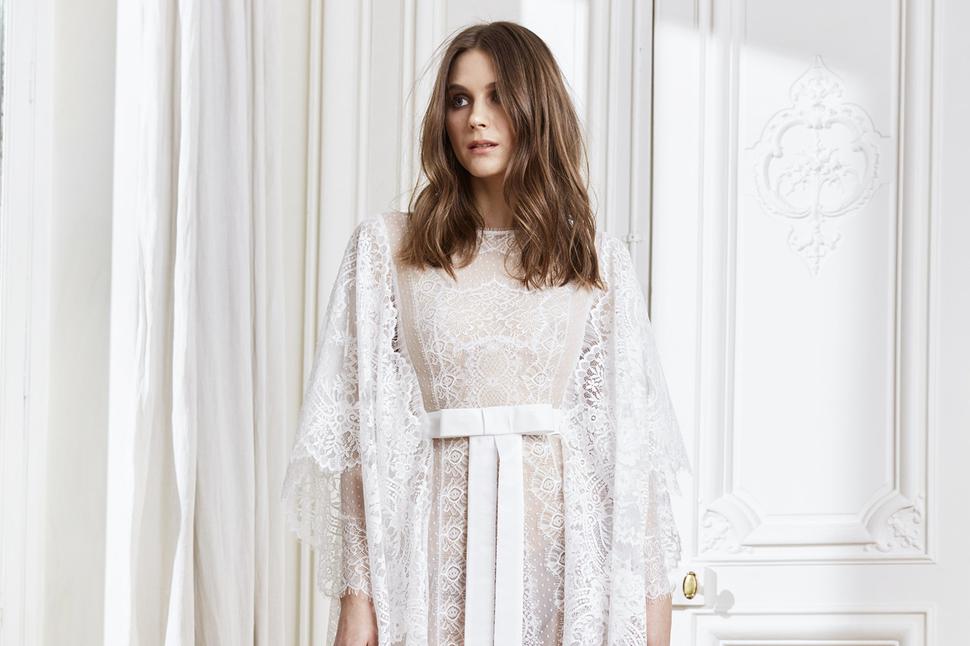 24 Beautiful Runway Gowns To Inspire Your Dream Wedding Dress
Even if your wedding has been postponed, you can still keep the dream alive with these runway-inspired bridal gown ideas
Wednesday April 1, 2020
We know so many people have had to put their weddings on hold, but don't let that stop you from dreaming and being inspired for your big day when it finally takes place.
READ: How To Find Your Dream Wedding Dress
Internationally at the couture and autumn/winter 2020 shows (before everything changed), more designers than ever incorporated bridal-style looks into even their ready-to-wear collections, providing a variance of options to inspire your own dress.
If you're having your dress custom made, here's no reason why you can't look at elements from several different gowns to incorporate into your own dream look, and locally there are myriad options for brides-to-be.
ELEGANT SIMPLICITY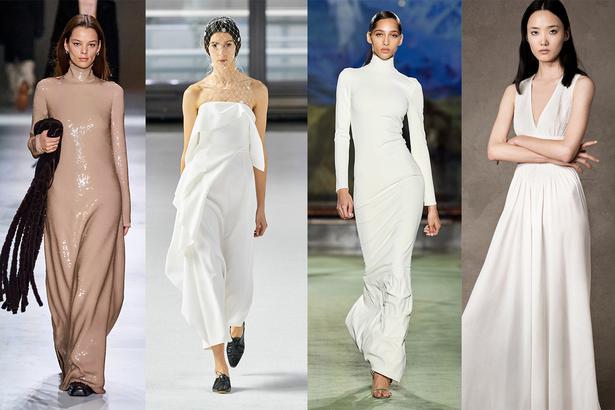 Clean lines and a lack of superfluous details make for a simple yet striking gown. Take inspiration from the high necks of Bottega Veneta's beige-toned sequin and Brandon Maxwell's form-fitting dresses, or let your accessories provide the interest as in Carolina Herrera's strapless sheath. 
Locally, fans of a pared-back aesthetic will find plenty to love within the classic and elegant Juliette Hogan bridal offering, and in that of Auckland-based wedding label Hayes Bridal. 
ART SCHOOL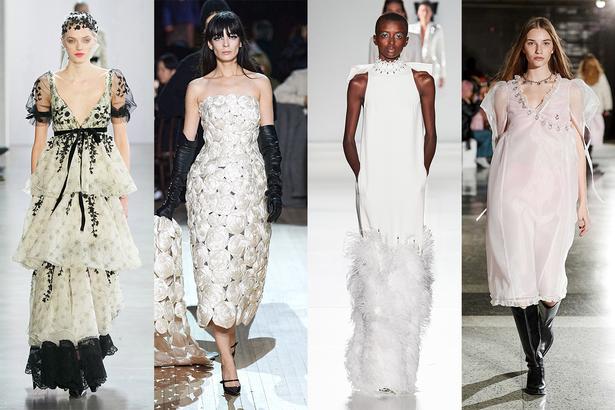 (From left) Brock Collection autumn/winter 2020; Marc Jacobs autumn/winter 2020; Ralph & Russo haute couture spring 2020; Sandy Liang autumn/winter 2020. Photos / Supplied

It's all in the details. If you're a creative at heart (or in life), why not let this extend to your choice of wedding dress with a unique textured fabric like at Marc Jacobs' autumn/winter 2020 show, a feather moment as seen at Ralph & Russo couture or interesting embellishments like the dangling silver rings at Sandy Liang? 

Here in New Zealand, Rue de Seine caters to the bohemians among us with plenty of artful options, and Vinka Design is also worth a look for both classic and more avant garde-inspired designs. 

LACE LOVERS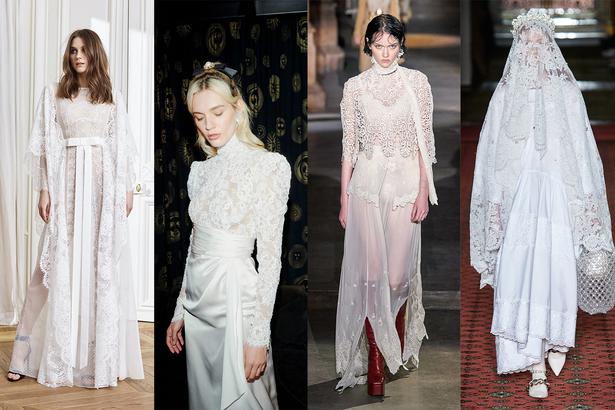 (From left) Zuhair Murad autumn/winter 2020; Alessandra Rich autumn/winter 2020; Paco Rabanne autumn/winter 2020; Simone Rocha autumn/winter 2020. Photos / Supplied

A white lace gown is a hard-to-beat wedding dress classic, but this doesn't mean you can't update it for 2020. To incorporate the fabric if you're not keen on a full lace look, take a leaf out of Alessandra Rich's book and embrace contrast with lace up-top and a silk or satin skirt. Depending on the season, some flouncy lace sleeves like those at Zuhair Murad could be an elegant and romantic touch, and Simone Rocha makes a convincing case for a full-face lace-trimmed veil. It's called drama, look it up.

Most local bridal ateliers will offer some variation of lace, and we especially love the options at Hera Couture.

LEFT OF CENTRE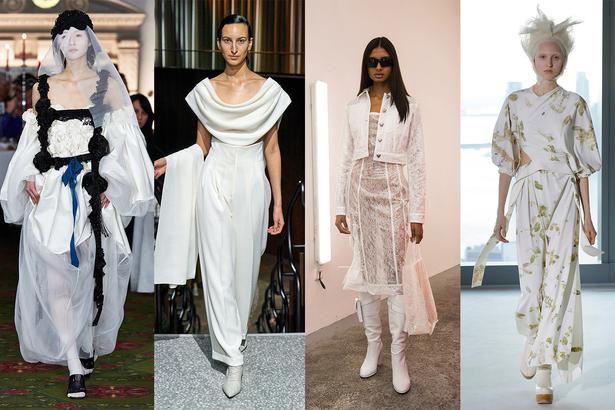 (From left) Dilara Findiklogu autumn/winter 2020; Emilia Wickstead autumn/winter 2020; Saks Potts autumn/winter 2020; Sies Marjan autumn/winter 2020. Photos / Supplied

For the unconventional bride, only an unforgettably unique ensemble will do. Are you the type to wear a pair of ivory trousers, or a rock n roll take on lace with a matching jacket? Looking to the catwalks becomes even more inspiring in this case, as there's so much you can do — an unexpected cut-out, perhaps, or contrasting black embellishments.

READ: The Rise Of The Multi-Dress Wedding

If you're really into the aesthetic of a local designer, it might be worth seeing if they're open (and have the capacity) to creating a bespoke bridal look for you - you never know, the best place to look for wedding dress inspiration or a designer might be in your own wardrobe. Ready-to-wear labels that have officially branched out into bridal recently include Karen Walker, Paris Georgia and Ingrid Starnes.

Another way to ensure your look is entirely your own? Go vintage.

MODERN ROMANTIC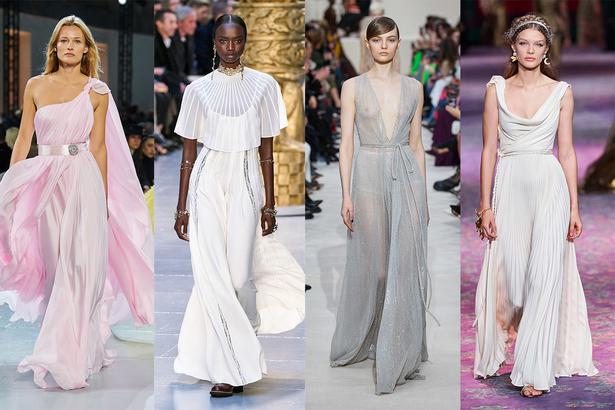 (From left) Alexandre Vaultier couture spring 2020; Chloe autumn/winter 2020; Valentino autumn/winter 2020; Christian Dior couture spring 2020. Photos / Supplied

While the speed at which you'll proceeding down the aisle is likely to be much lower than a model stomping the runway, you can still look to delicate pleating to add movement and fluidity to your gown. An Alexandre Vaultier-inspired one shoulder neckline and cape could add just the right amount of drama, or something like Dior's beautiful cowl neck and pleated skirt combination is a lovely option. 

Wedding dress designer Trish Peng specialises in custom bridal looks, as does fashion designer Tanya Carlson — both our suggestions for a look like this.

HEAVENLY VOLUME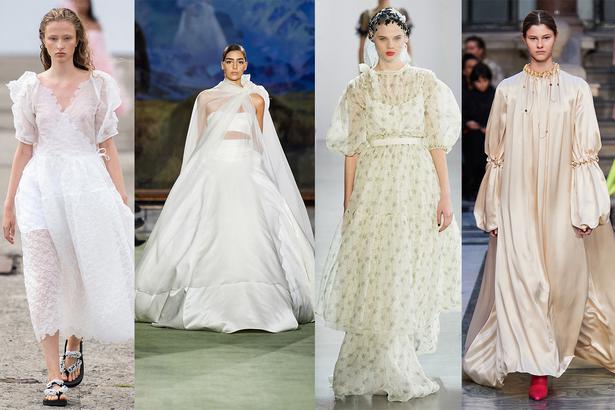 (From left) Cecilie Bahnsen spring 2020; Brandon Maxwell autumn/winter 2020; Brock Collection autumn/winter 2020; Roksanda autumn/winter 2020. Photos / Supplied

Sometimes, only a big ol' gown will do. And if you can't wear several metres fabric incorporated into your skirt on your wedding day, when can you? The lower half of the dress isn't the only place to think about placing volume either — voluminous sleeves have dominated fashion for a solid chunk of time now, so why not try this with your wedding dress?

Many bridal labels will offer both sleek and voluminous options. We love Paris Georgia's Bella gown for modern princess vibes (and a relaxed silhouette that means you won't feel restricted) and Hera Couture's beautifully frothy creations.
Share this: