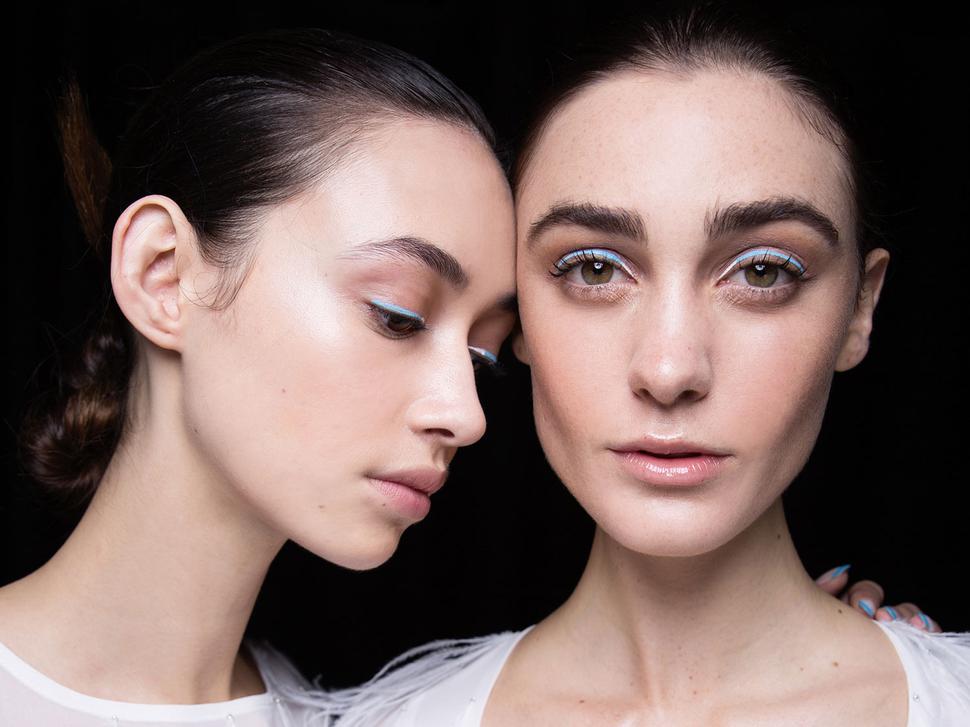 Beauty Highlights: Day 3 of NZFW
Go backstage with our hair and makeup brief
Friday Aug. 28, 2015
Out of the blue came what all Fashion Week audiences crave by the final day of shows – a touch of the unexpected. It energises, possibly inspires. There wasn't enough of it, but it sure was welcome. After all, there's only so many sepia eyes, conditioned lips and hair knots worth getting excited over. They're this year's black pants. Easy to wear essentials, but why not try something else fun on for size, such as sky blue liner (as seen at Sean Kelly) or a lilac lip (as seen at Ruby).
Sean Kelly
A buck three ways for Sean Kelly. As an emerging talent he'll learn not to hedge his design bets, but opting for three beauty looks wasn't due to indecision.
Makeup-wise the inspiration was all about a woman who evolved throughout the collection, said Kiekie Stanners for M.A.C. From liner traced a little above the lash line to an evening smoky eye to after-hour red lips. Nails ranged from nude with blue tips through black and red.
Matt Benns of Stephen Marr came up with three styles: a knot with ends upward, loose and long or cinched round the neck by a scarf before flowing free.
Ruby
The muse was Jane Birkin and her carefree charm was well conveyed. From the long fringe to the offbeat lilac lip each model wore, the spirit was youthful. If you're into DIY, follow the direction of M.Aa.C's Samantha Holley by pastel-ising a purple lipstick with white lip mix. Clip-in fringes were used by Michael Beel and Sara Allsop for ghd. Beel personalised the wave in each model's hair using his ghd curve tool.
Zambesi
An ochre lip matted down with powder has its edges softened by applying a nude lipliner last. The under-eye liner chosen by Stanners is in a deep purple tone, adding an unexpected element against super clean skin.
Richard Kavanagh for Redken brought his international experience back home from Sydney to helm Zambesi's hair for the first time. He took his queues from the classic clothes collection coming up with an ethereal look that relied on styling preparation. First dry shampoo, then texturising spray ( Redken's Pillowproof and Rootful) before a blowdry using fingers in the hair to create a soft bend. The look is finished with more dry shampoo, then the fringe arranged into a wispy sweeping curtain parted loosely in the middle and fixed with strong hold spray.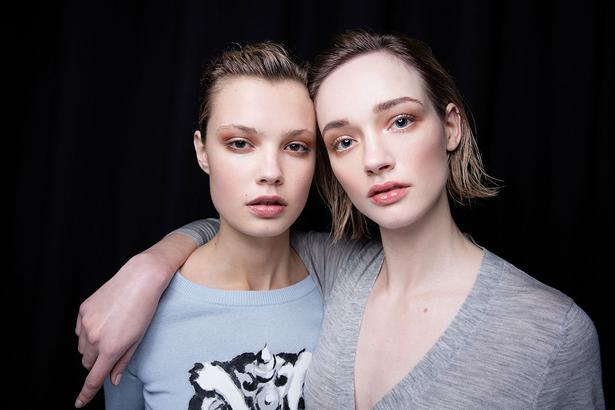 Hailwood
Apricot and gold tones and a little lip gloss and light contouring amplified the makeup by M.A.C's Sarika Patel. Her palette pushed the natural look we have seen a lot of. Lauren Gunn for Vada similarly stepped up a hair standard. Working from a slicked back wet look she took a section of hair and wrapped it across a knot, creating a more interesting rear view. This interesting variation on a theme, suited a show in which Adrian Hailwood also successfully pushed on from his familiar oeuvre with the assurance of experience.
Miromoda
This every-year-more-polished showcase of Maori design, has also upped the ante on its beauty look. A slick and simple approach is essential to support 13 different collections in one show, so keeping makeup muted and hair tied back is sensible. The trick is to add enough interest to save the look from being too boring. Try doing the same at home, by twinking your default settings. Servilles Academy applied this approach to the classic ponytail, pulling through a section to create a mini bun secured either end with elastics. Phoenix Renata did the same with a nude makeup look, adding greyish tones to the eye and a clear gloss to lips.
Confitex
Where underwear on the runway is concerned, audience focus is very seldom on the face. Doubly so when people are trying to size up the peculiar first of an incontinence lingerie launch that started by showing a G-string. I hauled my eyes up from what looked reassuringly like a regular range of knickers, albeit with a special absorbent lining, to find models with pink eye makeup diffused out to the temples and a fanned out updo.
Other shows
Red is such a lipstick classic it inevitably crops up, even in seasons when every second lip look is little more than balm or gloss. At Ivy Blu it was applied opaque and matte, with Blair Gamblin for M.A.C first perfecting skin with cream colour bases. At Frances Jerard, a crown of plaits framed a luminous face with red lips.
Share this: