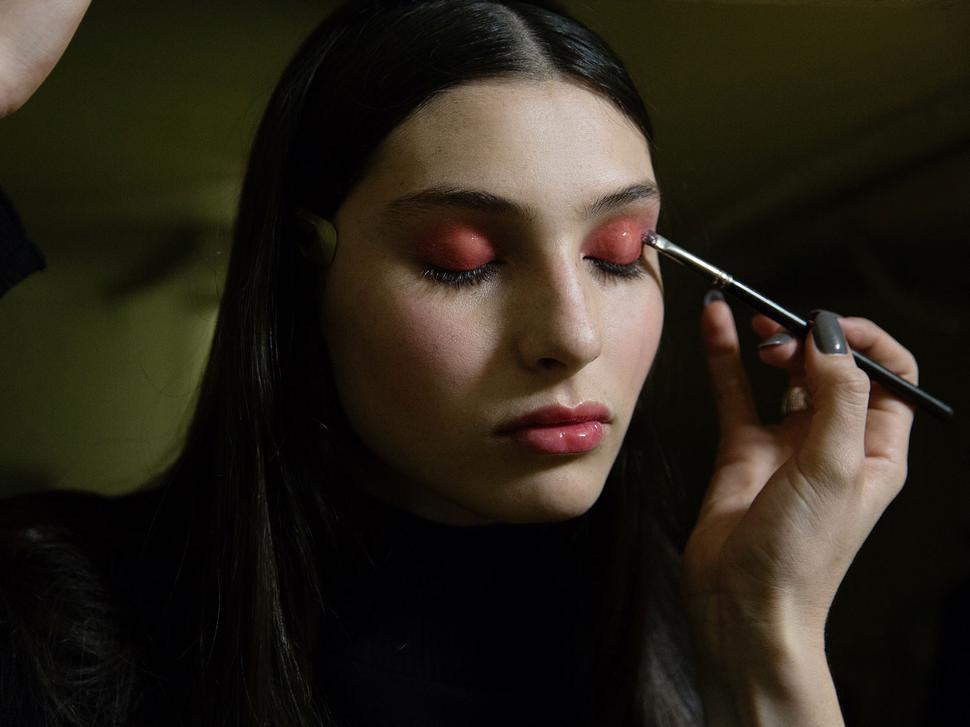 Beauty Highlights: Day Two of NZFW
Go backstage with our hair and makeup brief
Thursday Aug. 27, 2015
Stolen Girlfriends Club
When Stolen Girlfriends Club says black, nah, we're over it, then you know there's a shift going on. We're not talking a whole new wardrobe here — relax, those Huntly T-shirts got another outing — but there was a marked move away from their usual grungy beauty look.
Plenty of people at the label's 10th birthday bash at the St James Theatre may have woken up with wrecked eye makeup and bird's nest hair, but the Stolen girl was not among them.
"This year she is impossibly hot, an aspirational girl with juicy lips and perfect creamy skin and a wash of innocence over eyes," lead M.A.C makeup artist Kiekie Stanners told Viva backstage. Watermelon was slicked across the models' lids, lips and nails.
Hair director Richard Kavanagh for Redken looked to "the effortless and almost attainable beauty of 90s supermodels" for his inspiration. "The hair is luxe, alive, easy and free." Most surprisingly perhaps it was shiny.
This contrast in expectations —  particularly gloss instead of matte —  showed up across the day in beauty looks designed to counterpoint clothes as much as match them. The one constant was luminous skin. Make-up wise an individualised, occasionally quirky approach continued to rule.
Flowing hair was much in evidence, with heavily worked styles as out of season as was obvious face base. At Stolen a built-up blowdry was brushed out and Redken Diamond Oil applied to the lengths, then a gold barette was  secured above the right ear to neatly hold the hair back.
The crew of makeup artists and stylists readied the models in the bowels of the St James, where they moved down cramped corridors from one tiny rundown dressing room to the next. Then it was time for the Stolen clique to file up the narrow concrete stairs to join the fray.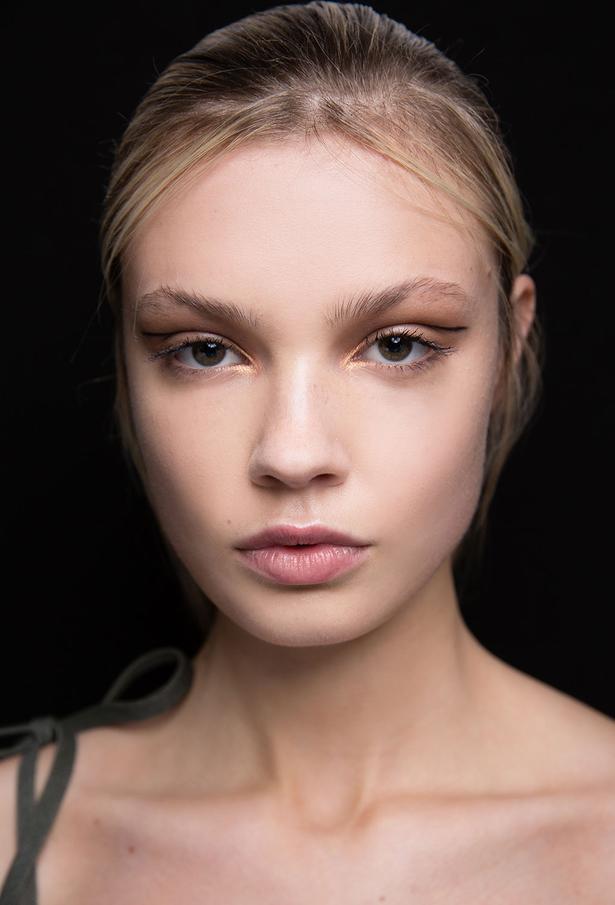 Lucilla Gray
Kewpie cute eyes inspired by 1970s Tokyo girls featured lashings of mascara, smudgy brown creamy colour and floating  eyeliner. A little offbeat, but not off kilter. Subtly enhanced skin and lips by M.A.C artist Angelica Boquiron added an ethereal touch. Hair by Matt Benns of Stephen Marr was done three ways: wispy, sleek and brushed out to add variety to the models who stood in an installation.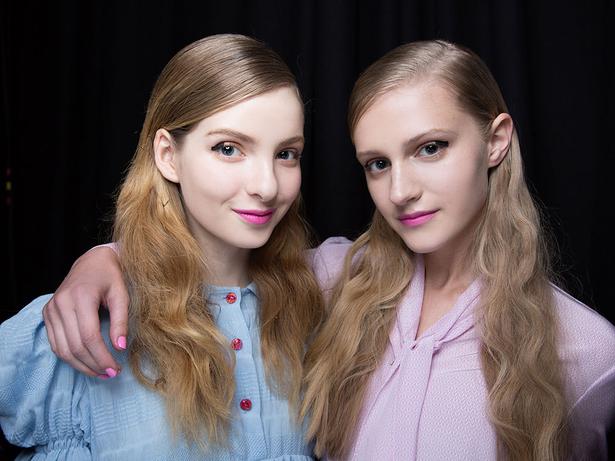 Itzme
A season or two ago no-one would have blinked at a bold pink lip, but in a week of mostly natural and occasionally dark ones the sight of a Candy Yum Yum lipstick mix at Itzme was more of a shock than graphic black eyeliner with a rectangular end. By using both, Samantha Holley for M.A.C ensured the look didn't get too girly, matching the grown-up baby doll gone to town tailored vibe of the designs. Brad Lepper of French Revolver for Wella had the hair in sync, side-parted, neatly tucked behind the ear and billowing down.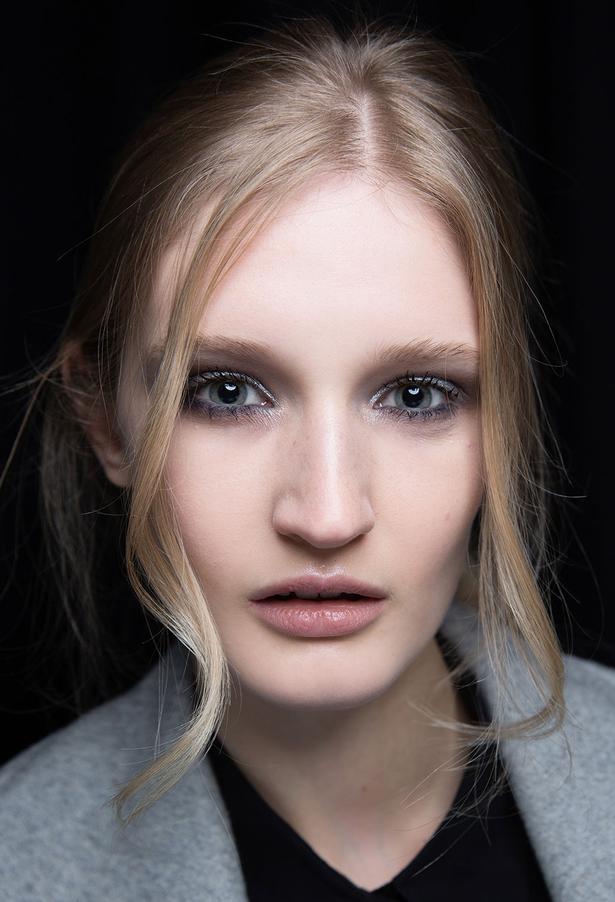 Julian Danger
The new smoky eye is moody metallic. Define with powder, then apply pigment. Sarika Patel for M.A.C switched between silver, rose gold and platinum. She then lashed on the mascara, giving Julian Danger's smart collection of mostly separates a distinct feel from Itzme which it followed on from. Skin was kept more matte than at many shows to balance the eye look. Hair was swept loosely back into a chignon. Raymond Robinson of Servilles for Wella was relaxed about unravelling ends, saying it gave a youthful feel to an updo. Adding a cute bunny tail accessory at the back, futhered that feeling.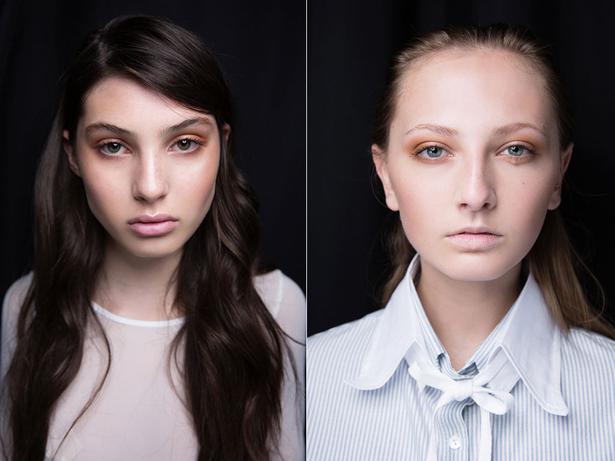 Willa & Mae and Her Apparel
What's your best look with lingerie? Hair kept natural and beautiful, which busy Matt Benns explained was done for lacy Her Apparel with a little light tonging to enhance loose curls. The models for show partner Willa & Mae had their hair damped and combed back with drier ends free falling down floaty lawn cotton shirts and silk robes.
Makeup-wise M.A.C's Danielle Xi choose a delicate feminine palette of gold and peach, with eyes burnished and cheeks highlighted.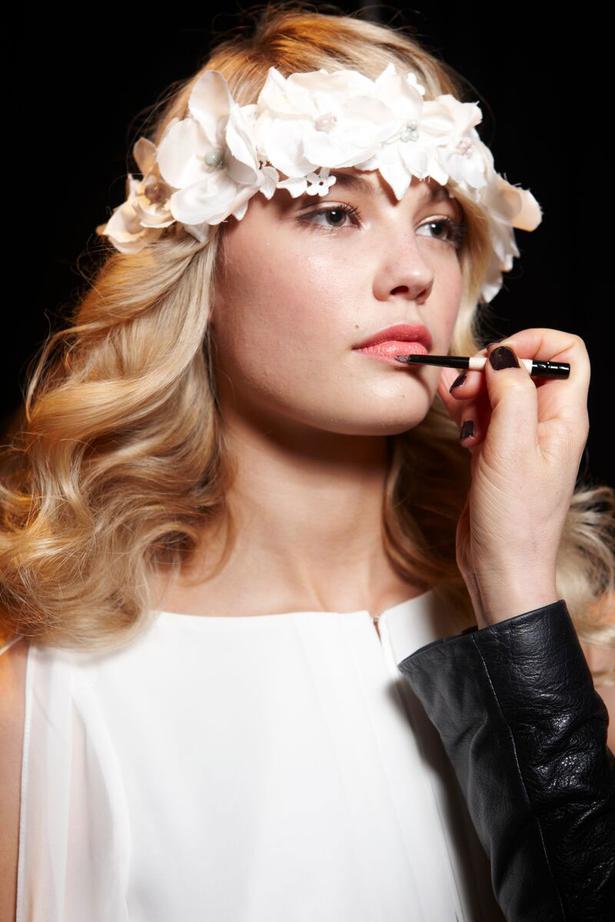 Weddings collection
Another group show that had two beauty looks, inspiring brides-to-be to choose from more subtle or stand-out makeup. Bobbi Brown artists did both, with Ashley Sattler softly strobing skin and choosing a gentle coral lip and cheek colour. Bex Elliott opted for more oomph for the woman who isn't afraid to be the centre of attention.
"She's not soft and pretty, she's 'it's my wedding'." A deeper pink lip colour and a black liner gave definition as did a Bardot-esque updo by Lisa Welch for Joico. Any beehive effect was banished by keeping the heightened hair soft around the edges. Her second style choice was a soft glamorous wave, with hair kept looking healthy by using heat protection before drying and then finishing the ends with a spray oil.
New Generation
The designers' brief for this group outing was for high glam so Louise Mills of The Body Shop channelled a toned down contoured Kim Kardashian. Eyes were defined with liner and the lip look was an ombre effect, darker red around the edges and brighter in the centre, blended out with a brush.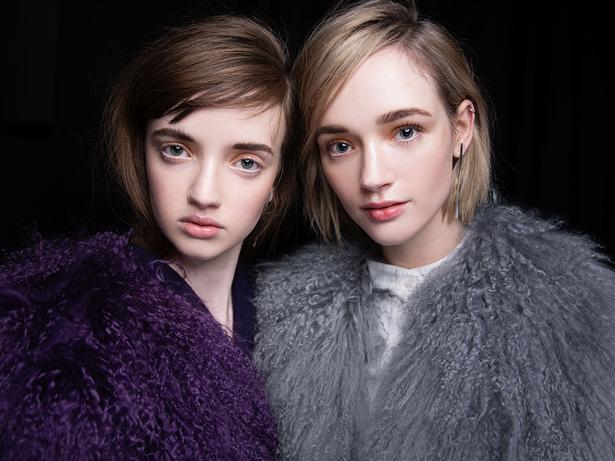 Harman Grubisa
Well hello eyebrows, finally you get some love. They've been lightly caressed at other shows, but this was the first where they were given a good stroking. Why we wondered?
M.A.C artist Josie Wignall explained: "A strong brow can make the rest of the features on the face look more delicate." It did, with creamy skin, a sepia eye and moisturised lips, coming together in the same quietly confident way as this assured collection. Extra edge c came from dark nails with a light tip and hair that Matt Benns described as "dry desert-like."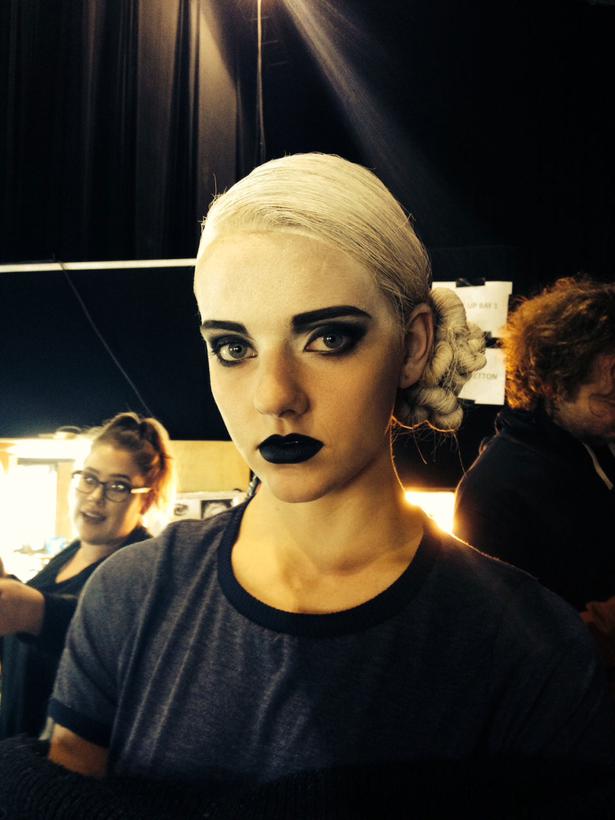 Annah Stretton
After a recent repositioning of her main clothes lines into a black collection of clean-cut pieces and a pink collection for the girlier dresses she is known for, Stretton delivered a similar brief for her two-part Mirror Mirror show. Long-time makeup collaborator Phoenix Renata came up with separate theatrical looks for each segment.
Stretton said shoppers tended to favour one range or another. I guess I'm more of a black girl because I preferred the stronger, simpler makeup over the colourful glittery one. It featured bold brows and a sculpted eye with shadows ranging from white through black.
White was also washed across the forehead into drawn-back hair, blending down into skin. The pink look put a maroon shade on the lips and deep blue on the eyes,  with hair side-trimmed with Japanese sea-egg fabric accessories.
The show start was delayed an hour while six giant disco balls were strung above the runway. If I had a dollar for everyone in the queue who muttered about being fashionably late... 
Share this: