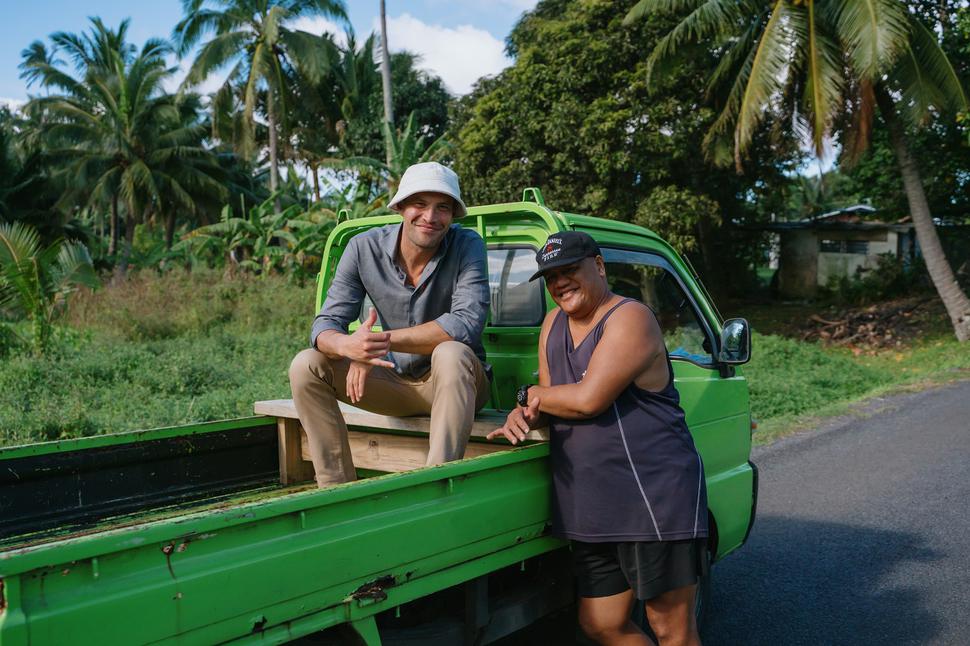 Travel Diary: Behind The Scenes With Crane Brothers In Idyllic Rarotonga
Chris Vovan from Crane Brothers shares his picturesque photo diary from a pre-lockdown photoshoot in paradise for the brand's cool, crisp summer collection
Wednesday Nov. 10, 2021
If only we could say kia orana to our Cook Island neighbours in person. Until that day comes, the latest summer campaign from menswear stalwart Crane Brothers will suffice, photographed just shy of our current lockdown back in August.
Giving us the island escapism we need, the brand's collection has us in an optimistic mood, celebrating a feeling of freedom and ease of movement.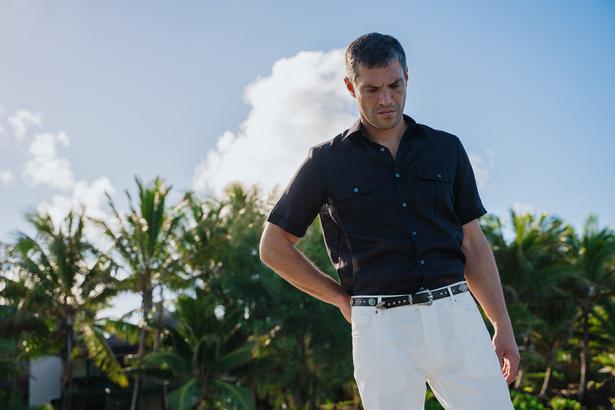 "After a couple of years where we've all been dealing with restrictions, for Spring Summer '21 we really wanted to celebrate a feeling of freedom and ease of movement," explains Crane Brothers senior sales consultant and made-to-measure specialist Chris Vovan.
"This felt like the right time to go into the warmer weather with an optimistic attitude — introducing more colour and softer silhouettes, as well as expanding on our 'high casual' offering."
Photographed by James Holborow and featuring the brand's muse Blair Lawton, several of Rarotonga's popular locales provide the perfect backdrop, including the turquoise waters at Muri, a sunset at Black Rock Beach, and the colourful bustle of the local roadside food stalls.
The collection features an uplifting medley of tobacco and sea-blue linens, Cuban shirts in earthy tones, and playful Hawaiian-print swim shorts, supported by chic summer accessories including boat shoes, plimsoles, bandanas and the beloved retro styling of Kirk Originals sunglasses.
"Clothing — and particularly men's tailored clothing — is all about feeling. If it doesn't feel good, you just won't wear it. We design our tailoring in a way that reflects an Antipodean way of life — it might be meticulously constructed and use the best natural fibres, but it should feel relaxed and effortless to wear," says Chris.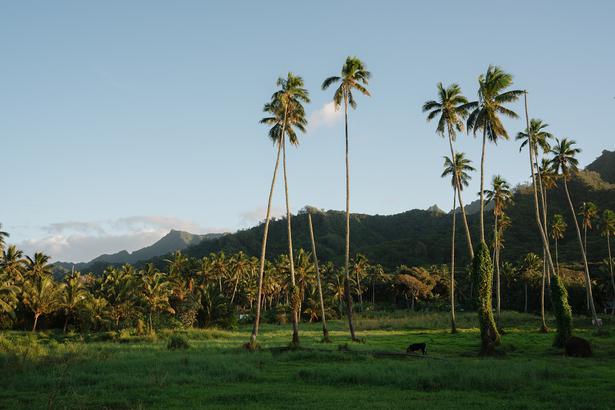 It was a tough day at the office for the team on location, as Chris gives us an exclusive behind-the-scenes look at their Rarotonga escapade. 
"Along with photographer James and our model Blair, I was lucky enough to spend several days shooting our campaign in Rarotonga, prior to the current restrictions. The natural beauty, pace and community focus embodied and enhanced the themes of the collection perfectly — as did the charming and generous locals (and many curious dogs)."
Day One
"Our accommodation is in Titikaveka and at mid-morning we venture down to a local beach to begin shooting some of the full tailoring looks."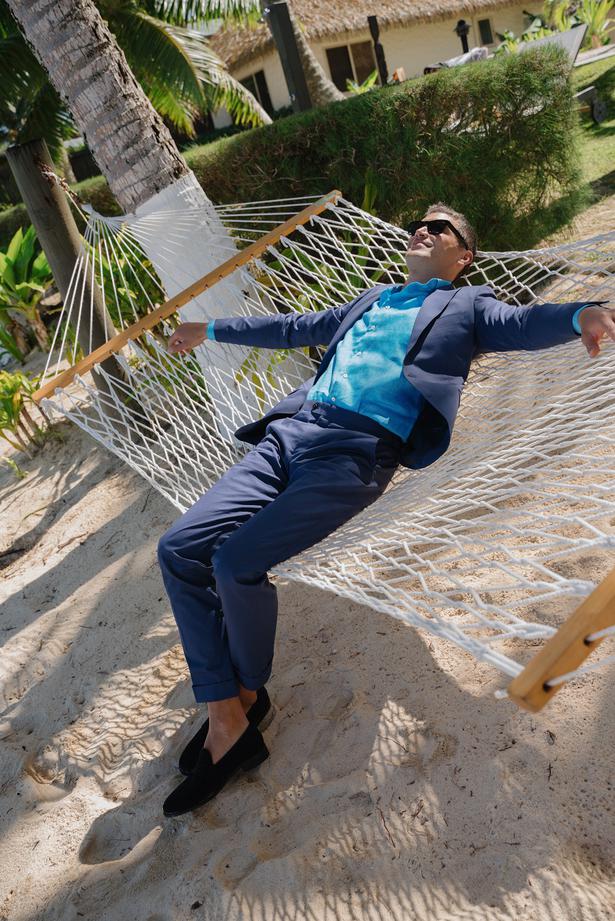 "James and Blair get some great shots and the sun is very strong — Blair's glad that the tailoring he is modelling is all cotton and linen, so very breathable. It looks easy and natural as Blair walks casually along the shore and finds a hammock to lay back in, fully suited!"
Day Two
"James and I decide that it's best to begin shooting at first light, so we all set off for Muri Beach to get some shots on a fisherman's pier and get befriended by the first of the many local dogs."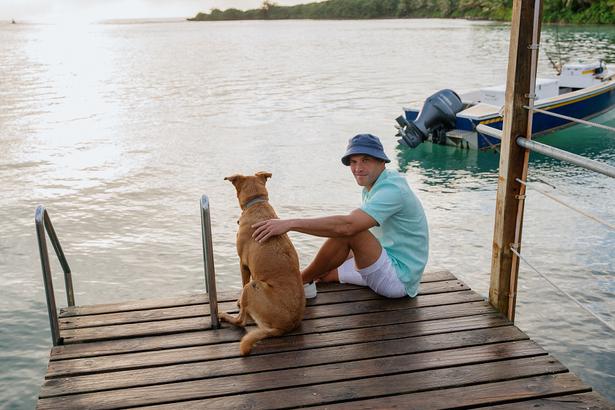 "Some of the key colours — aqua blues, mint greens, washed-out browns — really come into their own in the golden-hued morning light. Colour looks effortlessly good worn in this part of the world."
"We wrap up with a sunset shoot at Black Rock Beach. It's incredibly picturesque. Packing down for the day, we enjoy the dusk along with some other eager sunset watchers, and Blair gets talking with a local named Bobby who owns some land nearby. He invites us to visit his home the next day, to see if we might want to use the beach that his land backs onto."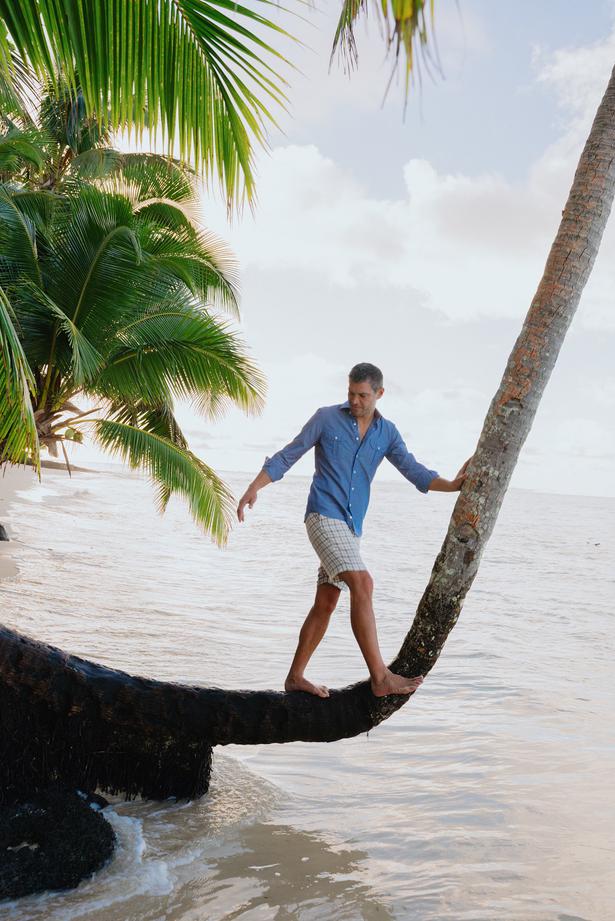 Day Three
"We start the day shooting at another beach in the Titikaveka area, then head back west to Bobby's property. Their private beach feels perfect for some timeless shots, so we dress Blair in more classic silhouettes and colours — a navy hopsack blazer, stone cotton dress trousers and a white button-down collar shirt."
"The outfit looks at one with the peaceful and open island location — I'm reminded that tailoring, when adapted to its wearer's environment, functions in limitless ways. Well-cut and styled clothing is always a joy to wear."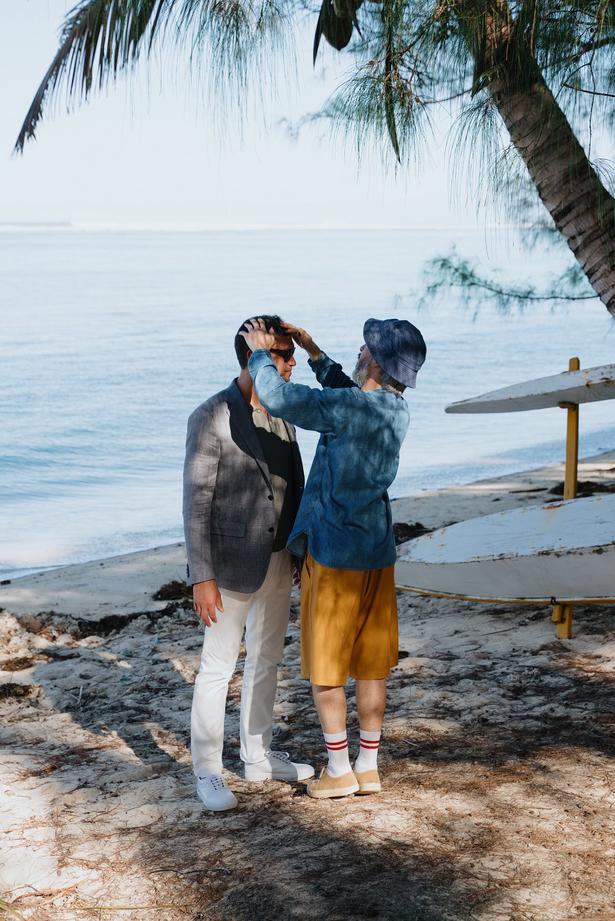 "For the afternoon we head to the coast, where the rocks offer us some new takes on natural surroundings — cantilevered formations and rock pools that are beginning to fill with the incoming tide."
"The colours here are softer and it feels right to get some smart evening looks captured here — T-shirts under linen suits, polos with relaxed-fit trousers. Fishermen continue to cast their lines out from the seashore and surfers head out to make the most of the incoming tides. It's an idyllic scene with the sun softening — a dream way to finish the day."
Day Four
"After a quick morning dip in the ocean, we head west again to visit the markets in town. On our way, we stop by a hot food stall on the roadside, and the ladies cooking up a storm are so charming that we decide this is about as friendly and authentic as we will get for a local dining experience, and the food (barbequed chicken, boiled taro and coleslaw) is delicious."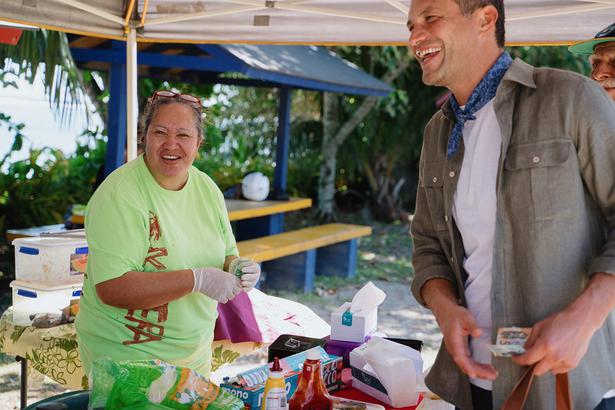 "En route to the airport, we head back to Bobby to say thank you with a box of beers. We have one for the road and Bobby proudly shows us his family photos and welcomes us back for another visit in the future. It's a truly unforgettable way to finish our time in Rarotonga: genuine and heartfelt hospitality from the locals, and taking time — even at the eleventh hour — to just absorb the calm beauty of this island paradise."
To make an appointment and to view the latest collection visit Crane-Brothers.com.
Share this: