Behind-the-scenes with Kathryn Wilson
An exclusive behind-the-scenes preview of Kathryn Wilson's look at Clicquot in the Snow.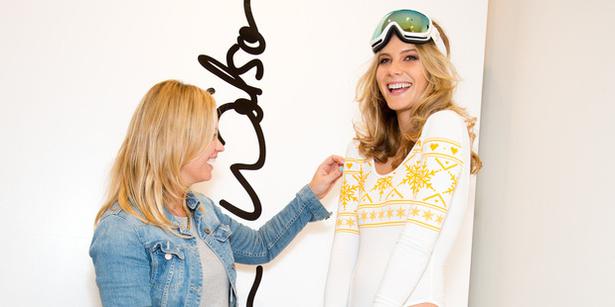 Friday July 18, 2014
Footwear designer Kathryn Wilson heads south in a few weeks, taking part in the Clicquot in the Snow festivities in Queenstown. Her August 2 fashion show is the finale to the week of events, ranging from a snow bar on the main deck at Coronet Peak to a degustation, Champagne-matching dinner at Wakatipu Grill at The Hilton.
Wilson gives us an insight into what to expect from her show - and what she loves most about the winter playground.

What do you love most about Queenstown?
Queenstown is so magical; it is so breathtaking to wake up there to such stunning views that it is hard to believe it's real until you see it for yourself. It never fails to impress me with the scale of the mountains against the lake and picture-perfect skyline of the snow on the Remarkables against the blue sky. I love the people, who are some of the friendliest I've met; the bars, responsible for the best nights out in New Zealand; restaurants that offer food of an international quality and service; and the beautiful outdoor playground.

It's your fourth time taking part in Clicquot in the Snow. What do you like most about doing it?
It is a highlight of the winter season for me, to head to Queenstown each year and be involved with the annual week of events.
This will be my fourth year to be invited, and our third catwalk show as a finale to the week. I love being part of the festivity as Clicquot hosts public events during the week at local restaurants, hotels, bars and even up the mountain at Coronet Peak. It is a non-stop week of playful activities.

Who are you working with on your show this year?
We are hosting a public catwalk show at a helicopter hangar near the airport that will house an audience of up to 200, who will get a sneak peak at the summer collections from Kathryn Wilson and Miss Wilson before they go into stores nationwide that week.
Working with the super-talented stylist Kylie Cooke, the hair is styled by D&M Hair owners Danny Pato and Michael Sisaengrath, who will fly down to Queenstown for the show, and a local makeup team who will work from M.A.C facecharts designed by senior artist Kiekie at M.A.C. All models are flown down to Queenstown from Red 11 models in Auckland, and the music will be played live by DJ Justin Sweeney while guests sip on Champagne and are served food from a 1950s-style diner on-site. I can't wait.

What look are you going for this year?
The models will be wearing custom-designed and printed one-piece bodysuits along with Veuve Clicquot branded accessories: ear muffs, capes, ponchos and ski goggles. The show is a playful representation of our brands and will be styled around 70s ski bunnies - a light-hearted play on traditional apres-ski outfits from the 1970s.

What are you planning for hair and makeup?
The hair is always a main feature of our catwalk shows, as often we like to keep the silhouette of the model's body and legs simple to help the shoes stand out, leaving us a lot of room to experiment with hair and show off the latest looks by D&M using Moroccanoil styling products to create volume, shine and glamour. Brigitte Bardot being the muse for this show, Danny has mastered this using Moroccanoil Volumising Mousse and ceramic round brushes. The makeup is neutral and warm - strong eyes with a nude lip - leaving the shoes to pop as the colour on the catwalk.

Tell me about the collection that you'll be showcasing.
We will be showcasing the summer 2014 collections, which go into stores throughout New Zealand in the first week of August. There are a lot of primary bright-coloured heels in cobalt blue, cerise pink and acid yellow; the return of the 90s point stiletto heel and a custom-designed enamel heel that has been hand-painted. These are complemented by a collection of muted, pastel tones in heels, sneakers and sandals in the Miss Wilson collection, which will also be in the show. Thirty-four looks in total will be showcased on the night, including men's and women's styles.

KATHRYN'S TOP QUEENSTOWN MUST-DOS
1. Amisfield Winery & Bistro for a long lunch in the sun. Make sure you select the "trust the chef" option on the menu for the most delicious and memorable meal matched with their wines.
2. A drive out to boutique accommodation and restaurant Matakauri Lodge for a flute of Champagne and a meal by the fireplace. The view is outstanding. Request a tour of the newly finished "owner's cottage" where Prince William and Kate stayed.
3. Dinner at Josh Emett's restaurant Rata for a culinary treat. I find it hard to decide what to order on this impressive menu, so have been known to order three to four entrees and try them all instead of a main-sized dish.
4. Fashion boutiques Angel Divine and Goddess offer the best of New Zealand designers' collections in their stores every season.
5. The Pinot Pit wine bar at the Hilton Hotel, where you get to sit outside by an open fire on the stunning lakeside and soak up the sunset after a long day of fun.
Share this: