Behold: The world's most luxurious beanies at Chanel couture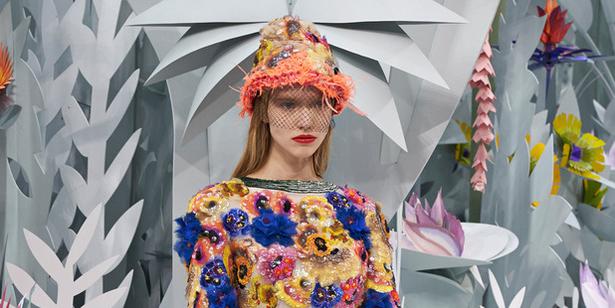 Friday Jan. 30, 2015
Karl Lagerfeld has an unrivalled knack at Chanel for turning the humble into haute - and raising price bars to new heights in the process. Governments in the Eurozone worried about deflation: look and learn.
It was cycling shorts and denim in the Nineties, stick-on transfers in 2010 and trainers in 2014. Look what that unleashed. Ten months later, Prada launched the £1,000 crystal-smothered trainer.
The beanie on the other hand, has had every reason to feel neglected. Apart from one season a few years back when Raf Simons designed a concept beanie with a netted veil at Jil Sander which only went into limited production, beanies have been left to their own, shamelessly affordable devices.
Now, finally they have their moment of glory. The beanies in this morning's Chanel couture show were ethereally delicate looking things, spun from cashmere and possibly fairy's wings, and scattered with jewels and appliqued chiffon flowers.
No word as yet on how much they will sell for. Whatever - they'll still be a cult, and much copied.
You could argue that with Chanel's heft behind it, any rebranding is automatically destined for a degree of success. There were Edwardian picture hats too, worn with dresses strewn with poppies. If that was an allusion to the First World War, it was somewhat overshadowed by those beanies.
What's interesting is the extent to which Largerfeld's little in-jokes capture a prevailing mood. His trainers for example, kicked off a year of committed chunky, jolie-laide, flat shoe wearing, even among women who spend their lives beings swooshed across the globe in the leathery interiors of private planes and armour-plated limousines.
The Chanel beanie speaks of a similar-but-different relaxed esprit. The Chanel creature we saw on yesterday's catwalk showed no interested in trying to look sporty but appeared to have become a born-again eccentric bohemian: part Keira Knightley at the Golden Globes recently in her bespoke Chanel maternity-gown, part Edith Sitwell, who between the wars attracted as much attention for her flamboyant wardrobe as for her poetry.
This genus of eccentricity begins with a flat, narrow leather sock-boot, painstakingly styled to wrinkle artfully round the shins and works its way up through a succession of embellished skirts. Some of these skirts were long and narrow, with tulle inserts, others short and fringed. Others still were bell shaped and stiff, embellished with layers of silk flowers and what looked like tiny Chinese lanterns.
Navels were often exposed, but not always because as ever, there were myriad jackets in all shapes and lengths. Also present: the Chanel little black dress, rustled up from slivers of pleated chiffon and banded organza.
To be honest, the pictures don't fully do it justice. Off-kilter charm doesn't always translate as well on camera as it does in reality. In the flesh - or rather in the organza and beaded tweed - these pieces were dazzlingly pretty.

See highlights from the show here:
Share this:
More Fashion / The Latest